We didn't go shopping on Black Friday but Derek did pop out last Saturday to pick up one of the hottest sale items: the Instant Pot. It slices! It dices! Watch it cut through a tin can! Wait. That's Ginsu knives.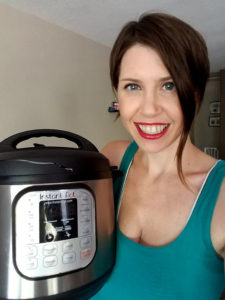 I don't know Stacy – she just looks happy with her Instant Pot and therefore represents us all.
This pot will replace my slow-cooker. It's also a fast-cooker, which is where its genius comes in. You can do everything in one vessel. Go from dry pasta and raw chicken to Chicken Alfredo in about five minutes. I kid you not. It's changing busy people's lives. Some people are claiming that the Instant Pot helped them drop lots of weight. Read more closely and you'll see that they stopped ordering pizza every night and started cooking at home. Still, the speed with which you can make a healthy meal is the key. It's the most excitement I've had over a pot since the Neti-Pot, which doesn't make food unless you're doing something very wrong.
I haven't used my Instant Pot yet but my sister-in-law who cooks for herself, two teens, up to three twenty-somethings and her husband, says it has changed her world. She describes the pressure-cooking feature as "not scary", which is something you want in a cooking vessel. If you have an Instant Pot, I'd love to know your stories of success and failure.
Reminder: comments don't show up instantly (unlike the Instant Pot) and have to be approved, every time. Thanks!