For a few years, alternating them with my then-husband, I went to Country Music Fan Fair in Nashville as a working journalist. It was always held during the hottest week of the summer, roughly 105F in the shade. I got to interview country's up-and-coming stars while freelancing for the now defunct Country Wave Magazine. 
Only hard-core country fans will remember some of these artists who were big in the 90s; Sammy Kershaw, Tracy Byrd, Clay Walker, Collin Raye and Shenandoah. After several hours in the Fan Fair buildings, watching the celebrities interact with fans gave you a true sense of who the good ones were. In country music, most of them are good. Vince Gill kicked off his boots and stayed in his booth signing autographs for ten straight hours.  Everyone was on their friendliest behavior. The likes of Gill, Reba McEntire and George Strait weren't always available to us peons. I'd interviewed Trisha Yearwood one year, so I couldn't get time with her, the next – that kind of thing. But we were given complete access to a not-yet-superstar Garth Brooks, Shania Twain before she hit it big, and so on.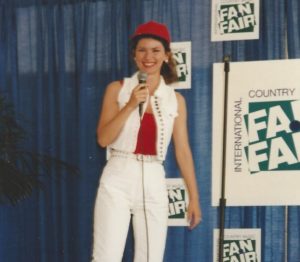 Selfies weren't a thing. Because I was there alone, I didn't always have someone to take a picture with me in it. Sometimes, someone would offer but everyone was busy, rushing to appointments and chasing stars. Many of the people I have photos of faded into oblivion. Some remained relevant or were simply so nice, like John Berry, that I treasure them anyway.
There were disappointments, too. Lee Roy Parnell, for whom my beloved Lee Roy the border collie was named, left me in the blazing heat for an hour waiting for our scheduled interview. I had been allowed backstage during his concert, which was a blast, with packed bleachers full of roasting fans. Word was, Parnell had an addiction issue and I now know that's probably what won out over keeping our appointment.
Finally, he sent a minion to tell me the interview that I'd scheduled weeks earlier wasn't going to happen. Boiling hot, dripping with sweat and so hungry I felt faint – I burst into tears, thrust a photo of my dog in the man's hand and said, "the least Lee Roy can do is autograph a photo of his namesake". He retreated to Parnell's air-conditioned bus with the photo. Someone signed it with a Sharpie but I'll never know whether or not it was actually Lee Roy who did it.
Every moment counted at Fan Fair. While I wasted time waiting for Parnell, I missed out on several photo ops and scrum opportunities. Some were hastily arranged, like this one I got to with George Jones and Tammy Wynette, announcing their short-lived musical reunion.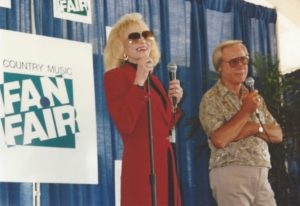 Another time, I was unintentionally rude as I cut short a chat with Junior Brown when a PR rep stage-whispered to me that Travis Tritt, a much bigger star, was suddenly available. I felt terrible but I also knew who readers would rather know about. (I ended up writing articles on both men.)
Some US journalists were downright mean. After I'd staked out prime real estate in the photographer's pit in front of the stage before a show, a photographer wearing cargo pants stuffed with thousands of dollars of equipment and a huge camera dangling around her neck stomped over and yelled at me.  We had never met or spoken. It was a shock.
"What the hell are you in doing here with your little point-and-shoot? You gonna tell me you're PERFESSIONAL? You ain't gettin' NOTHIN' with that little point-and-shoot and here you are, takin' up room!" Fellow journos stopped what they were doing to watch the ruckus. I muttered something about having a right to be there, too, and waved my credentials.
Sure, I may have only had a little point-and-shoot, but I also had manners. And my photos turned out good enough for print, even if they weren't great. Or crisp. Or any of the other things you want in a photo. But geez, that woman had a lot of nerve. Get there earlier next time, sweetheart!
Rock and roll finally started taking notice of country music's success with its own fan events. But country has always been about getting up close and personal with fans, long before it – or country – was cool.