Before Covid, kids, there were things called facials! They felt great and they left your skin feeling nourished and pampered.
I'd been thinking about getting one for a while but in the busyness of life, it always seemed like a luxury I couldn't quite make time for. Port Stanley has a few places where one can take their face. It just never became a priority. Until it did.
Recently, Rachael at White Feather Skin Therapy commented on one of my blog posts. It was an Import Stanley piece about spas that didn't include her business because, well, I don't know everything! So, as I tend to do, I clicked on her website. I loved the friendly way it was written and the fact that she's about so much more than patting products on the skin. She takes a holistic approach to skin care. I contacted her for an appointment and told her I had the worst skin she'd ever seen. She says everyone says that!
I booked a facial but I was most excited about the advanced skin analysis she offers. Rachael takes pictures with a special camera and analyzes sun damage and other things you can't see on the surface of the skin. It's … illuminating.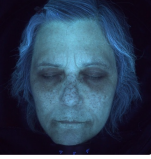 Don't be alarmed! I don't have the worst conditions in the world. This is simply a deeper look. And that, my friends, is a combination of sun damage and pigmentation issues. Plus, this can double as my Halloween avatar!
Those large freckles aren't visible in regular light because they're below the epidermis – the skin's outermost layer. It's sun damage, pure and simple. In my teens, I baked in the sun regularly. In my 30s I started applying sunscreen every day, year round, no matter the weather. So what you see is the result of decisions I made when I was very young.
Anyone who has ever had a meal with me on a restaurant patio knows I insist on a shady spot. And I'm unashamedly picky about the type of shade. I love GTs on the Beach but those pretty umbrellas do not provide shade! They filter the sun, and there's a difference. I will try to convince everyone in my party that we should sit under the roof. It's still outdoors (sort of) and it means I don't have to worry about coming away all blotchy.
The darkness above both eyebrows, on my chin and especially around my eyes, is pigmentation. That darkness is in my DNA. Now I know for sure that putting any eye brightener or lightener on top of my skin is useless. I'm going to channel that money into concealer!
That's just one type of photo Rachael takes, from different angles. The information that's gleaned is remarkable. And it's just a part of the skin analysis process she does at White Feather.
I learned so much. For example, I always thought I had oily skin. Make-up slides off my face. But the analysis shows it's just the opposite. My skin has so little oil that it's pushing out water to protect it. It's wet skin, it's not oily. No wonder make-up doesn't stick to it. This knowledge informs my decisions about what I put on my face. And I'm taking Omega 3 capsules daily to create that important layer of oil.
I'm not the type to load up on a bunch of new products. Remember Bridget Jones returning everything at the department store make-up counter?! I did that once and once is enough. But Rachael isn't about that. She recommends products, sure, and even makes her own line. But she's interested in seeing you get on the path to better, healthier skin. And that's a path I'm now walking. Oh, and I don't have the worst skin she's ever seen. In fact, it's pretty good, despite the above photo!
Rachael had positive things to say about another place in town – Heart Girl on Mitchell St.. In addition to facials, Janis at Heart Girl offers reiki, reflexology and spiritual counselling. Also consider Nado Skin and Body on the harbour, as well as nearby Blu Harbour Spa when you're in Port Stanley.