Spice is sick. How sick, we weren't sure, so we took him to the vet on Wednesday morning. Taking a senior cat to a vet is like logging onto webMD. The symptoms could be the common cold, or deadly cancer! 
Our 15-year-old buddy has lost two pounds. That's a lot for a cat. He's also eating less and exhibiting other symptoms. A physical exam didn't turn anything up so they ran blood tests. He wasn't happy to be there at all.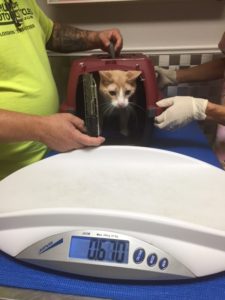 On Thursday afternoon, I got the best possible news. He has hyperthyroidism and it can be managed with cheap, daily medication. He should gain back some weight and feel a lot better. We were so relieved because some of the other possibilities weren't very nice.
Before I had a cat, I didn't think they had much personality. We always had dogs and compared to canines, cats seemed boring. They also had a reputation for being stand-offish. Spice has loads of personality and he and Miss Sugar couldn't be more different. Spice likes to wait until you're done in the shower so he can leap in and pad around on the wet surface. We call it a footbath.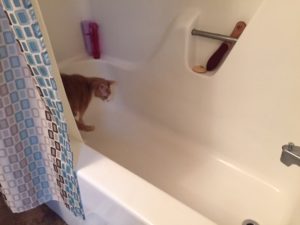 At bedtime, he'll "capture" one of our hands and that's where he'll sleep – on a hand. Although he only has four teeth, he'll work away at the big kibble meant for Miss Sugar. He is a sweet creature and we knew when we adopted him at age 11 that we wouldn't get a lifetime with him but I hope we get more time.