Meaning "under vacuum", sous vide is a cooking method used by many top chefs. You vacuum-seal your food in a bag and cook it in a water bath at a precise temperature for a longer period of time. It can't overcook so it comes out exactly the way you want it. Once you decide on the food you want, and it's in a bag with the air removed, this gizmo comes into the picture.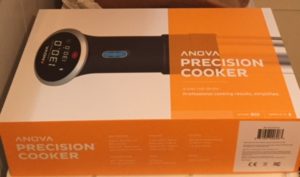 It's a giant thermometer/regulator that attaches to the vessel full of water. Once the water reaches the desired temp, it holds it there. It can be synced to an app on your phone. You can go on about your day while the magic happens.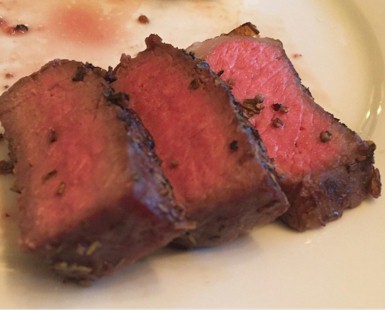 Once your food is cooked to perfection you may want to give it a finish, like this steak, which went to the BBQ for a crust. Delicious isn't a strong enough word. Derek said it was in the top three steaks of all time. My brother was our sous vide chef for the day and he also made ribs and a pork roast – both as moan-inducing as the steak. You can cook anything this way; vegetables, chicken, eggs. And if your kitchen is small, like ours, the process can happen somewhere else in the house. The food is sealed in a bag so there's no worry about where it sits.
Despite our obvious love for food cooked sous vide, I'm on the fence about buying one of our own. I think my brother will need to come over and make a bunch more dishes before I can be sure. Vegetables can apparently be cooked to a perfect tender-crispness. But there's only one way to be sure. And only one man who can conduct the experiment. The man with the sous vide cooker!