The "progressive" part of the Ontario Progressive Conservatives was removed from their name on the weekend. What a mess. The Liberals were the real winners of the PC leadership debacle that elected Doug Ford. 
Ford's win – although being contested by Christine Elliott – came after hours and hours of delay with no updates for impatient party members. If this is how they run a leadership contest…you can finish that sentence yourself. It's clear that there's little room for moderates in politics anymore. With this in mind, the American Democrats had better pick someone who's mildly off their rocker before their next election.
Now that Ford is at the helm of the PCs, three things come to mind:
It won't be a united party. Fords don't unite, they polarize.
The GTA will once again determine the fate of the province. And if enough of them don't want Ford to be Premier, like they didn't want him to become Toronto's Mayor, the Liberals will win again.
People like me who don't belong to a party and vote for who we think has the best ideas at the time, are left without a viable alternative.
I know and respect many of the NDP candidates. Peggy Sattler and Teresa Armstrong do a great job for our region. I know Amanda Stratton and she is a strong candidate in Elgin-Middlesex-London who would do a terrific job. I even like Andrea Horwath. But I like her where she is, in opposition, holding the government to account. We could have had three women at the head of all three major parties. Three women (two of them qualified, in my estimation) ran against one middle-aged white guy and once again, we get a rusty ol' Ford.
Women rule
Some are analyzing the election of Ford over three female rivals as an over-reaction to the #metoo moment. It's in the same vein as an analysis of Trump's election: an over-reaction to a black man in office. However you see it, support of women around the world was truly inspirational last Thursday on International Women's Day. Women supporting women, men showing public respect for women they admire, most people understanding that this is a day set aside for just that.
And then there were the social media posters who dared to be different. The cynics who feel somehow threatened by this one, single day. The same ones who deride the Pride Parade by asking, "When is straight pride day?" The radio station texters who let us know exactly how they see it. I bite my lip at work, but here, I can give the responses I couldn't give there.
"Is there an International Men's day? If not what happened to equality…or does that just go one way?"
Every day of the year is men's day. Except Mother's Day and this one.
"International Women's Day means nothing to me."
Then why are you even commenting? You feel entitled to. Get it?
"What the heck… it's not International women's day, it is international people's day!!! Where's this equality gone to?"
Oh it's coming. One day, we'll let you have equality.
"I think we have way bigger issues going on in our own backyard that can be protested against. Legalization of marijuana, governments foisting debt on us, the church being forbidden in schools, corruption in our government offices, to name a couple…"
Okay, after this ONE DAY we'll be sure to return to all of that. Oh wait, none of it stopped. And the church isn't forbidden in schools. They're called religious schools, so feel free to support one.
Happy Belated International Women's Day, sisters!
A Tulip Problem
This is, apparently, a classic 1980s lamp.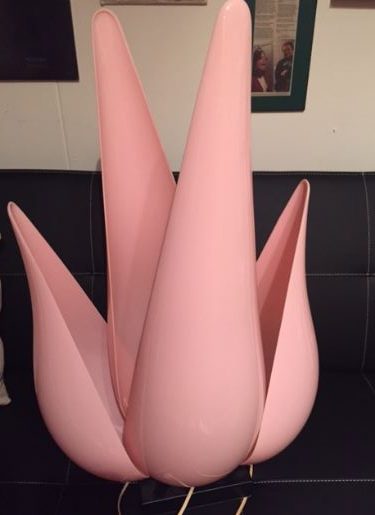 The Internet tells me it's worth about $600. It was made by the Rougier Company of Montreal. Some of their lamps are now worth as much as $15,000. A white, acrylic tulip lamp this size – about two-feet tall – with a metal base (this one's isn't metal) is valued at $3,200.  So, why can't I get rid of it? I've offered it to theatre companies for free. I pretended to give it to Erin Davis as a house-warming gift (years after her house even needed warming) but I can't seem to find the right market. Someone, somewhere would love to have it. If you have an inkling of who that might be, I'd love to know!