I don't believe in saying "never" to anything on the food chain. If someone tells me they will never eat bread again, but they absolutely love bread, I'll hold my tongue but I want to tell them they're crazy. Where is the joy in depriving yourself of something you love? Avoiding over-indulging in a food, or finding a delicious substitute, is a more reasonable way to go. For me, total deprivation of something I'm craving will lead to disaster. I love pasta. But it turns out that I may actually love spaghetti squash even more. I know, right? It seems unlikely but it's true. I also love spiralizing zucchini as a pasta substitute. Same for steamed cauliflower and broccoli. My waistline approves, too, but I will eat pasta again. In fact, I had some a couple of weeks ago, in moderation and with adoration.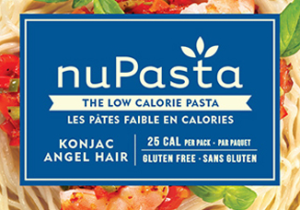 There's another product that I love called Nu Pasta. It's pricier per serving – about four bucks – but the entire container is 25 calories. That's not a typo. The same size serving of regular pasta is about 300 calories. Nu Pasta is made from the root of the konjac plant and soybeans. The texture is a little different but it's very satisfying.
nuPasta is packed in water and must be rinsed before it's eaten. It can't be frozen, either. Just throw it in sauce and enjoy your noodles. Angel hair is my favourite but there's fettucine and other options, too. I've also used it in soup in place of rice noodles. It's another choice while pasta avoidance – not total rejection – is my goal.