Forget the KonMari method – deciding to keep only the items that bring you joy. Don't buy a bunch of baskets and sort your stuff. That only helps the basket-makers and doesn't do enough to reduce the amount of stuff you keep. No, I've developed a new way of looking at your stuff that will make you want to get rid of anything you don't really need. 
Ask yourself whether you would pack and pay to move it. Not put it in your car and drive it a few blocks. Pay. By weight. Would you do it? Do you love it that much? If not, maybe someone else could use it or it's time for it to go.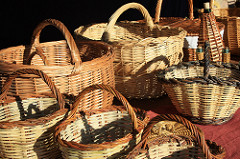 I used this method recently when we were preparing for a major clear-out and spruce-up of the house that I referred to last week. Boxes and boxes of extra stuff went into a trailer to make room for the workers but I took it further. I considered every article of clothing, every book, and every decor item with this "move it" value judgment. The result was sending 18 boxes of books we'll never read again to a church sale and six-carloads-and-counting of stuff to Goodwill and other charities. Not to mention a dumpster full of junk. (Much of that came from the garage.) We also sold a few pickup truckloads worth of extra furniture and vintage things we considered "some day" projects. It's been liberating.
I call it the Not Worth Moving Method! It incorporates asking yourself questions suggested by all of the other methods you've ever heard of. Does it bring you joy? Have you worn it in the last year? Does it fit? Do you love it? But most important, would you pack it, pay to move it and unpack it again? If you do this and you're honest with yourself, it might be surprising what you're willing to part with.