Our radio family is devastated. We have lost a colleague and friend, and the London broadcasting community is in mourning.  Jodi Taylor was the best hugger any of us knew, a warm, empathetic, tiny dynamo. Jodi died on Saturday. Mercifully for her, it appears to have been quick. For those of us who knew and loved her, not so much.
Known as Taylor, Jodi hosted the midday show at Bob-FM for what seemed like forever.  She was the first fellow broadcaster to welcome me back to London a decade ago. More recently, she did news on our morning show for vacation fill-in while also hosting shows and doing remotes for BX-93.
Our mainly social-media friendship morphed into real life when she started working at CJBK. New to news, she absorbed every bit of info that she could, determined to be an excellent newscaster. It's no wonder she was the must-listen-to midday voice in this market for so long. Jodi's voice was smooth as glass and had a friendliness with a hint of natural rasp that told you there was more to her than met the ear. She was self-deprecating and funny. Her big heart came wrapped in a powerful little package that championed the Women in Communications group in London and was involved with several charities, mainly supporting women and families.
It's your birthday? Jodi would surprise you with a card and a little gift. But she tried to keep her own birth date secret. "I don't want people making a fuss." Our last Facebook conversation was on her day off, as she reminded us about a coworker's birthday. That was pure Jodi. When my father died, she gave me a gift card for a pizza. "Food seems right for any occasion." She was correct.
After the 6 am newscast she'd push open our studio door, shake her fists in the air in triumph and yell "GO TEAM".
She was sensitive. In radio we all have to correct each other at some time or another. We have all made mistakes with a name or another detail. It would be awful if one of us let the other make that error a second time. No matter how gently anyone approached the subject, Jodi would tear up. On the verge of crying she'd wave her hands in front of her eyes and say, "Keep going, it's okay, I need to know"! She couldn't help her emotional reaction.
Jodi had the best story about how arbitrary and unpredictable the voice-over business can be. Sometimes clients supply links to YouTube videos or MP3s so that when you audition, you have a good example of what they like.  Jodi once auditioned when the sample link went to some of her own previous work reading a commercial. Despite auditioning for a job where the ideal voice was her own, she didn't get the gig. She loved to tell the story of the time that she didn't sound enough like herself to get work.
She loved and lived for her family; her husband Andy, their grown children and her grandchildren.  Her lads towered over their wee mother. The last time I saw her, a couple of weeks ago, she was literally skipping through the halls of the radio station. She'd been having a problem with her foot and it was feeling much better. She was happy, giddy, funny.  Some time ago, I'd told her about The Ultimate Garage Sale and she said she'd become addicted to re-purposing furniture from that store. We loved to discuss our latest finds and redos.
Jodi hated having her picture taken. But on Halloween, she'd apply green make-up and a false nose and chin to become the most incredible-looking witch. When she "witched it up" was the only time she'd happily pose for the camera.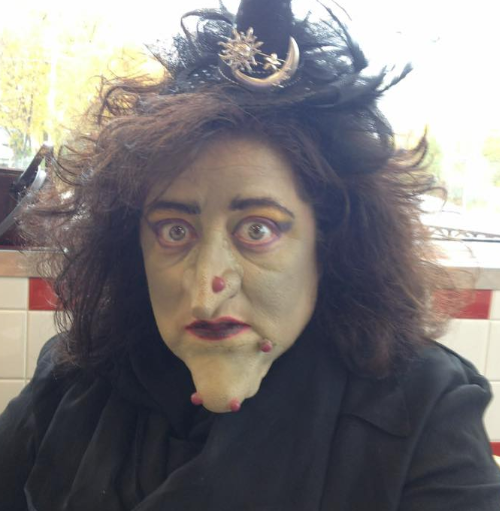 We're going to miss her – that laugh, that spirit, all wrapped up in a powerful, generous and kind person.