We had one expectation for this long weekend: free time.  It included some friend time, some "we" time, and some time to do a few little things around the house. I had hoped to put wood protector on the deck but it was too hot out. (Yay!) Derek finished a project that – let's face it – was more important to me than it was to him. 
For some reason, our master bedroom was the least cared-for room in the house. Perhaps because it's also the least seen by outside eyes. The walls and ceiling needed a new paint job. To make up for small closets, a decade ago we moved a huge wardrobe in and knew it would be a giant pain to get back out.  One day, while strolling past the paint department at Lowe's, I noticed a can of their top-of-the-line paint in the mistint section. It looked silvery – exactly what I wanted for the bedroom. It turned out to have a blueish hue, but I still love it – and for one-third of the regular price! Our painter, Malacai, did an excellent job and we suddenly had a blank canvas upon which to create our new room.
Derek knew I wanted a made-by-him headboard, so when he announced that he had an idea, I sat up like a hound hearing the rattle of a potato chip bag!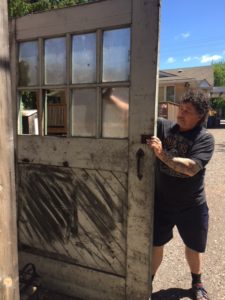 It didn't look like a headboard to me, but I trust his imagination. He got to work on it a few weeks ago, in between voice-over projects.  He cut and sanded and painted and distressed and trimmed and this is the result: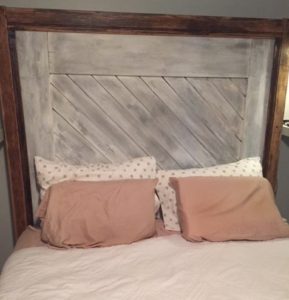 I love it! We are still considering whether to install reading lamps in the upper corners. It's finished with a newish product from Rustoleum that seals their Chalked Paint line with a smooth, matte finish. Shelves on either side of the bed serve as night stands, to hold lamps (one he made!) and Kobo readers. I painted the shelves the same colour as the wall, so they don't stand out or add clutter. It's all coming along. Recently I added a couple of rugs from Wayfair – my first time purchasing from them.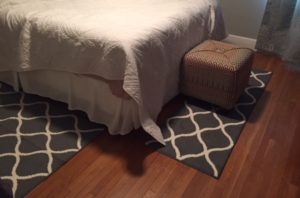 The ottoman is for Miss Sugar. Her tiny legs would never get her up on the bed otherwise. There's one at the foot of the guest bedroom too!
Anyway, the rug pattern is pretty much the same as the curtains and so on and so forth and it's coming together without a lot of expense. It feels like after spending so much effort and money on the rest of the house over the years, we finally have a grown-up bedroom.
After we met a friend for breakfast, we had planned to go on a small excursion. We ended up choosing another direction instead though: him a nap, me a shopping trip. To me, that's what long weekend freedom is about. My other weekend accomplishment was to give Baby Groot a new head of hair.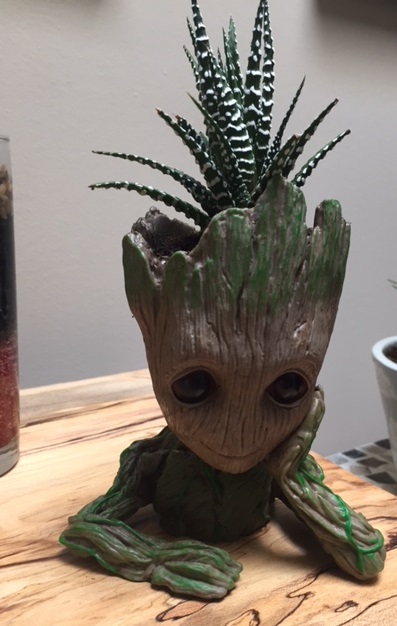 Staying in the air conditioned comfort and doing what's important to us, even if that's just vicariously enjoying the delicacies of Peru with Anthony Bourdain – that's my happy place.  I hope you got to visit yours.