I don't remember how I came to know about Barn Sanctuary in Chelsea, Michigan, but even though I'm a meat eater, I'm a fan of what they do. When I first followed them on Twitter, their fan base was in the hundreds. Now they're closing in on 30,000 followers.
They rescue and provide a home for abused and neglected farm animals. If someone's cow gives birth to a calf with severe physical or other health issues, they'll take the animal in. Founder Dan McKernan and his team are vegans and would love to see farm animals treated the way we care for our family pets.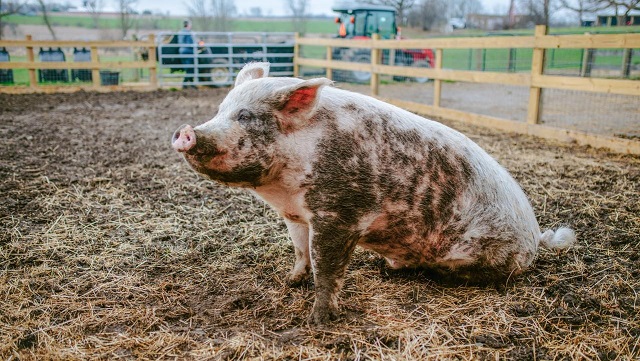 We had tickets to their annual Summer Bash on Saturday. I've wanted to visit the farm for ages, and finally, I thought we had a clear day in which to do it. Then fate said HAH! We went house-hunting instead. If we end up without a home, I don't think Barn Sanctuary will take us in unless one of us learns to moo.
Some of our friends have been helping our house search with unintentionally hilarious results. For example, last week, Jeff texted us from a picnic table behind a vacant house he was checking out. Derek contacted the listing agent at the same time and discovered there was a conditional offer in place. It made me laugh to think of someone discovering Jeff – a law-abiding, fine, upstanding pillar of his community – trespassing!
And Lianne cased a house for us, even taking interior photos through the windows. They turned out fascinating but spooky – who was that woman in the reflection?!? Again, getting caught would have been funny… to us anyway!
So, you know how it goes. We look at their houses, others look at ours, and it ain't over 'til all the papers are signed. However, packing has already begun. I'm getting good at it but I promise you I have no plans to go pro!
*Photo credits – Dan and Mike by Ashley Paige Young. Jasper by Dan McKernan.