Ours has been a three-way love affair since we saw you presented on Dragon's Den two years ago. Your then 23-year-old creator got an offer from all of the dragons for creating you: low-sugar, GMO-free, gluten-free, sugar-alcohol-free candies that kill a craving for something sweet.
She took a deal with Jim Treliving and a monster Canadian product was born!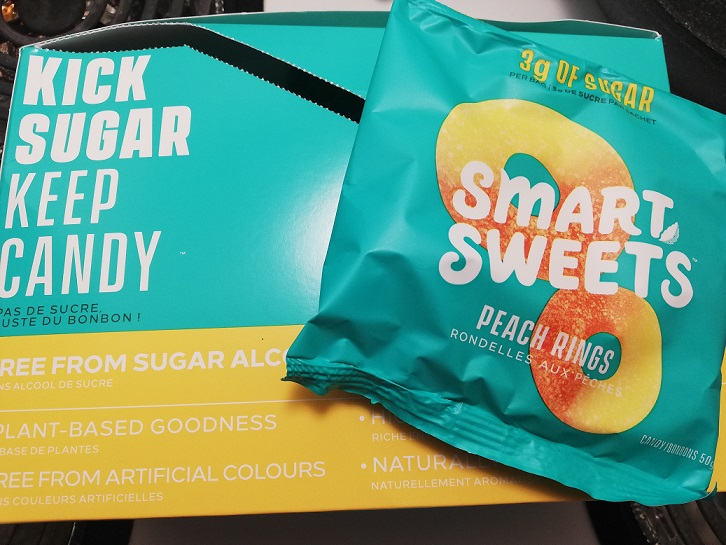 The original Smart Sweets come in sweet or sour. There are gummy bears now, as well as gummy fish and tangy peach rings. We know because we've tried them all. In fact, before peach rings were in stores, we ordered a box from the website. You could say we are fans.
Sales have skyrocketed. I see Smart Sweets in Bed, Bath and Beyond as well as grocery stores. They've caught on as we've discovered a lower-sugar intake is better for us. I haven't eaten a chocolate-covered almond in a long time. Just knowing that you're available keeps me from eating sweet junk food, even if I don't eat you instead. I know that if I want to, I can. You're awesome.
You're also expensive. At $3.99 per bag and one bag per serving, you're pricier than the average treat. But I think that's also part of the genius behind the products. A treat is meant to be eaten once in a while. It's an indulgence. So the price helps to keep us from going to the peach ring cupboard too often.
I don't meant to be forward but, are you looking for tasters? Because Derek and I are ready to help in the name of science! Give us a call. Or a text. Or a tweet. We'll be waiting. Raspberry or strawberry varieties would be nice. Just an idea! But don't mess with the ones you already make.
Yours truly,
Lisa "Smart Sweet" Brandt