The sweetest and most talented man I think I've ever known died of cancer on Sunday. My brother-in-law Dave was 58. In Derek's family of six kids, Dave was #4.
As a Lisa-come-lately to the family, I didn't know Dave best, of course. That would be sister Barb, #6, whose devotion and support of her brother through his whole life was steadfast and beautiful to witness. The whole family came together during his illness with a "Dave first" perspective.
But we had a wonderful sibling-in-law-ship. He lived on Gabriola Island, BC, for the entire time I've been a Botten. Derek (#1) and I visited his rather remote and gorgeous island in November 2018, when we were on our way to Palm Springs from Victoria.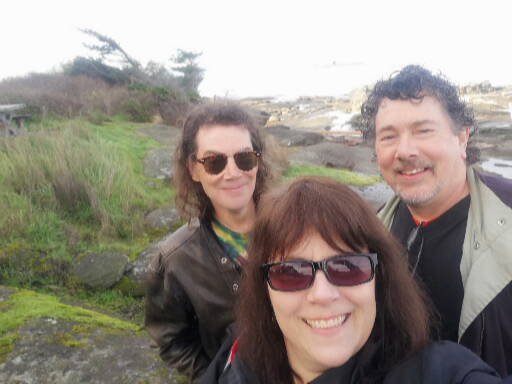 Dave came "home" every summer to jam with the family at a party thrown by Rob, #2. Everyone in the clan plays instruments and/or sings. (Derek plays cowbell.) They named the band Bottenville, and David was its heart. Dave played everything and sang anything. He was a musician, actor, artist and humble restaurant dishwasher. He had no pretenses, nor did he care about income, status or any of those things. He took you as you were. If you were kind and honest, great. If you could play the ukulele or write a song, even better. If you made him laugh, he lit up and sparkled.
I only ever heard him get really annoyed about something once, and it was recent. A nurse had called him Davey. He reminded her that was a privilege for sisters and girlfriends only! It was David or Dave, please.
He had already beaten cancer once. As a teen, he received a bone marrow transplant from sibling #3 to beat leukemia. Chemotherapy was more experimental then, and its side effects cost him the vision in one eye. For years, he wore eye patches that he decorated for the seasons. Tinsel for Christmas. A Shamrock in March. He named his art company, A Good Eye.
When it was time for Dave to go into palliative care, he was, as always, realistic and resolute. But first we had to reassure him that he wasn't bumping someone else out of the healthcare line. He worried that white privilege might deny another person their "rightful place" to a bed. It took some convincing. That was Dave. He was more concerned about someone else who might be suffering. Parkwood treated him well. He was at peace.
I found this photo of Dave on Facebook and made copies for everyone. It's classic Dave, wearing tie-dye, lost in the song, playing drums at the same time.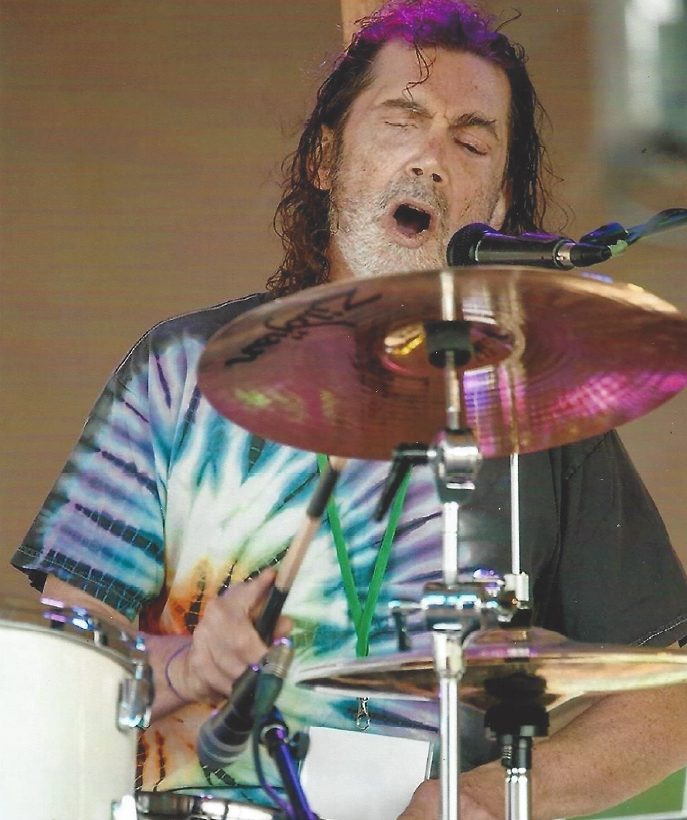 We had many talks about life, love, and other unsolvable issues. He drew the covers for my books The Naked Truth, My Sepsis Story, and my favourite drawing of his, Venus Rising.
He created a drawing that Derek and I both have tattooed on our skin. Every year he gifted the family with an original comic book, graphic novel, calendar or some other artistic keepsake.
But mostly, when I think of Dave, I think about him singing for us. I think about how happy he was playing alongside his siblings. I think about how everyone else would head for a cold beer and BBQ and Dave would keep plucking away and singing beautifully. Cousin Kim calling out for House on Pooh Corner. How easily Dave shifted gears from rock and blues to soft ballads. His unusual and surprising arrangements of familiar songs. YouTube has dozens of videos of him acting, singing, telling stories.
Last October, when Dave's illness required more care, three siblings flew out to BC to move him back to Ontario. Gabe – as the locals call the island – was having an open mic night. They made it a farewell performance for Dave. Everyone on the island knew him.
The song is by Jason Mraz. With Davey on stage is brother Colin, #5.