Life is a whirlwind, my friends. Down goes the food bowl, I clean it out and a new one magically appears. Same routine, different postal code. I'm one lucky feline.
The human beans' back-and-forth to Southwold has ceased now that the deal has closed on The Ranch. They're home more. We are genuine Port Stanlians. Consider us part of the onslaught of new residents that cause longtime locals to lament the changes all around them. We're new growth in an old growth forest where the old trees still stand. We're the reason that, one day, this village will have to finally give in to a conglomerate's retail shop. (So far, Home Hardware and Circle K are the only ones we've seen.)
However, the town's forefathers and foremothers seem to be keeping a close eye on where the sprawl occurs and how it alters, or doesn't alter, the view. Like us, most new residents are popping up away from the shoreline. A developer is about to convert a former fish plant at the water into condos. But it's not a new build, so that's acceptable. Newbies aren't disturbing the fishers and sun-bathers. And we are not disturbed by them, except by misadventure.
By that I mean my humans deciding to purchase take-out from the busiest perch purveyor in town on Saturday night of the long weekend. I know, right? My friends, I tried to warn them but they ignored my pleas. Poor Father, circling around back of the still-unopened lift bridge, finding himself in a crowd that smelled of sunscreen and beer at The Buccaneer. But, he said the 30 minute round trip was worth it for his beef dip and Mother's perch.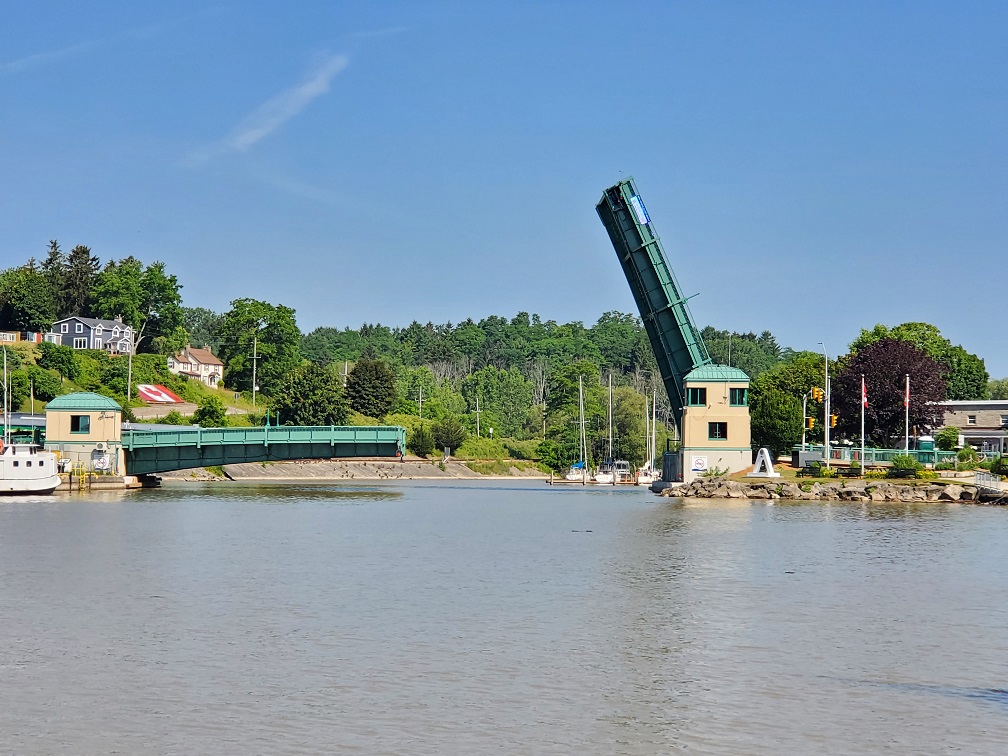 Speaking of the bridge, its reopening has been delayed. The bridge blog cites final adjustments for safety as the reason why. Who can argue with that? And so, the town remains split in two for a while longer. This brings back memories of Wallaceburg. Bridge rehab began while we lived there. Like Wallaceburg, my people are finding everyone they meet here is friendly and smiling. Our friend and fellow Port Stanley resident Dick Williams says, "Port Stanley – where the only thing stuck-up is the bridge"!
As for me, not having to forage for food or go for walks is my advantage. I have noticed a few seafaring shit-birds, but my view will improve once mother finds someone to shorten the blackout curtains. Right now, our giant NYC flat-iron canvas provides privacy. Unfortunately, it also keeps me from enjoying the scenery in full. All in good time, I suppose.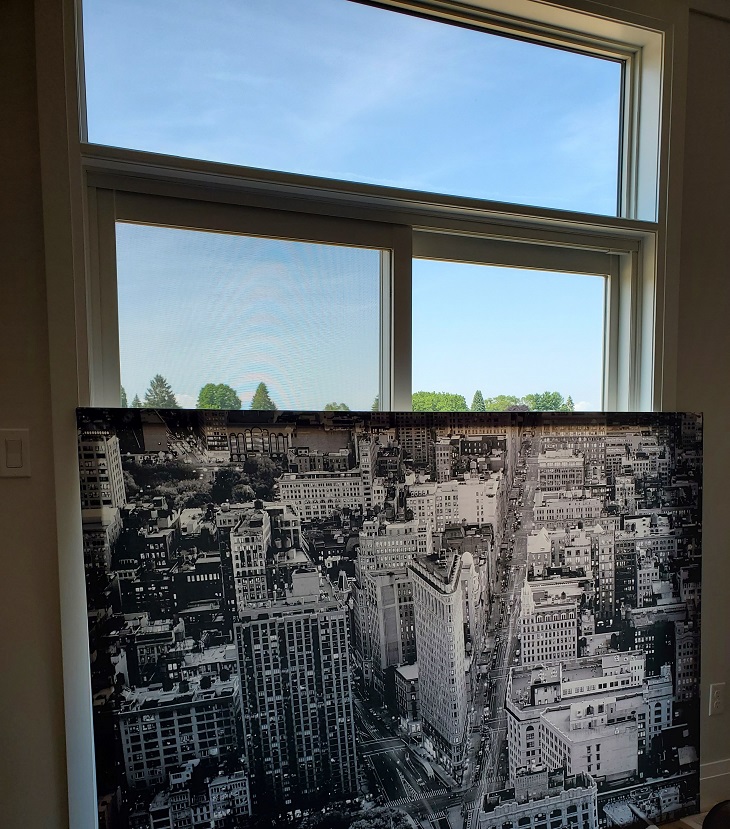 Although there's still much to unpack and arrange, things are more settled. I endured a bout of stomach upset, but that seems to have passed. Happily, I can tell you that I'm in full voice and hearty appetite. My "adorable" snore has returned. Even a visit from my filthy dog cousin Nacho, trapping me upstairs for hours, can't affect my positive mental state. My people are positively beaming and that's making me happy by osmosis. We love it here – ALL of us, this time!
Until next week my little butt scratchers, I remain your friend,
Miss Sugar