Greetings my little plant nibblers! Thank you for coming to my little patch of the interweb. Last week, one of Father's fondest wishes came true and I can't wait to tell you all about it. No, he didn't win free pizza for life. But he did get something else he's always wanted. It's big and blue and noisy to my ears.
It all began back in March when we were still country bumpkins. Online he found the car that made his inner child go, "Squeeeee"! And he bought it. This car was in California. If not for the viral sickness and rules that forbade it, he would have taken a plane and driven it back. But that was not to be. Lucky for me! He stayed home.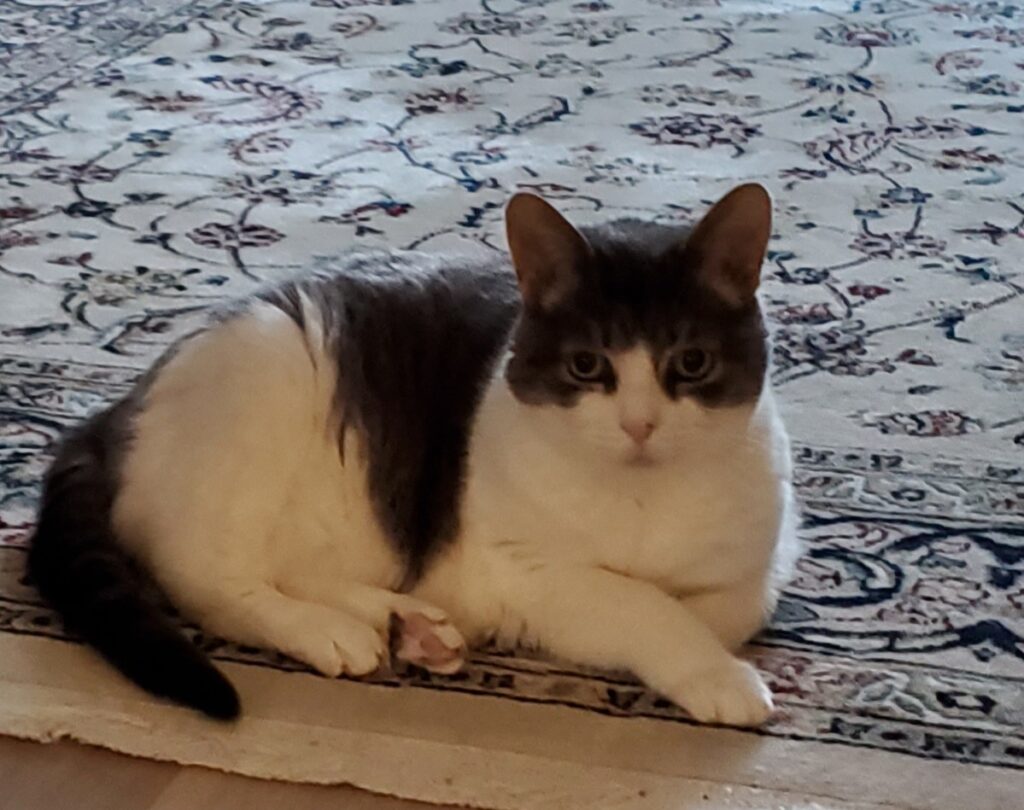 Instead, he asked the nice man who sold him the car to shelter and keep it. Talk to it so it didn't get lonely. Tell it stories about the new land it was going to. Much like Mother did with me in the shelter before she was allowed to bring me home.
Meanwhile, even I could see how skeptical some people were. They thought perhaps father was taken in by a scam. After all, California may as well be the moon during a pandemic. Who knows what those surfing dudes are up to? But both of my human beans knew it was the real deal.
DELAYS & MORE DELAYS
Things are different in the U S of A. When father goes into the license office in Lambeth they shout his name like he's Norm at Cheers. People can pay their fees and leave with their official papers. Not so in The Golden State. There you wait in line forever and then they mail the license. It's the dark ages! The seller had to complete this ritual three times, having made errors twice.
Each time meant a delay for the delivery. Oh, how it pained me to see Father so disappointed! One time, the specialty truck went all the way to Santa Barbara. Upon finding the paperwork incomplete, the driver left without the car. I had a sad Dad indeed.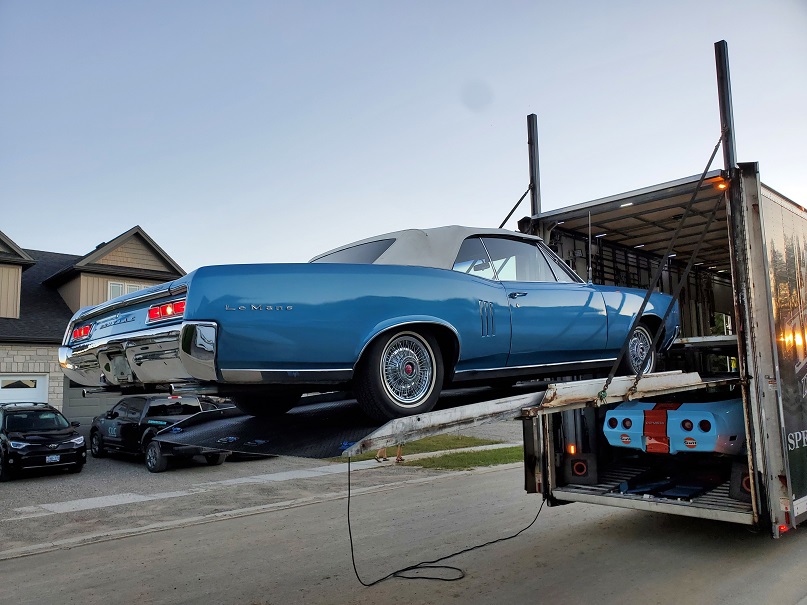 DELIVERY
Finally, last week the call came. The special truck was coming that night! Father already knew his car had crossed the border and it was just a matter of time. His excitement was contagious. We both watched at the window until the gigantic rig pulled up our street.
Neighbours poked their heads out of doors like gophers in golf holes. The driver moved a huge metal tray up to the car's location. He backed it out as we all held our breath. Then it lowered and was in father's happy hands.
It's a 1967 Pontiac Le Mans with about 40,000 original miles on it. (I heard it said so many times I committed it to memory!) Father calls it "mint" but it's clearly blue! It makes him happy and that makes me happy. Even though I probably won't ride in it. But that's okay. It doesn't have shoulder belts or air conditioning. Clearly, in 1967 they were not concerned with the comfort and safety of cats. Neither were they particular about its sound! When he started it up, it stopped me in my tracks!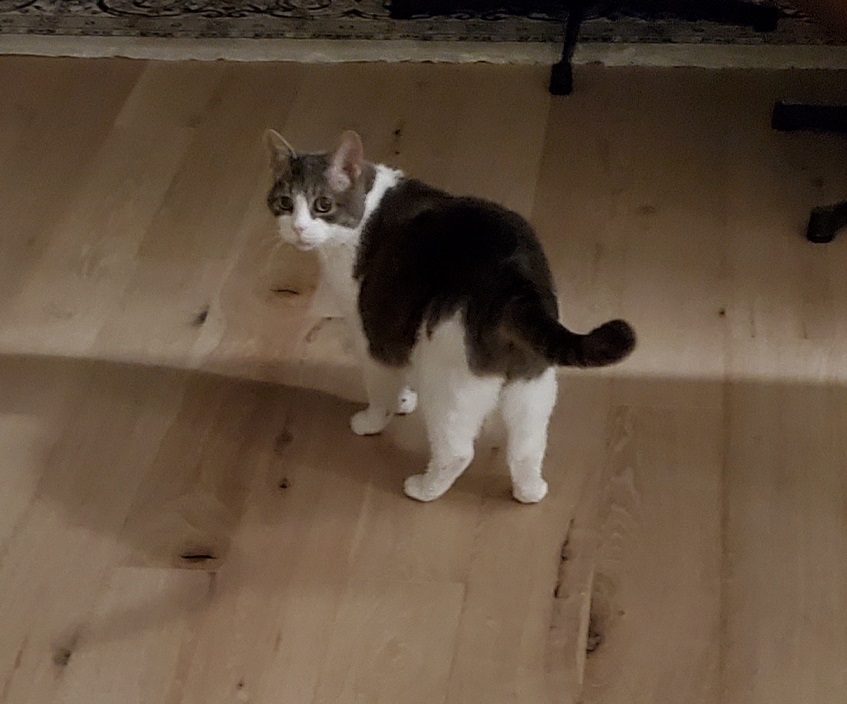 It rumbled like thunder mixed with a blender full of gravel! Father beamed. Mother looked uncertain. I headed for the safety of the bed!
The beauty of an old – I'm sorry classic – car is apparently found under the hood. He goes outside, the hood goes up. I see beautiful upholstery but his nose is between pieces of metal. I don't get it! Mother doesn't either because she doesn't partake of the engine sniffing or whatever is going on. You won't catch me out there until they put catnip or treats on it.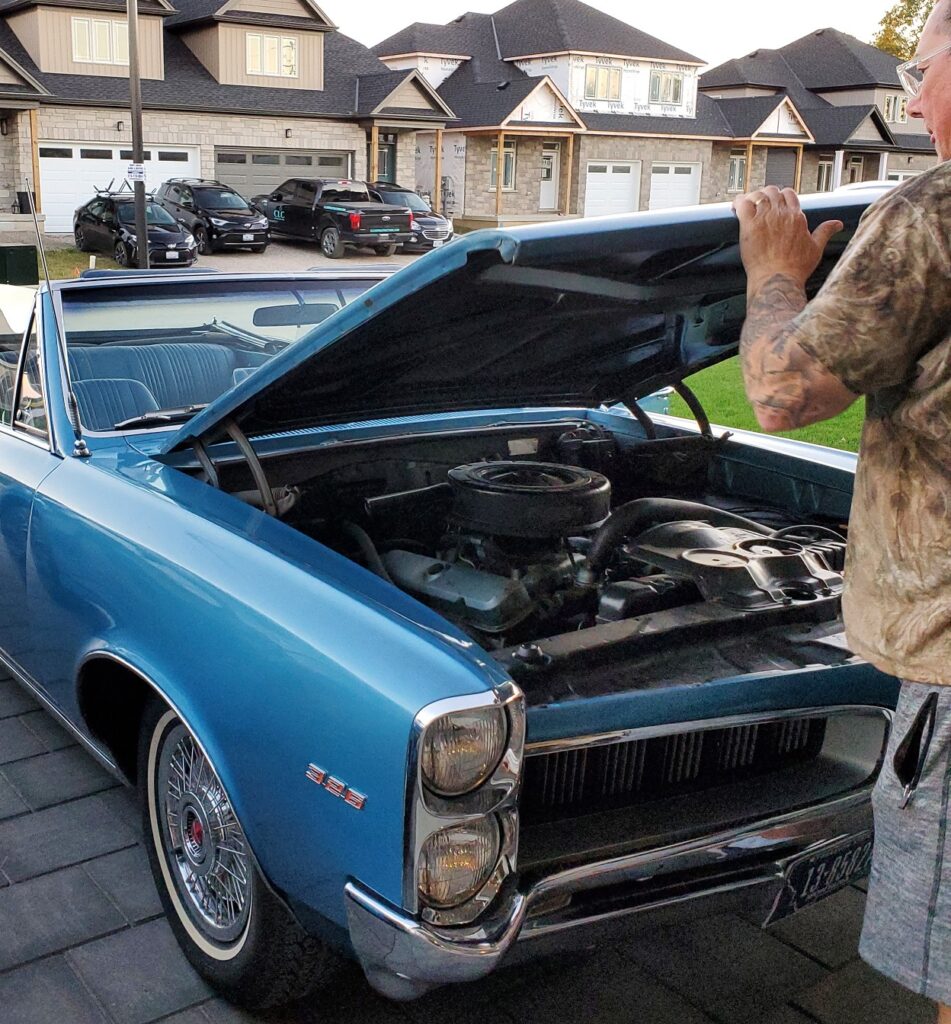 Anyway, the point of it all is that happy pet parents mean a happy household. And a happy household includes this very happy cat! Do keep watch for my human beans in their new/old land yacht. It's a head turner! In fact, it's so long that your head can do a complete revolution before it completely passes you by. It's THAT big.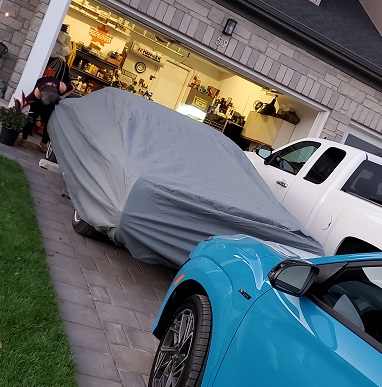 Sadly, now it's almost time to wrap the vehicle in its Le Mans Cozy and put it away for winter. Next spring, I expect to see the underside of that hood most weekends. Father occasionally curses and gets sweaty and claims things are more difficult than he thought. But ask him directly and he'll say he loves it! That's the weirdness of humans, my friends. They have no logic! Not like we felines do, anyway. Sleep, eat, nap, repeat. What could be more logical than that?
Until next time my little furball coughers, I remain your furever friend,
Miss Sugar