Oh, my pretties, my little heart is so full of joy! Not only because a fresh holiday wreath has been affixed to the front door where its pine needles will surely drop and be tracked into the house. Then I can complete my annual ritual of chewing them up and then throwing them up. It's our own little holiday tradition! But the real reason is because of today's story that I can't wait to tell you. It's about a young girl I'd love to meet and leave clumps of my shedding coat upon. She is my new heroine, And she's not even a cat!
Her name is Shaine Kilyun. She's a 16-year-old high school student-bean in Minnesota. And she's devoting her spare time and energy to helping the lives of cats, dogs, a goat and even a duck, who have legs that don't work. She creates light but durable leg-foot-substitutes and straps them on the creature, who then takes off with his or her first taste of real freedom.
This beautiful kitty named Felix couldn't walk until Shaine hand-built him a wheelie. Now he scoots all over like the rest of the felines. Can you stand it?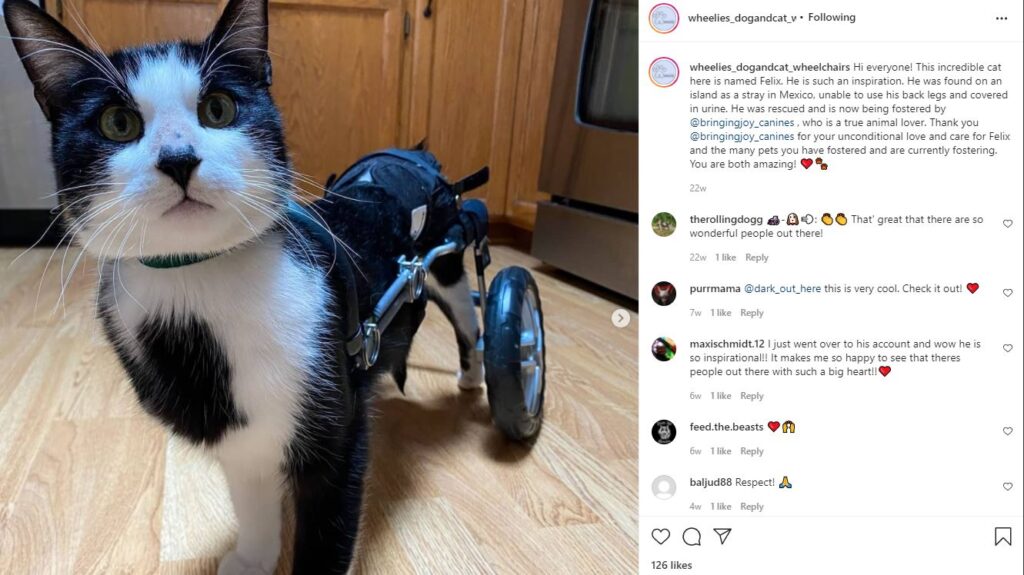 Shaine saves her money. She holds fundraisers, she gets proceeds from sweatshirts sold in an Etsy shop, and then she buys what she needs to make light, mobile "legs" for the critters she helps. The local rescue organizations love her because she doesn't use their meagre funds for her projects. And she started during the pandemic! Now, as you can see in this short video, she's inspiring other kids to be helpful to my fellow four-legged friends. And the duck.
I just can't help but wonder what big companies could accomplish if they took it upon themselves to assist such animals. Why, I ask myself, does it take a sweet, little girl to show what can be accomplished? I think it's because the CEOs of these companies are older beans who get too impressed by money. They forget the joy of being a child and dreaming big dreams. Like helping the animals of the world who can't walk on their own.
My Aunt Janet has a sweet dog – my how I've changed my tune on dogs! – that has only 3 legs. She doesn't need a wheelchair but she did need a home where someone would understand that she's not like all the other chihuahuas. And she's as whole as any other dog you'll meet. Only smaller. And shakier. But lovely just the same!
We're all different, my friends. For some of us, the differences are on the inside. For others, it's the outside. When it comes to me, Mother says my disability is my "dragon breath" and that I "eat like a wolverine". I know she finds these things charming. She's just too shy to say so.
Until next week my friends, I hope your wheels spin easily or your legs never give up on you! Keep your chin up and your eyes down, because that's where the pine needles are.
Your friend,
Miss Sugar