We have read every condolence. Every reference to her oft-written blog phrases "filthy dogs" and "human beans". Received flowers from our dear friends and been notified of donations in her name to the Humane Society London and Middlesex and Animal Aide of St. Thomas. We are so grateful. You get it. Pets are family. Losing them is painful.
How one little fur-covered being can become such a huge part of your life – that's the beautiful mystery of animals.
She was named Kitty when I met her at the Humane Society. She was wearing a cone, drugged up, and her back end was covered in dried poop. I put my nose up to the cage door and informed her, "as soon as you're well, you're coming home with me." She recovered a couple of days later from a gastrointestinal illness that was probably caused by the stress of being put in a shelter. The veterinarian called and I was there in half an hour. She was a birthday present I gave myself in 2015. She was ten years old.
I told Erin Davis that I wanted to change her name. Kitty sounds like something a child would call her. Erin, the cleverest person on earth, said, "You already have Spice. She should be Sugar!" Derek also liked to call her Missy. So she became Miss Sugar, a rather formal, southern-plantation-style name for a little housecat.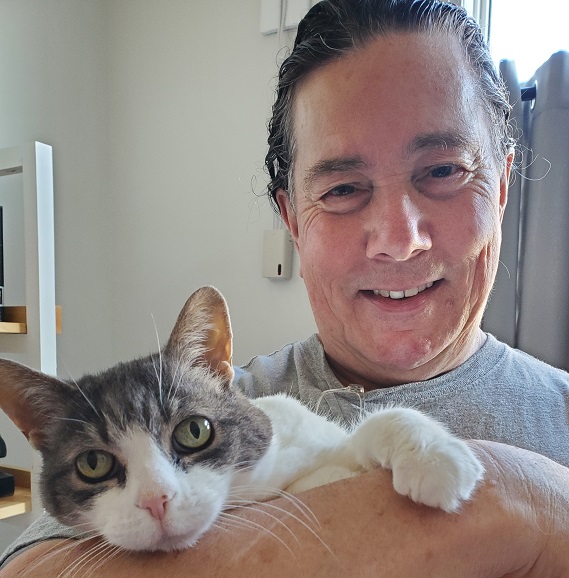 Sugar didn't come into her own until Spice passed away in July of 2018. Spice was an alpha. He made sure she knew it. But we made sure she got her share of human attention.
She became more vocal and relished her role as Queen of the manor. When she tried to quit her weekly blog at one point, an onslaught of complaints brought her back! The blog started as a way for us to find humor in our move out of London. Because anyone who has moved knows it's a giant pain in the ass. Then it continued, and she made fun of us as we made a few more moves before settling. Every time, Sugar confidently explored the new surroundings and quickly made herself at home. No hesitation or reluctance. If we were there – especially if Derek was there – she was fine.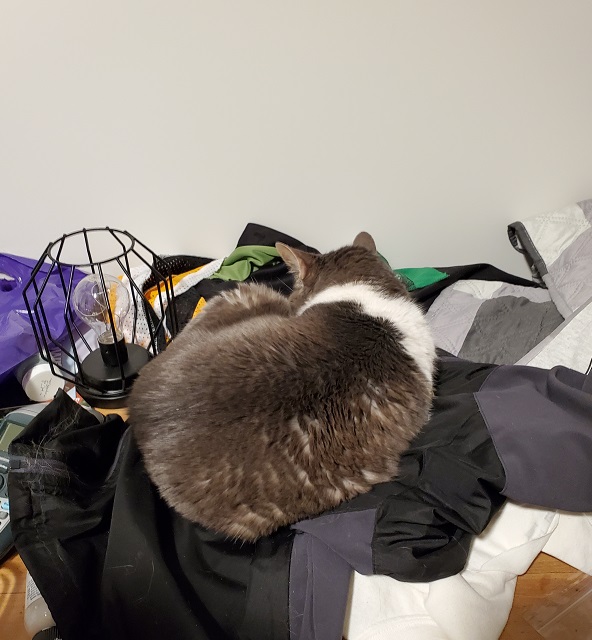 She wasn't a lap cat. But she loved being brushed and petted. And she'd put one paw on your leg or arm. She and Derek had a routine. Sugar would yell at him to get up, anywhere from 3:30 am on. She never got over radio morning show hours. He would put out fresh food and she'd nibble while he made himself a coffee. Then, they'd go upstairs and she would sit for 10 minutes of attention, exactly, before going back for seconds.
When lunchtime came around, she let one of us know it. She still had food, but she wanted new food! In recent months, her age started to show. And then without warning, she'd fish a toy out from under the couch and play like a kitten. Only Derek could carry her around to look out the windows and see what was going on.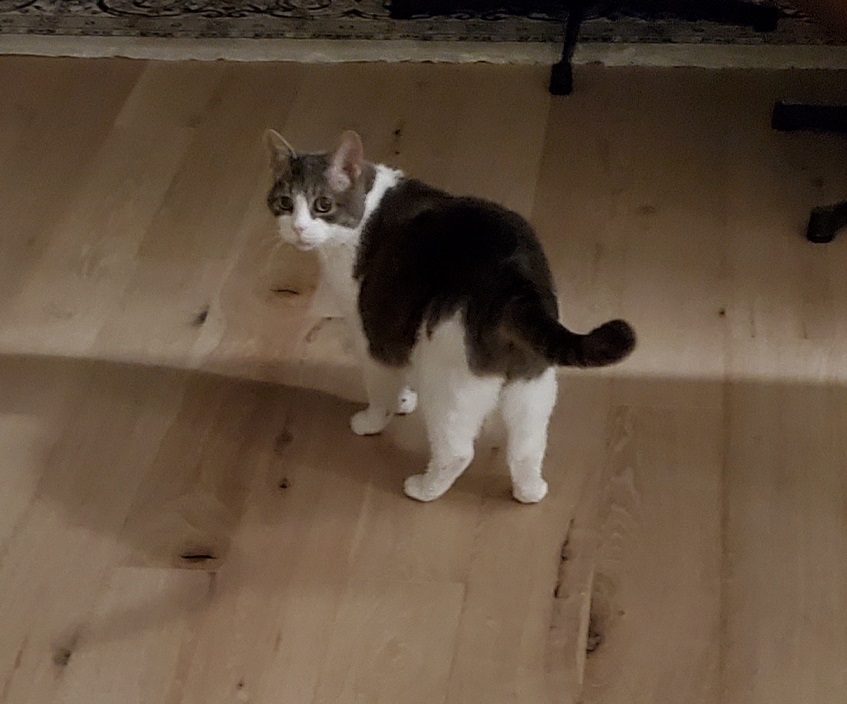 She brought us so much joy!
A few days ago, her face looked odd. And then it seemed fine again. One day, she hardly moved and wouldn't eat. Something was happening. We took her to the vet. It was aggressive bone cancer in her jaw. She was already in pain and this fast-moving tumor would make things much worse, fast. There are no treatments and even if there were, the life expectancy of a cat is 16, which she turned in June. There would be no suffering allowed on our watch. It's the kindest thing to do and it rips your guts out.
The last thing she heard was "I love you". She didn't speak English, and we don't speak cat, but any animal lover knows that there's a communication between species. A connection that develops along with trust. Damn, we loved her.
So now, our home has no heartbeat. There's no warm little being giving off love rays. It feels empty. For a little cat, she had a huge personality and was just fun to have around. One little housecat has left a huge hole in our lives. Once we recover and the stabbing pain of grief turns into a dull throb, maybe we'll find another heartbeat for our home. But there'll never be another Miss Sugar. As sweet as her name.