ImPort Stanley is weekly series about life and discoveries as a recent "import" to Port Stanley, ON.
For many, a visit to this town is mainly because of the beach.
I set out to write about Port Stanley's three beaches today. And then I discovered there is a fourth beach! But no one seems to know where it is. I had to figure it out on my own. You might wonder why I would write about beaches in the dead of winter! Well, when you live here, you visit them no matter the weather. Just because you can. And we see lots of out-of-town lookie-loos driving to the beach in sub-zero temps for something to do. We used to do it, too.
People I've taken to our beaches have said they're sandier than some others on Lake Erie and other great lakes. There's nothing like going out for leisurely a swim and – is that a reed? An eel? The Loch Ness Monster?? That doesn't happen here. No sharks, either!
Main Beach
Beach lovers come to Port Stanley for the main beach. Main Beach, big beach, Port Stanley beach, whatever you wish. It's a Blue Flag beach, meaning it meets or exceeds all sorts of standards for cleanliness, accessibility, laws, and so on. Blue Flag is a prestigious designation and Port earns it year after year.
The beach is about half a kilometre long and it's packed on hot summer weekends. Volleyball nets, benches, kids' play stuff – it's all there. Plus it's our only beach with a lifeguard. Not being a beach person, I prefer to visit GT's on the Beach or Mackie's – both restaurants literally located on the sand – and enjoy watching the activity from cool comfort. There's a huge parking lot (paid) with 101 spaces but it fills up. Sometimes you can find a spot on a street if you don't mind a little trot to get to the sand.
Little Beach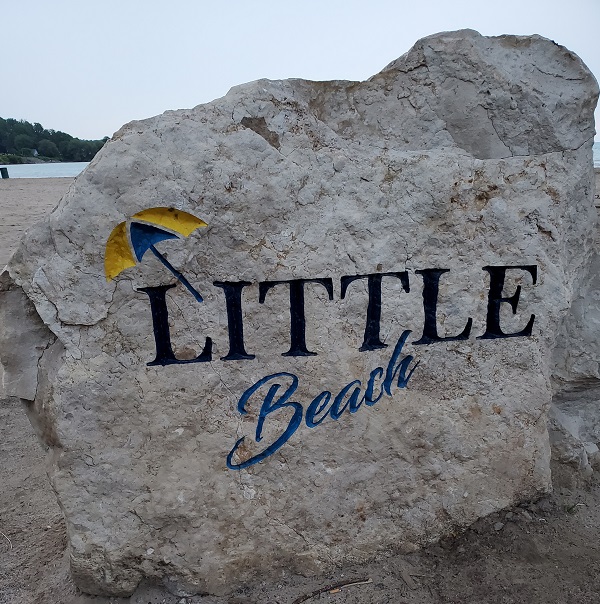 Little Beach is closest to where we live and a fairly long walk from the main beach. It's named appropriately. Smaller, with shallower water, Little Beach is where families with wee ones tend to go for a dip. It can get crowded, too, but no one's going to knock you over while running for a volleyball. It's more low key. And it's close to the shopping district which comes in handy when you've had enough of the sun.
Erie Rest
Erie Rest Beach is even smaller, west of the main beach, and not as well known. It's also adjacent to private beachfront. It's narrower, more natural, and I think it's best for people who want to sit and talk. Or maybe walk the shoreline and look for sea glass and small driftwood. Taking large pieces is prohibited although you're more likely to see some here. The beachfront west of Erie Rest is private.
And that brings us to beach #4.
Pumphouse Beach
I asked locals, thumbed through local history books at the library, googled until I was out of euphemisms, and finally drove around to figure this one out. Even the municipality of Central Elgin couldn't help me despite clearly listing all four beaches on its website.
Here's the deal, as I see it. Because the beachfront west of Erie Rest is private, few people know about Pumphouse Beach, which lays beyond the private beach. I think. The private areas belong to huge homes along Edith Cavell Blvd West, an area off George Street. But if you do go further, I believe, you'll find the elusive Pumphouse Beach.
If anyone can confirm my conclusion, I'd be grateful. I spoke to locals young and old and most had heard of it but didn't know where it was. As for a pumphouse, I couldn't find that either. Obviously.
Elgin County tourism signs say, Come for the Shore, Stay to Explore. Some stay to explore and more! Of course, I'm talking about imports, like us.
Some of the most beautiful photos of the beaches, the sunsets, and other gorgeous slices of life here are posted daily on a public Facebook page called Port Stanley Ontario photos. It's moderated by Ann Stevens, owner of Little Beach Shop (upcycled furniture, Fusion mineral paint, local candles & goods) who captures exquisite pics every morning. But anyone can post their photos there. The shop is literally around the corner from Little Beach and a must-see when you're here. Ann's family has lived here for generations and she's a tremendous advocate for Port Stanley.
UPDATE: Thanks to my pal Sharon whose friend's boss grew up in Port, I now know I got the Pumphouse Beach location correct. The Pumphouse used to be located at the end of Edith Cavell where there's a loop, right where I guessed the beach must be. Mystery solved.