ImPort Stanley is weekly series about life and discoveries as a recent "import" to Port Stanley, ON.
As you're well aware, Covid has affected the hours and operations of restaurants. Please click on the embedded links of restaurants that interest you and find the latest info before you head out. A link will go to a Facebook page if the business doesn't have a dedicated website. I'll offer my opinion about places I've tried. But don't let my lack of personal experience with a restaurant deter you from trying it. I'll get to all of them eventually!
Many Port Stanley restaurants are closed on Mondays and some also on Tuesdays. On summer weekends they get incredibly busy. Port Stanley has no Chinese restaurant and (thankfully!) no chains or fast food franchises. We have fish (of course!), steak, tacos, pizza, pub food, roadhouse fare, burgers & fries, fine dining, and more. As a country singer in Nashville once told me, "If y'all leave here hungry it's your own fault!"
I've grouped restaurants in a general way. But of course you can go to Harbour Merchant at lunch and 782 Taphouse or GT's for dinner, for example. Check the hours. Assess your hunger. Eat! Also, most places have some form of outdoor seating, essential for the full experience on a beautiful day.
BREAKFAST
Harbour Merchant Coffee Company on Bridge St. recently changed ownership. The new owners are our neighbors. Open every day, Harbour Merchant specializes in high quality coffee they roast in house, and yummy baked goods. Think Starbucks but with more warmth and friendliness, and no need to learn a new language. A large is called a large, thank you very much. They also make a breakfast sandwich that hubby and his buddies enjoy.
The Art and Soul Cafe across the street is another fave. They're also open every day and serve a more extensive menu including their own pot pies, soups, paninis, and fresh salads. The walls are lined with pieces created by area artists and they're for sale.
People absolutely rave about The Edible Journey, at Telegraph House. Serving breakfast, lunch, smoothies, and treats, all described as healthy and energizing. You can order from a meal prep menu to make healthier meals at home.
Depending on the day, That Breakfast Place opens at 10 or 11 am. Think of it as that late breakfast place. They altered their opening time because of Covid. We hope they can open earlier, soon
PIZZA
There are two pizza places in Port, although you'll find a pizza or two on other menus.
Papa Joe's is a small, family-run chain with other locations in Sparta and Springfield. The Little Beach take-out also has calzones, wings, fries, and several types of poutine. Derek has really enjoyed the poutine and calzones. Opens at 4 pm.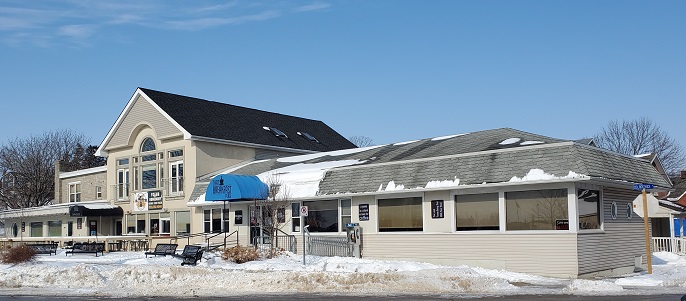 PizzAxl's Pizza is located inside 782 Taphouse next to That Breakfast Place on Bridge St., at the bridge. Their pizza is stone oven-baked and my personal fave. It opens at noon.
LUNCH
782 Taphouse, mentioned above as home to PizzAxle's, has delicious homemade burgers and a roadhouse type menu. Plus, the servers have been enthusiastic and friendly, even when the place is packed and they're clearly run off their feet.
GT's on the Beach is synonymous with a trip to Port Stanley for a lot of visitors. It's beach bar and restaurant that's always hopping. They have a good variety of food and cocktails, and if you go before dark, it's not as much of a party palace yet. It offers indoor dining or a patio that's literally on the main beach sand. They shut down over the winter and probably do nothing but sleep!
If fast burgers and fries are what you're after, Mackie's is also on the main beach. It's Port Stanley's oldest restaurant, family owned and running since 1911. They're famous for fries and orangeade drink. It's the best place to take a gaggle of hungry kids. There'll be a lineup but they have it down to an art. I've never waited very long.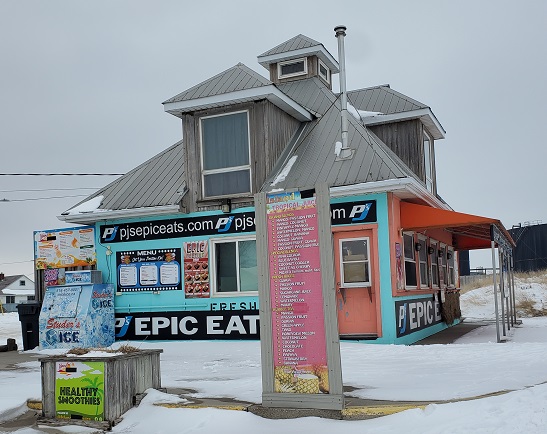 Pj's Epic Eats is a take-out joint nearby, on the main beach. Poutine, burgers, hotdogs, ice cream, pizza, and other quick eats are on the menu.
The Buccaneer is close to Mackie's. It has more of a dining atmosphere, and it's great for lunch, dinner, or the all-day breakfast. Nice staff and patio as well. It belongs to the Port Stanley Beach Hotel.
Pierside Pub and Grill is just up the street from the beach, too. Known for their live music, fun vibe and two-level (heated when needed) patio. Visitors say they've got a great price on beer and their pub food is pretty decent.
Barnacles Beerhouse and Eatery is a bit further away from the beach but close enough to be part of the action. They call themselves the local's choice. Pizza, pasta and of course, pickerel and perch are on the menu.
Feeling a little Mexican? Main Street Taqueria serves authentic Mexican dishes like burritos, tamales, and tacos and when the day's supply has been sold, they close. In other words, he who hesitates is extraviado!
FYI Waffle Weiney has just shut down. And although some search engines show there's a shawarma restaurant here, it's closed as well.
FINE DINING
The Kettle Creek Inn's menu is one of the most popular in town. When locals choose it for take-out (especially during pandemic restrictions) you know it's good. Salads, sandwiches, fish and steak, all quite yummy at upper-moderate prices.
Solo on Main features fine dining with Sunday Brunch, too. Visitors say it's a must-try but we haven't managed to eat there yet.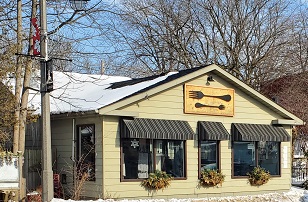 Two Forks is super popular and another one we haven't tried. We've seen the lineups and gone elsewhere. However, people do line up and consider it worth it. They don't take reservations. Described as classy casual with cocktails, craft beer and creative dishes. One day, we'll be outside the door when they open!
The Windjammer Inn serves brunch and dinner and I hear only positive things about their food. The restaurant went on a winter break this year. I'm not certain whether that's typical, or Covid-related.
ALSO…
You can't call yourself a local without visiting your local Legion. Okay, you can, but we didn't. We have popped into Branch 410 for the least expensive lunch in town and snapped a few Nevada tickets to show our support for local veterans. It's a case where you find out by chance whether the kitchen is open. But the Legion is about a local as it gets. There's a world of history on the walls.
Ice cream is a must-have in Port Stanley. If Shaw's Dairy Bar didn't lure you in as you approached town, we have our own houses of frozen delight in the village.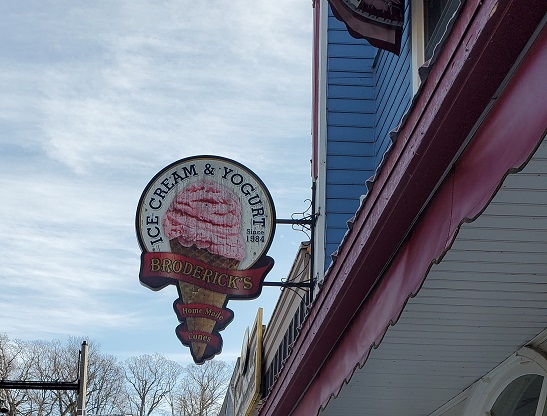 Broderick's Ice Cream Parlour is on Bridge Street and has been serving frozen treats since 1984. It has an old time parlor feel and it's steps away from the water. They have dairy-free and sugar-free selections as well as gelato. They're the obvious choice on the main route. Broderick's is part of the fabric of the town.
Less visible, newer, and funkier is Lick's Ice Cream and Milkshake Bar which opened during the pandemic. Located on Carlow Rd. behind the LCBO, they serve Shaw's ice cream and they're worth a little walk. Their menu features unexpected creations that look wacky, with cake pops or tarts or other delights sticking out of ice cream scoops. Of course, you can get a cone if that's what you want. The service is great, too.
We are aiming to try every restaurant in town unless someone opens The Eel Emporium or House of Okra. It takes a ton of hope, energy and tenacity to operate an eatery in a tourist town. I believe that imports like us should choose someplace local when we want to dine out. After all, we're neighbors now.