We adopted Cuddles the cat, aka House Panther, one year ago tomorrow!
He has come a long way. The same lad that was at first hiding out for nearly a week has taken full ownership of the house. He delivers head bumps, wet nose prints, and best of all, he's a lap cat. Not to mention movie-star handsome.
Large communities of black cat fans have assembled on social media. They discuss misconceptions that keep black cats from easily getting adopted, like dumb superstitions left over from Medieval times. Still burning witches, too? Using leeches to cure the sick?
In fact, the culling of black cats in the Middle Ages contributed to the rise of the bubonic plague. Fewer cats meant more rodents carrying disease. People should be so lucky as to have a black cat cross their path!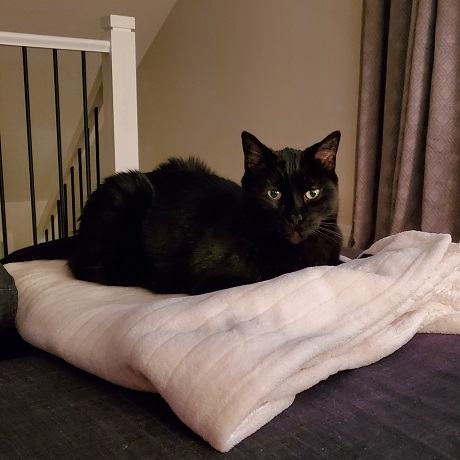 He's Come a Long Way, Baby
Cuddles began life as an abandoned kitten found scrounging for scraps to survive in a factory, huddled near the trash compactor. How he got there, where his Momma went – no one knows. Even though he's 13, it's no wonder he's still a little jumpy. Sharp noises flatten him out. But his overall courage has improved immensely. He struts into the room at bedtime and no longer leaps away if one of us rolls over. He even ventured up to meet his cousin, Nacho the dog, on Christmas Day. That surprised us all. Especially Nacho!
Cuddles was reluctantly surrendered to Animal Aide when his human partner had to move. It shattered her heart. He was in the shelter for seven months until we found each other. I wish I could tell his original Fur Mama how much he's loved and lights up our lives.
We've settled into a happy routine. I still laugh every time he runs downstairs ahead of me in the morning, knowing the workday is about to begin. Where would my voice-over business be without his supervision? A whole lot less fun, that's for sure. When he's extra vocal in the morning, we know it's because he wants to "read the news". Derek opens the sliding door, no matter the weather, and Cuddles takes a few sniffs to determine what's on the wind.
We acknowledge that he hit the adoption lottery with us, but also, us with him. As soon as he came out of hiding, we crowned him our King! I swear we got a bigger bed, in part, for his comfort. He's funny and fascinating and his presence never gets old. We're those people – cat people. But not necessarily all cat people. We're our cat people.