That is not my orchid above! I took a selfie with it at the Four Seasons in Maui in February as inspiration for my orchid at home, as I attempted to bring it back to life. I thought maybe this photo would give it something to live up to!
Millions of people know more about houseplants than I ever will. It took years for me to overcome the habit of fussing over them too closely. Overwatering. Killing them with kindness. My late Mom finally got it through my head by saying, "it's healthy for them to struggle a little bit". Now I ignore my plant-ernal instincts, which are obviously flawed, and follow Mom's advice. It's no surprise that my plants are healthier for it.
We've always known that it's healthy to have plants around. Now, research released by the University of Victoria shows that not only do they clean the air, they might actually protect us from viruses.
"Hydrogen peroxide was found concentrated in water vapor emerging out of the leaves of the house plants, which if bound with floating water vapor containing a flu virus, could very well sanitize it." U of V Research Paper
This has implications for removing harmful greenhouse gases from the atmosphere. And improving the conditions for patients in hospitals and long-term care homes.
Most of my plants are in one room, near a south-facing window, except for my beloved Money Tree. It has had tough times since we moved to Port Stanley. It's taken a while to get it back to good health. It turned brown and sad (too much direct sunlight) and then droopy and sad (not sure why). Both times, I gave it a good shower and transplanted it. This time, I think I got it right with better soil, a gravel base, and a tray for water overflow that I can dump out when needed. And it's in a room with indirect light.
Look how happy it is!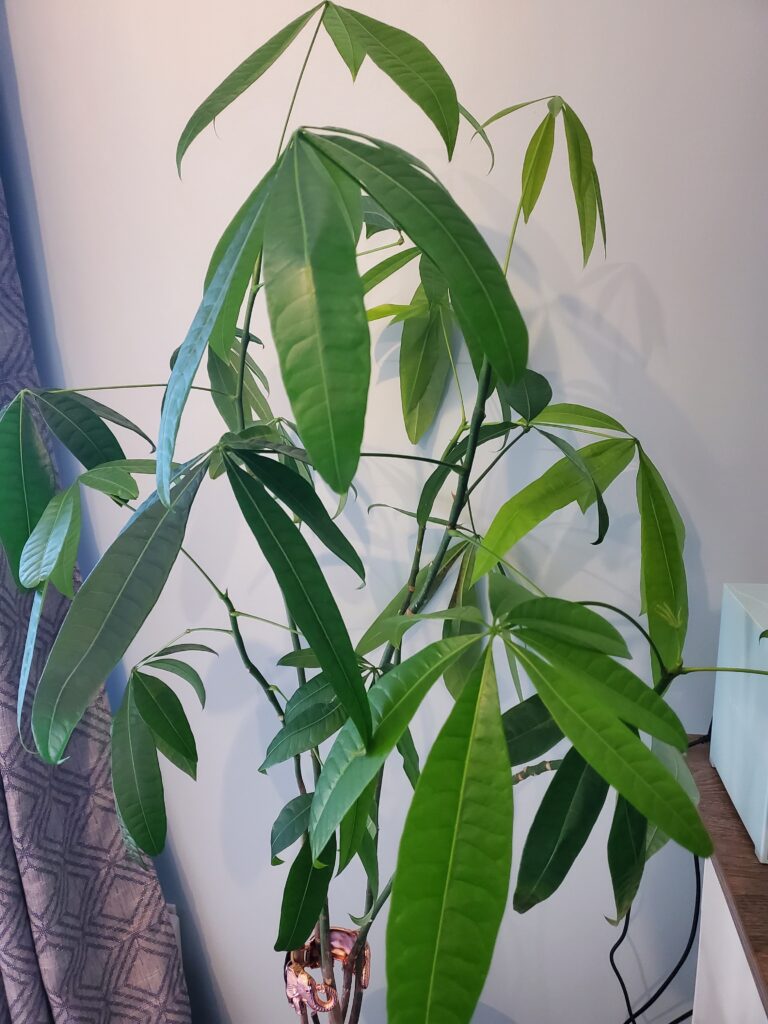 But my orchid is my pride and joy. My Little Sister Tabitha and her family gave me this plant last summer. It was blooming and beautiful at the time. I did loads of research about it and kept it dormant over the winter, watering lightly once a month while it slept.
When I brought it back up to join my plant family, some of the roots went a little crazy outside of the pot. I consulted an expert at a local greenhouse and they said, "leave it!" Orchids don't like change. She didn't think trimming or transplanting it was wise. So I left it alone, except for a little water every couple of weeks. (When I first got it, I was giving it two ice cubes every two weeks.)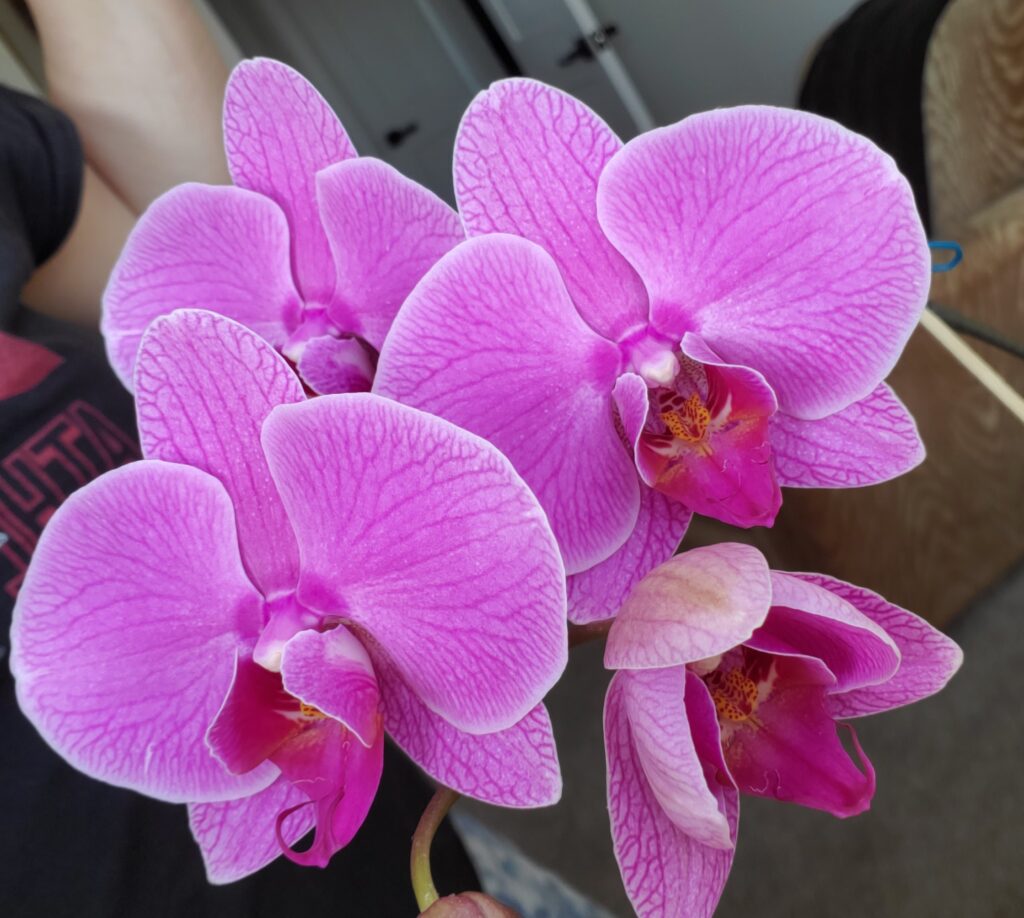 Lo and behold the fussy little thing has decided to flower. When the buds came up, I was as giddy as a girl in the front row of a Harry Styles concert. Once it started to droop, all I had in the moment was a big paperclip to brace the stem. Again, I've left it, for fear of over-fussing and upsetting its progress.
There are at least two more blooms to come. It's nothing outrageous or history-making, except to me, the former black-thumb of the family. My Mom was a plant's best friend. (A bird's too.) Working in her gorgeous rock garden was her therapy for several decades. She could grow a flower on a rock. She once gave me a spider plant that she called the "plant that survives anything", and I killed it. So these little victories are special to me. And maybe they're keeping us healthier, too.