Derek and I ran a few daytime errands together a couple of weeks ago. It was a rare moment when neither of us was busy with work. He needed a specific power cord for his motorcycle. And there was a sweet deal on Google Pixel 7 phones that we'd been waiting for at the Rogers store.
We zoomed into St. Thomas (ten minutes away) and made a few stops. First, to The Source for the cord. It's been a while since we'd been to that store and now they buzz you in. I've seen that at jewellery stores before but never at The Source. It makes sense, though. So many small, expensive gizmos and few staff. We looked up at the camera and the door opened.
That task complete, we crossed the parking lot to the Rogers store. We're Fido cell customers, a division of Rogers. Buzzed another buzzer. Stood at the door. Looked up so the camera captured our faces. Got let in. Merchandise is secured on the walls by special electronic hangers. The items themselves have electronic tags. Layers and layers of anti-theft protection cover everything.
Increased prices are everywhere but stealing something? It would never enter our minds. However, it's a big problem. Poverty, addiction, organized crime – they're all reasons behind the five-finger discount.
Food Inflation Fuels Theft
In light of higher grocery prices, some shoplifters say they feel entitled to take stuff for free. The average Canadian family will need to spend about $1,000 more on food this year if they maintain their purchasing habits. A retail analysis in Canada shows some grocery stores are losing from $2,000-$5,000 worth of product to theft every week.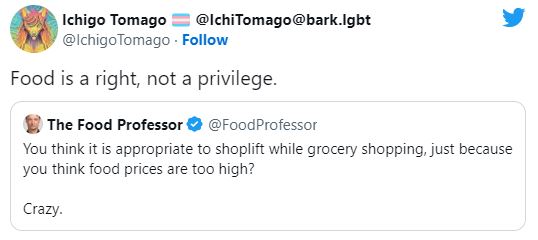 Maybe you've even seen a shoplifter in action. I've never witnessed the act, but I have seen thieves bolt out of a store. Staff let them go because it's not worth getting punched, or worse, over a package of meat.
Meanwhile, in the Big Apple
In New York City, shoplifting is a huge problem but they released a surprising statistic about how a tiny number of people are having a big impact. NYC police say just 327 people accounted for almost 1/3 of all shoplifting arrests there last year. That small group of thieves was arrested and rearrested almost 6,000 times. Those little New York corner bodegas are stuffed full of products. It's difficult to get a camera on every corner of the store. And it's about more than product losses. Merchants are worried about property destruction and their personal safety. Robbers are more likely to shoot or stab in New York.
One of the contributing factors to high security at the Rogers store in St. Thomas is what happened next door a few years ago. Robbers zip-tied and gagged staff and then cleaned the place out. The invasion happened through the back of the store, and caught everyone by surprise. We've probably all worked at a place where someone propped open the back door to have a smoke or just get some fresh air away from the madness inside. That's a big no-no now. And security is now as tight at the back as it is at the front.
It's probably normal to go through the screening process in bigger cities but in little St. Thomas, it's not that common. It feels weird but comforting at the same time. You can rest assured that everyone inside is there to conduct legitimate business. Unless they're incredibly, almost legendarily stupid.
Phoning It In
Now about the deal on our phones. Who doesn't love to talk about a great deal? When your phone term is up it really pays to wait, even if you are ready for a new phone. They'll eventually start tossing goodies out to keep you as a customer.
We've both had Samsung Galaxy phones for quite some time and wanted something different. Fido had an offer on the Google Pixel 7: The phone was half price, plus we'd each get $150 each worth of free accessories. They also offered more cell data for a lower monthly cost. If you're patient, eventually they start pulling out all the stops. Except for the one at the door.