Hubby scours Pinterest a lot more than I do. He's an idea guy and a builder, after all. And when he sees something he wants to make, he calls me in. That's how our dining room light fixture came to be.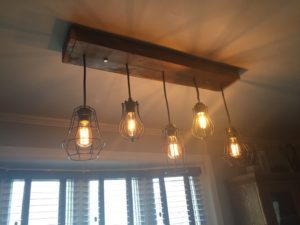 We designed it together, taking some of the best elements of things we'd seen online and customizing it to our taste. It's deceptively simple looking because all of the workings are hidden in the barnboard base. I ordered the cages on Ebay, the cloth cords came from Lowe's and the Edison bulbs are sold just about everywhere now. I love the randomness of the cages and I've ordered more because Derek is making these to order now. He won't be using the bulb-shaped ones in the future, though, because they're impractical when it comes time to replace a bulb.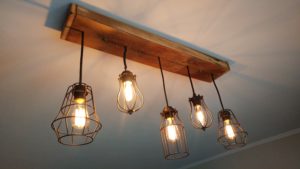 I couldn't be happier with the finished fixture. As he was working on it, Derek also created a floor lamp that gives off a soft glow. It looks like a rustic piece of barn board that's standing on end, but lights between the barn board and a backing board create ambiance.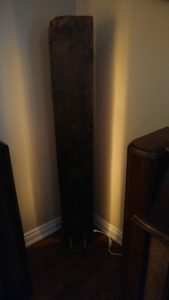 Did I mention that he's also electrifying old lanterns, too?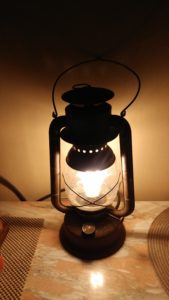 He's making lamps out of glass insulators, steel funnels, even an old industrial sewing machine bobbin! The cage light fixture is my favourite, but I admire the guy's ingenuity. You might say he, ahem, lights up my life!