It's quite alright to come in second. Don't worry – I realize, fully and completely, that I'm not in second place in the radio industry. Many people are more successful than me. But I always come second to Erin Davis and that's quite alright with me. You don't hear Gayle King complaining that Oprah is more successful than her. Gayle co-anchors CBS This Morning and that's a pretty darn good gig. Friends are proud of what other friends accomplish. It's not a competition. And if it is, then you're not a true friend.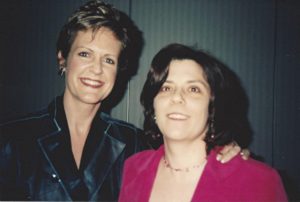 This is us in 2003. And tomorrow, she and hubby Rob will arrive for the weekend and I'm so excited, I might need those pee pants whose ads are following me around the Internet!
It's not about who has the bigger job. It's about who has the bigger heart and is willing to open it up to you. On that score, Erin is number one again.