Saturday was hotter in London, Ontario than it was in Dubai, United Arab Emirates.  Dubai, that over-populated, but-it's-a-dry-heat, desert playground, where 40C+ is the norm. Where millions of people hustle through the world's tenth-busiest airport on their way to spend their wealth at luxury stores while the sun beats down with a relentless burn. No wonder we didn't want to go outside.
We mostly lived like mole people on the long weekend. Other than a skip out to water the flowers before the sun came up, short, early-morning bursts of painting an armoire in the garage, and a quick trip to pick up pizza, we stayed in. Blinds and curtains closed, minimal activity, central air churning away. I have little tolerance for heat and I'm grateful that I didn't have to endure it. And there's another reason why I've been an unsocial butterfly. If you get queasy over health-related matters, skip below the next paragragh.
*For the last few weeks, any exertion, no matter how minimal, gives me a nosebleed. Go up the stairs? Nosebleed. Go down the stairs? Nosebleed! Bending over, lifting anything heavier than two pounds, walking at a brisk pace – they're all triggers. I've been to my doctor and while it's nothing to worry about, it's been too risky to be in public. Sure, it's patriotic to bleed red on Canada Day, but no one wants to see that.*
With no obvious sunbeam in which to bathe, the cats mainly laid on the cool beds and slept. We had a couple of welcome visitors and several times I thought, we really should go somewhere and do something followed by, says who? We're cool and comfortable. Don't mess with it.
Derek had an audio-book project to finish and I also had plenty to do. Promo copies of my upcoming book are going out.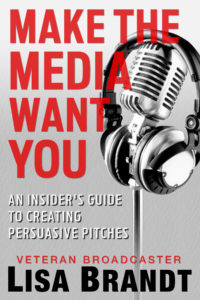 Make the Media Want You will be available for sale on July 18. The advance copies are going to people who manage PR courses at colleges, bloggers, reviewers, and those who contributed to the book. As an independent author, I must carefully consider everything I do. Having said that, I also need to get the book out there into the hands of those who will read and review it. It's an exciting challenge. As I watch my initial pile of 100 books dwindle down to a thin stack, I have to remind myself not to second-guess it. Just do what feels right and honest. In other words, take my own darn advice.
This petite armoire was marked down several times at The Ultimate Garage Sale because no one could see past the thick coating of eggplant-coloured paint and a nasty message painted inside one of the bottom drawers. Cottage Paint in Heritage Grey will take care of all that after I picked it up for a mere $30.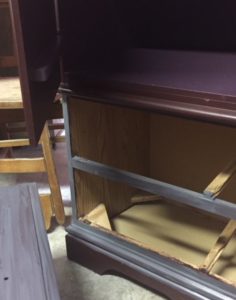 It's earmarked for the main floor guest bedroom which, until now, has always been a little cluttered for my liking. However, contents that were previously enclosed in two large pieces of furniture, are now piled on the floor. So this is a priority project. But it was too hot to get much done.
And then I did the simplest thing possible: changed out a drawer pull on my parents' old pine table that's now our dining table. This replaced a round, white one that stood out a little more than I wanted. The change is subtle but more in keeping with our quirkiness!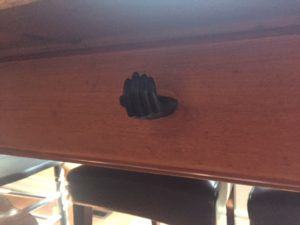 I also broke a mirror I've carried with me since 1990 when it was given to me as a going-away present from my friends at CKNX in Wingham. I got too blase about my hammering and the rest is mirror chips.
On Monday, we had to try venturing out of our burrow. How disappointed I was that not one of the area ice cream shops posted whether they'd be open that day. Some were, some weren't. We ended up at Picards in Arva for a cone after some wonderful wings at Ilderton's King Eddy. Counting calories? No, I stopped that some time ago. And it's starting to show, especially with a lack of exercise due to the paragraph you may have skipped earlier! But life is short. And once in a while, I'm going to eat some wings and ice cream.
How wonderful it is to live in a country where we have the luxury of doing whatever we want, even if that's almost nothing at all! Thank you Canada. I hope you had a wonderful birthday. Sorry we didn't make it to the party. (Not really sorry.)