Somehow, I've gotten this far in life without realizing that you can buy chicken in a can. I know about the chicken of the sea, but I had no idea that you could buy chicken packed like tuna.  I now have three cans in my pantry and one in my belly. It isn't very good on its own. It's super salty and requires a lot of help to become flavourful. My Mom says my paternal Grandmother used to stock it for sandwiches. I never noticed.
As my Keto journey – which I call an attempt – continues (albeit with less fervor than before), I'm still looking for ways to get around eating pizza crust. My cauliflower-crust experiment was a tremendous taste success but also labour intensive. (BTW Cauliflower rice is now in permanent rotation in my kitchen after I made the recipe from Whole and Healthy Kitchen HERE. It's yummy!) My sister-in-law, the Keto queen, makes crust out of chicken, Parmesan and an egg. I thought she was kidding about canned chicken. That's how unaware I was!
You could use shredded chicken breast but why go to all of that trouble when a can is the perfect amount and it's less than a dollar?
This YouTube video for chicken pizza crust tells you to make it thin but I thought I'd go thicker, just for kicks. I've spent my whole adult life eating thin this and flavourless that – I wanted an old fashioned crust. You know, like the Italians used to make, with canned chicken!  🙄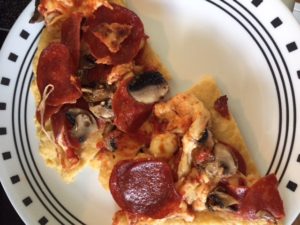 We ordered pizza and, like a culinary Dr. Frankenstein, I removed the toppings from a couple of pieces and slid them onto my chicken creation. The result: deliciousness! But SO salty. I later discovered that boiling the chicken for a couple of minutes removes a lot of the salt.
I'm feeling so much better without wheat in my life and I don't miss it. I'm not saying never, though. I have had popcorn a couple of times and a few homemade muffins. Thank you versatile chicken for once again coming to the rescue and for teaching me that you can even fit into a little, tiny can.