Yes kids, in addition to playing actual records on the radio, long-time radio pros also became intimately acquainted with a piece of technology known as the Bulk Eraser. 
In my first year of the radio and TV program at Niagara College, the second and third-year students taunted us with warnings about the looming "bulk eraser test". Tom Otto, who is now the program's coordinator, may have been a part of this ruse, meant to strike fear in our hearts. He was in year two when I started year one.
Carts, short for cartridges, were state-of-the-art media for music, commercials and pre-recorded programming. They looked like an 8-track cartridge. Inside was a continuous loop of audio tape. The trick was to use the proper length of cart so that when the song or commercial ended, its beginning wasn't too far behind. The cart would cue up quickly and be ready for its next play.
This simple piece of equipment was a necessary evil.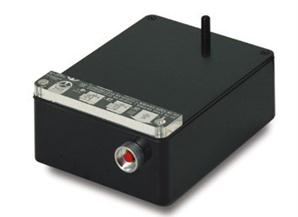 The bulk eraser cleared a cart of its material, preparing it for its next recording. You literally rubbed the cart on the black surface while holding the red button. Commercial carts tended to be about 40 and 70 seconds in length, to accommodate 30 and 60 second commercials. You could "wind" a cart to three, five or ten minutes or so – but if you were going long, you might as well just use a reel tape, which was also erased on this little gizmo. It buzzed and hummed while it carried out its mundane task.
Sometimes, you'd miss part of the cart or accidentally release the red button and it wouldn't erase properly. You could tell, if there was a trace of an old commercial still audible behind a new one. That also told you that whoever recorded the new material on the cart didn't check it before sending it to the studio. tsk tsk.
And who among us didn't have a cart flung past their head in someone's fit of rage? They shattered beautifully against a wall or door. I also recall a bit of cart espionage between a couple of warring talk show hosts at CHML in Hamilton. One would tell the other, "I tried to play your commentary but there was nothing on the cart!" The bulk eraser strikes again.
Can you imagine the joy we feel at simply opening a new, clean digital file without going through all of this hassle? As for the bulk eraser test, it wasn't a thing, and I think most of us knew that. Nice try, though, RATS. (Radio And TV Students)