Mail delivery resumed last week and with it came an ongoing, scammy letter that had me going for a few minutes.
It came in an official-looking brown envelope and whoever's behind it does thorough research.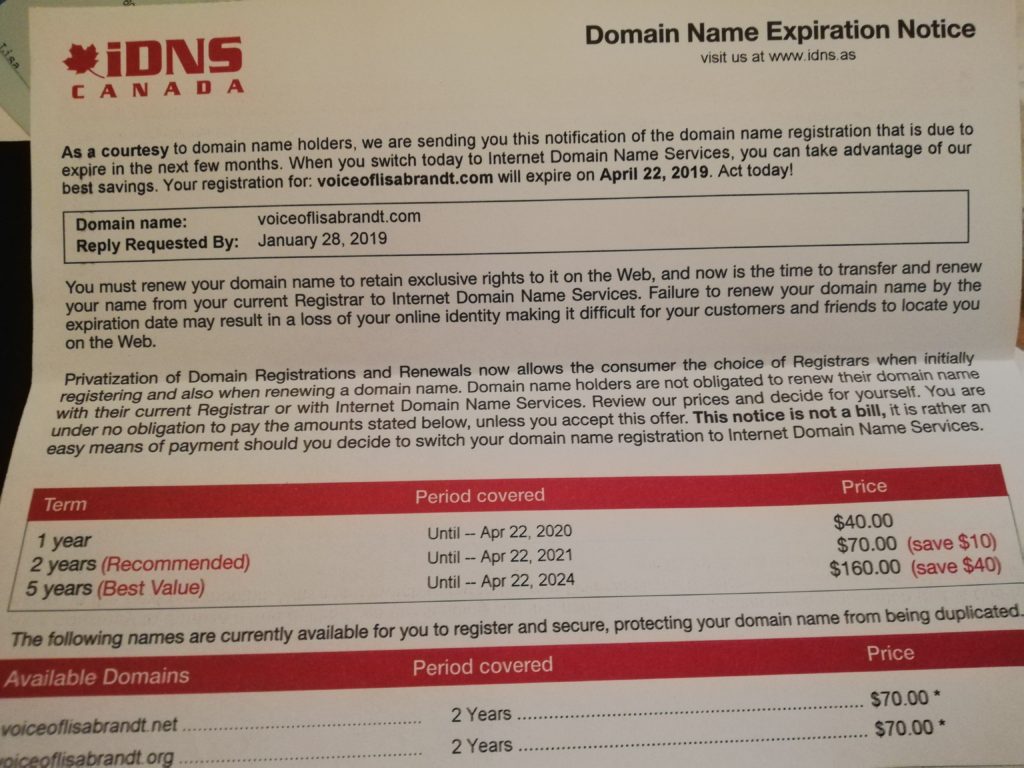 My website's domain is set to expire next April. I tossed the letter aside and thought, time to renew I guess.
Later, when I took a closer look, I realized I'd never heard of IDNS Canada, so I googled it. My monitor basically flashed the word SCAM over and over. They appear to be trying to lure my business from Go Daddy with a heavy-handed mailing. It does say clearly that it's not a bill but rather an opportunity to realize savings by switching to them for domain registration.
Go Daddy charges me $9.99 to their $40. Not much of a savings!
Another clue: Their website address ends with "as" which is American Samoa.
I've read that thousands of people have fallen for this letter and unwittingly sent money to the Toronto address, which is a post office box. Warnings from years ago say the site was based in the United Arab Emirates so it appears they've been on the move.
I've had several websites over the years hosted by many different providers. Had I not been suspicious, it's possible that I could have assumed this was legit and fired off a cheque. Someone in American Samoa could have had a nice dinner or shopping excursion on me. In this era of rampant fakery, it pays to be skeptical. Wouldn't you agree?