The dream: To work from home in one's pyjamas, when possible. Reality: it's friggin' awesome.
The most significant challenge is keeping work and home life separate where possible. We've just moved in, so everything's shades of grey. But we're evolving into a more black-and-white situation when it comes to preventing work from bleeding over into home.
Voice-over artists discuss sound booths – a lot. The best foam, how the voice travels, what to do about outside noise (the neighbour's rumbling muffler!) and so on. Cozy and well-insulated spaces seem to work best for a budget-minded home set-up, in our experience.
People source acoustic foam from all sorts of places. You can buy it online, from a music store (if you like spending more money than you have to!) or do what we did – go to Len's Mill Store and Walmart and purchase foam mattress toppers. Depending on the size, it will cost roughly $50-$100 for a Queen. Purchasing the same amount of foam by the 12-inch square, keeping in mind that math isn't my strong suit, would cost about a million dollars. So you realize some significant cost savings! Plus, the mattress foam can be cut to exact size.
Then there are foam wedges. They're good for filling odd places where sound could bounce. They're $15-20 bucks at Len's. Both of our booths are only the size of a closet, mainly because they're in closets.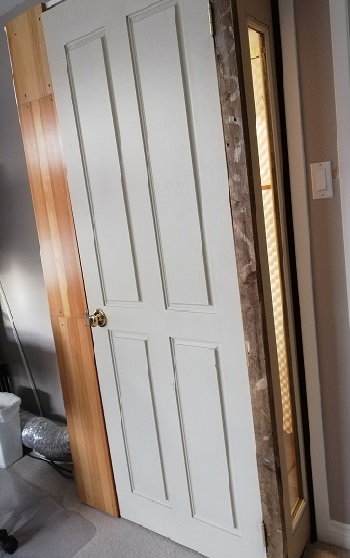 My booth was put together first and then we shared it until Derek's was done. He did 99.99% of the work. Putting up wedges in my booth was my job and one of two keeps falling from the ceiling. I'm on plan D for trying to make it stick. We're comfortable, autonomous and clients are happy with the sound of both booths. And they didn't cost a million dollars to make.