People now seem to understand the depth and breadth of human trafficking in the London area. The Forest City is attractive to these horrible creeps who deal in slavery because the city is so accessible from the 401. It's easy to move from city to city, Toronto to Windsor, and all points in between.
This week, one of London's popular restaurants was the target of what may be a human trafficking attempt. Someone with no link to Black Trumpet Restaurant placed an ad on Indeed, claiming to offer server positions there, and requesting meetings "off-site". The Black Trumpet was deluged with resumes and phone calls. It comes just after an arrest in the city for human trafficking resulting from fake online ads. It caught the attention of Megan Walker, Executive Director of the London Abused Women's Centre.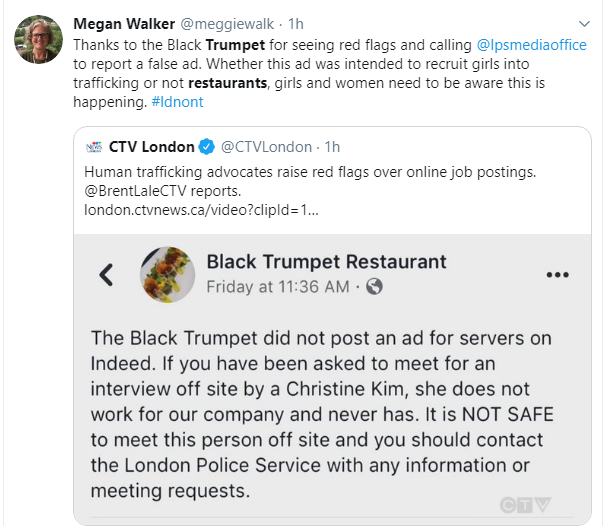 We don't yet know this Christine (if that's her real name) person's motive. We do know that she's a liar who's trying to mislead people. That's enough to prompt a call to police and a warning to women.
Women from other countries come here on the promise of a better life and when they get off the airplane, they're indebted to their "benefactors". Creepy boyfriends coerce women into becoming strippers and hookers against their will. Other creeps kidnap women and still more lure them with fake job ads. Some women who got away have written compelling autobiographies and told their stories to media. It's humans at their worst and something we all need to be aware of.