License plates across Ontario continue to peel. Mine has just started to shred, and I'd better act quickly if I want to replace it for free.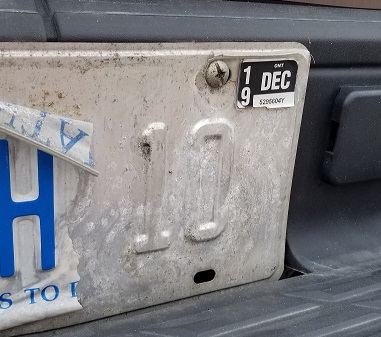 Derek's plates are in terrible shape, but because they're personalized and more than 5 years old, he must pay for new ones. He's probably going to get regular plates, for $59 rather than the custom ones for $310. Mine fall within the 5-year range, so they'll be replaced for free.
Several years ago, a huge batch of plates made by inmates at the Central East Correctional Centre in Lindsay was found to be defective. No one seems to know the root cause, but the Globe and Mail reported that something went wrong in the five-step plate-making process. Thousands were recalled, thousands more peeled right away and thousands more are peeling before their time.
So, what happens if plates aren't legible and you don't get new ones? It's a violation of the Highway Traffic Act for which there is no set fine. In other words, the officer can put a number on it. Will it be $65 bucks or $300? Why, that depends on your attitude, sir!
Soon, I'll drive to the nearest Service Ontario, remove my plates, and get fresh ones. You can't keep just one. And unless they're personalized, you won't get the same number/letter combination.
There are more than 9-million licensed drivers in the province and who knows how many more, driving illegally. More than we think, I think. We don't know how many plates coming back because of problems but there will be four from this household alone. If your plates are less appealing because they're peeling, you can find all of the info on cost and what you need to do HERE. See you at Service Ontario!