Ask anyone and they'll tell you why they don't get a good night's sleep. Poor sleep isn't special although everyone's reasons for it are a little bit different. Isolation has created a sleeping problem for some people who never had one before. But we are already a nation of bad sleepers.
For many years, I disturbed my natural sleep rhythms for work. Most of the time, I was doing a morning show shift which meant getting up anywhere from 2:30 am to 3:30 am, napping in the early afternoon, and going to bed early. I was always tired. Parent-of-a-toddler tired. Always. Coffee isn't just something I enjoy, I've relied on it for much of my working life.
Now that I make my own hours, I still nap sometimes, but it's a choice, not a sanity saver. However, in recent months, I've been waking up in the wee hours and unable to get back to sleep for as long as a couple of hours. What to do? I researched all the advice: stick to a routine. Limit caffeine. I have two cups a day, max. Don't bring electronics to bed. Get exercise. Don't eat before bedtime. Yadda yadda yadda. I followed what I wasn't already following, and still found myself once again enduring sleepless nights.
Three sleep studies have shown that I have mild sleep apnea, but Derek is skeptical! He claims I don't ever stop breathing because if I did, I would stop snoring and he says that doesn't happen very often. Sleep specialists tell me I'm at the "if you want to" stage of needing a C-PAP machine and I don't want to.
More than any other time of my life, I should be getting good sleep. Menopause is a factor. Sleeplessness is a common side effect of a woman's hormones playing knick-knack-paddywhack on her system. I've tried over-the-counter drugs and melatonin and the anti-snore aids and none of them is a long-term solution. When I was hospitalized years ago, I was introduced to Lorazepam/Ativan for sleep and fell in love with it. However, it's extremely addictive and my physician refused to give me a prescription. Just as well.
As you know, there's a new, legal kid on the legal sleep aid block. CBD oil is working for many people for everything from anxiety to pain relief. It's derived from the cannabis plant but it doesn't get you high because it contains little or no THC. A woman whose judgment I trust swears by it, so I ordered a vial. There are so many mixtures and strains. It's like taking on a research project just to make a selection. But I found one and gave it a try.
I didn't get a chance to consult my physician about dosage although we did once discuss it as a potential option for my sleep issues. I started small with .3 ml. I'm the kind of person who gets dozy from taking a Tylenol so I wanted to be careful.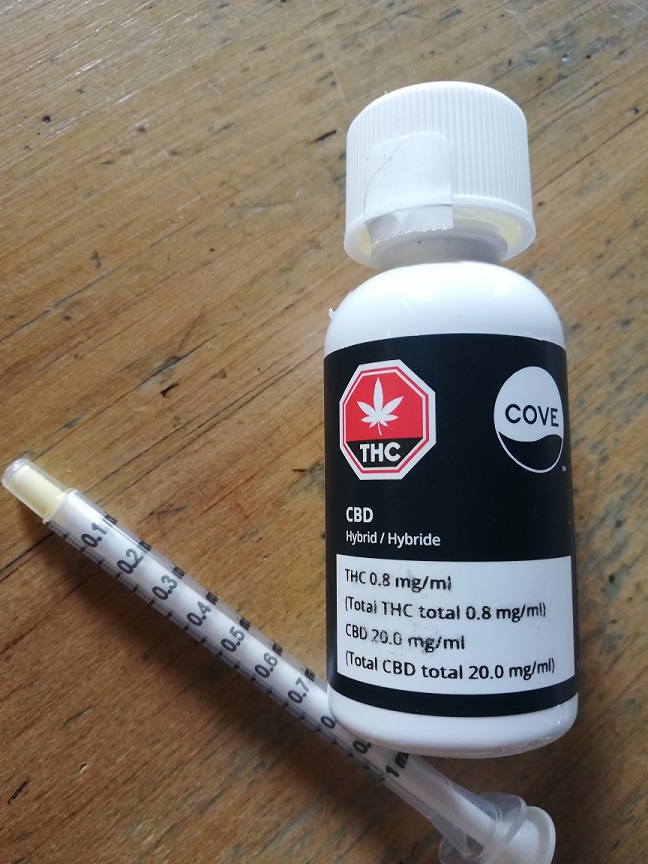 I slept like a rock and felt hungover the next day. However, I have trouble believing this little bit of liquid caused that kind of reaction. It's supposed to take a week or so to have an effect. It's been several weeks now and sometimes I sleep through the night. When I do wake up, I get right back to sleep, which is new and welcome. But I also feel dulled during the day, like I don't have my usual zips of energy.
The taste is pleasant: smoky marijuana with a rich aftertaste. However, it has an unexpected side effect. It's making me crave cigarettes. I quit smoking in 1988! I sometimes dream that I've smoked and wake up angry with myself, and would never start again. Cigarette smoke is a huge turnoff for me now. But I'm getting cravings as if it's only been a few hours, not three decades since I last smoked.
So, my review is mixed. This oil isn't the panacea I hoped for but perhaps another variety would be. I think it's helping but I don't love the side effects. At $75 for a small bottle, it isn't a cheap experiment. Is it possible that there's something else out there to try? If so, I'd love to know.
Always, always talk to your doctor if you plan on taking something like CBD oil. They know more than you think and if yours doesn't, find one who does! Also, some medications don't interact well with it. Sweet dreams!