The big day is drawing near! The day after the original social-distancer, one Mr. S. Claus, sneaks in during the night as we sleep.
My human beans have canceled most Christmas plans. We are expecting my Uncle Kevin and my filthy dog cousin Nacho on Christmas Day. Uncle Kevin's stupid coworker came to the job even though his nurse wife was home, isolating with COVID-19. And guess what? The stupid coworker has it too! So, now everyone is getting tested and staying home, even my filthy dog cousin Nacho. Some human beans are as dumb as hamsters.
Anyway, I want to show you my first piece of mail! After many years, something specifically addressed to me finally found its way into the mailbox. It's from my friends at the Humane Society of London & Middlesex.
This lovely card was, of course, prompted by my modeling job for their 2021 calendar. I would be remiss if I didn't once again suggest it as a gift for your special someone. This being the 22nd, it's not likely to arrive by Christmas, however, the New Year is still 9 days away!
Even if it arrives in February, your recipient can skip the filthy dog in January, and begin 2021 with the month of love and yours truly!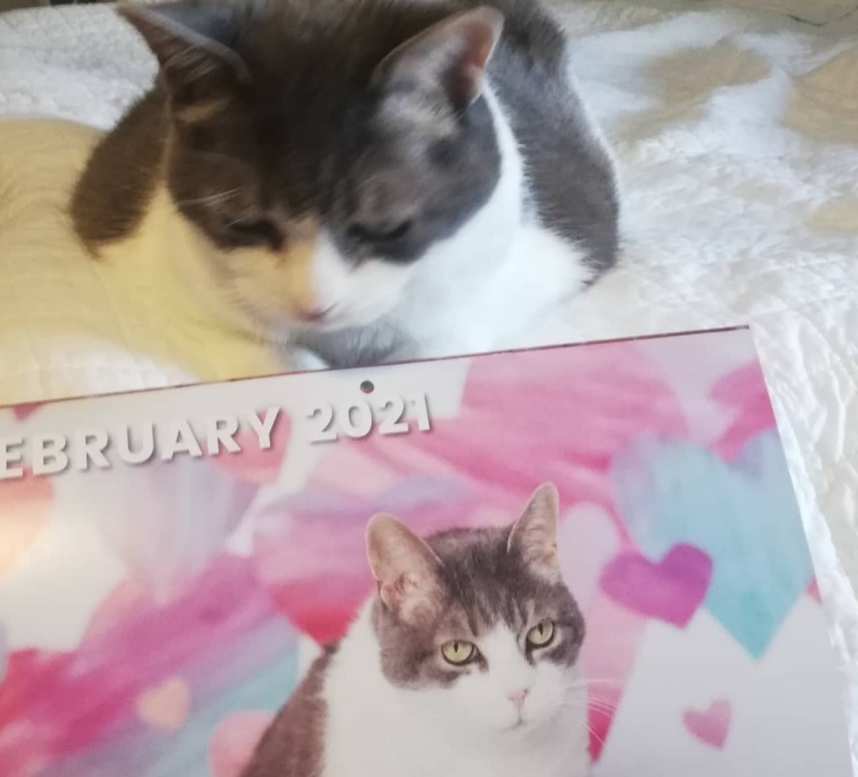 All proceeds go to help the shelter do what it does in caring for unwanted and homeless pets until they find their furever homes. Each calendar sale equals a vaccination, isn't that wonderful? I was once a resident and although I do my best to forget that time in my life, it was brief, because Mother quickly rescued me. I love it when she tells me the story of how she waited for a senior cat. My photo was posted on the HSLM website on her birthday in 2015. The rest is history and bliss.
However you celebrate, if it was was Hannukah, or Christmas or Kwanzaa, I wish you the best. I hope you get a full belly, a belly rub, and whatever else gives you a happy and satisfied belly.
I will chat with you again sometime early next year. Mother has forbidden the use of gizmos and gadgets over the holidays. She wants us to read, relax, and enjoy each other's company. This cat is down with that.
It's my hope that you have wrapping paper to lay upon and a fresh box in which to climb.
Your friend,
Miss Sugar