When brother Dave came back to Ontario to be near family advocates during his cancer ordeal, he brought a friend with him.
Leo – short for Leonora – was his decade-old cat. Dave became a black cat promoter after he learned black cats were less likely to get adopted. It was SO Dave. Always rooting for the underdog, or cat, in this case. He featured Leo in many of his social media posts. They were a bonded pair.
When Dave was hospitalized with a complication in late January it became apparent that Leo needed a new home. Derek and I promised Dave that she would not end up in a shelter. I immediately reached out to Leigh Robert who's a foster cat-mom for Animalert. Leigh knows more about cats, cat behavior and cat care than any non-veterinarian I've ever met. I knew she could help. She gave me contact info for the head of the organization.
Soon enough, I was discussing Leo's future with the Executive Director. She found a foster home for Leo with a widowed woman whose previous cat had recently died. The woman felt she was ready to meet a new feline.
After a checkup at the Vet's office (a little awkward because of COVID restrictions) Leo was pronounced healthy, if a little chunky. (She really does have big bones!) Next stop, foster mom's apartment.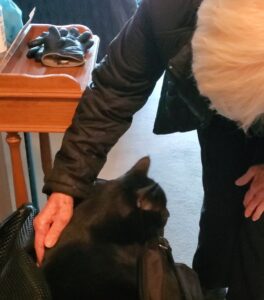 Within minutes, Leo was curious and on the prowl, checking out her new surroundings. If you've ever moved with a cat, you know that they can freak out a little. My cat Stan hid in a closet for 3 days after a move. Miss Sugar has always behaved like it was no big deal! Leo had flown across the country and fared pretty well. Still, we were relieved to see her take ownership of the apartment.
As for Dave, he was happy that he'd done right by Leo. She had loving care and attention. Her foster mom and I talked a couple of times. Things were going well.
I called her again last weekend and she sounded like a woman in love! She told me that when it was time to put Leo up for adoption, she couldn't do it – she adopted Leo instead. I nearly burst into tears. This was the best possible outcome.
I don't want to give the impression that I'm against using shelters. Not at all. We adopted Miss Sugar from the London Humane Society. Our late lad Spice came from Animal Aide in St. Thomas. But placing Leo in a home was our preference. She'd already been through a lot. We wanted her to have some stability and we are so grateful to Animalert for providing that.
There are many groups that assist with rehoming animals. They tend to conduct due diligence, which is only right, such as a checkup and checking out peoples' stories. I'm reminded of when we got Spice. Soon, he needed hundreds of dollars worth of dental work. We didn't hesitate, but did his previous owner? Did they refuse, or were they not able to afford the surgery? No judgment. But was the story about his owner passing away just a ruse? Someone I know once purchased a dog from Kijiji only to discover it had an incurable infection and had to be put down. People can be such assholes. And although it's not in their official mission statement, avoiding assisting assholes is part of what these groups do!
When we refer to Leo now, as we sometimes do, she's not just Leo – she's Lucky Leo. Living her best life as Queen of a castle in a London apartment building.