Heading to BC last week was a risk, some said. It's too soon to fly, too difficult to maintain social distance. Too peopley. I get that perspective. We've been staying away from each other for so long, it's difficult to know when it's okay to resume some normalcy. Last week was "okay" for me, regardless of what anyone else thought.
And it was okay with Erin Davis who wanted to take me in her sweet convertible on a five day road trip to Salt Spring Island and then Courtenay, BC. And all I could think was, Whoo-hoo!
The flights from London to Toronto, then Toronto to Victoria were easy peasy. I took carry-on only for the first time in my traveling life. Picking me up took no time at all. And within moments we were at Erin and Rob's, overlooking one of the most gorgeous pieces of Canada. Where wildlife hang out and relax.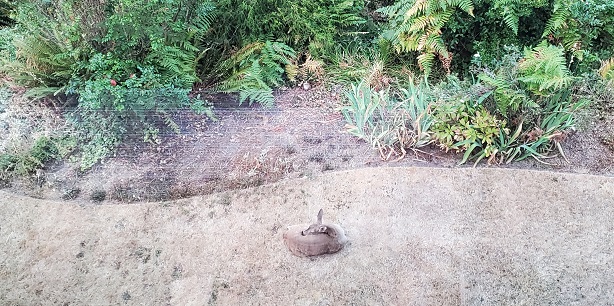 And then a visit to one of my favourite places: Sidney's Iroquois Park, where we sat on Lauren's bench. In one perfect moment, a young Mom happened along, holding her child. We asked if she'd like to sit and she gratefully said yes.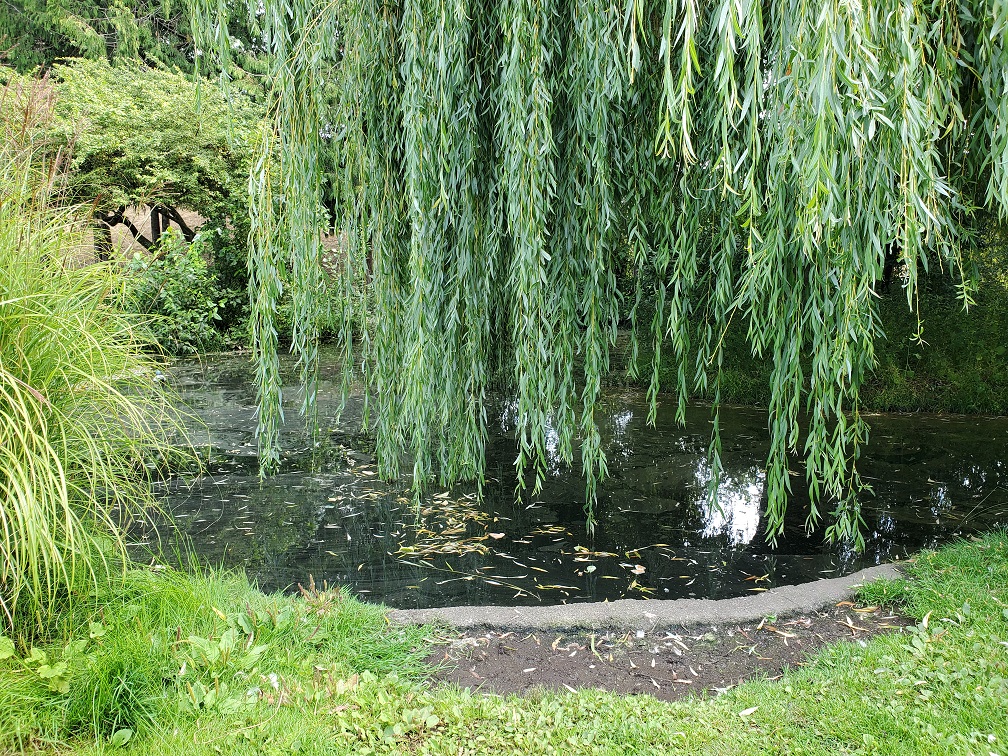 I love a road trip where we're not trying to beat the clock. We can stop where we want and meander off the main route to poke around at whatever catches our fancy. And once we hit the road on Monday, that's what we did until Friday. Oh, sure, we spent time in towns, exploring the finest retail offerings, but we also roamed around to see what we could find.
I shared many of the spectacular ocean views on social media. And one snap of the visitor who dropped into Hastings House to freak me out. Well done, Wolfie, well done!
When you're in a light and happy frame of mind, humour is everywhere you look.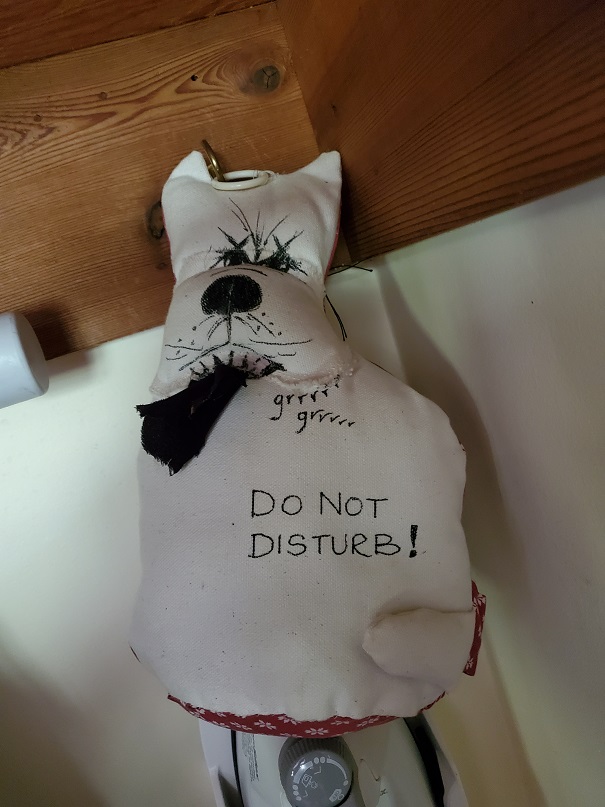 Imagine a province where people openly quote the medical officer of health!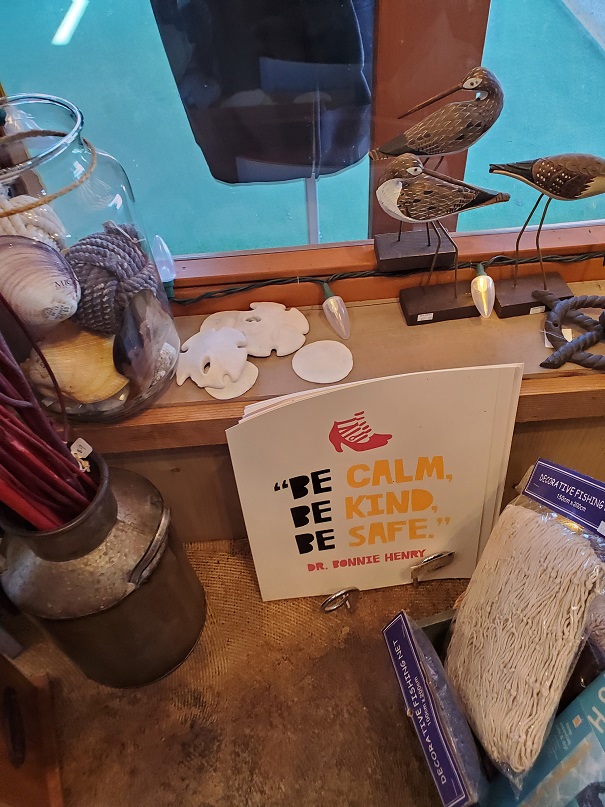 We ate, drank (alcohol-free) and walked and walked. And talked and talked. Oh how I needed this time with my friend, without work obligations or taboo topics. Trust me, no subject was off limits! And there was wonderful family time waiting when we got back to Sidney.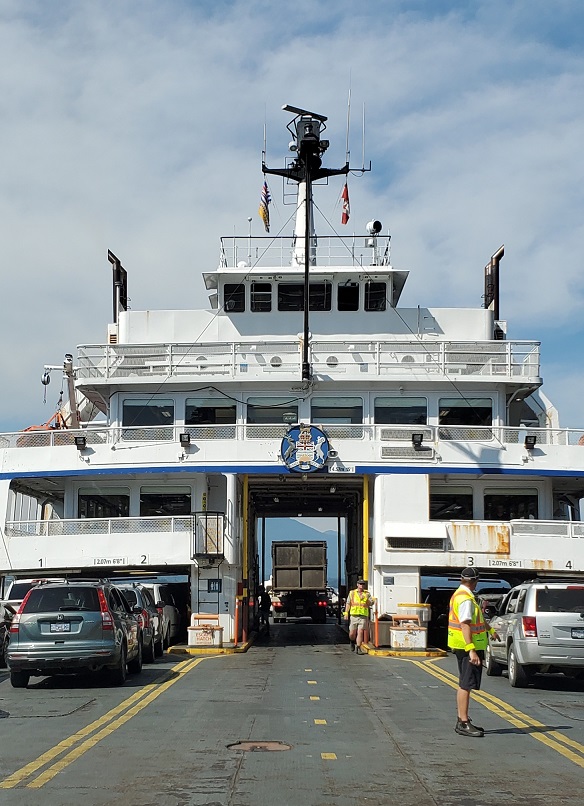 On Saturday morning, I awoke to an email from Westjet advising me that my direct flight home had been canceled (we now know it was due to staff shortages) but they had replaced it with my "best option". Unfortunately, that was a 12-hour ordeal involving 6.5 hours in two airports. I almost accepted this fate until Rob and Erin intervened and found me a direct flight on Swoop. However, the brief jump from Toronto to London would cost almost $1000! So Derek offered to collect me at Pearson instead.
Long story short, Swoop is as no-frills as one might imagine. It was okay. There were a couple of delays taking off because of crowding at the gate. And a delay on the Toronto tarmac because of lightning. The Toronto to London trip that I didn't book was postponed several times and then finally canceled. So, I dodged a nightmare there.
Lots of recent travelers have reported problems with suddenly canceled flights and long delays. I think it should be expected as airlines adjust to the new normal and try to optimize their routes. My experience wasn't terribly inconvenient, really. I got another day in paradise with two of the best humans on the planet and a ride home with another one.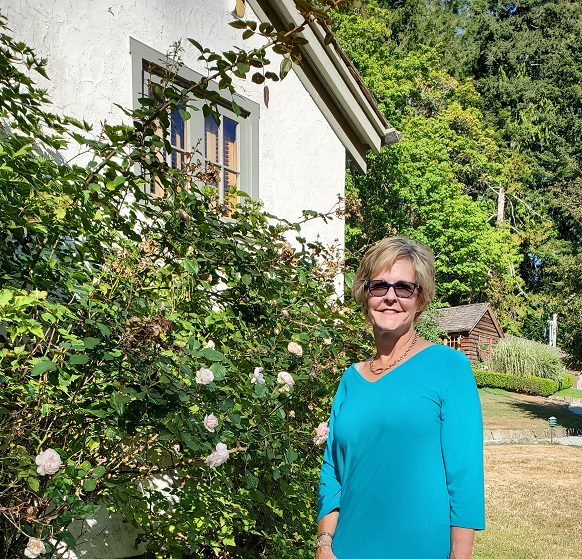 Flying internationally might be more trouble. It's not something I'm prepared to do quite yet. I guess we'll find out what it's like next month when Derek's cousin Vicki comes from England for a family visit. But if you're going to fly domestically, be patient, and don't expect perfection. Come to think of it, that attitude serves us well when traveling anytime, pandemic or not.