"Every disaster movie starts with a government official ignoring a scientist."
So reads a sign posted on Twitter in response to the Netflix movie, Don't Look Up. The comedy/disaster flick stars Jennifer Lawrence, Leonardo DiCaprio, Meryl Streep, Jonah Hill and Cate Blanchett. It's not perfect. A couple roles are miscast. And it's about as subtle as a Times Square billboard, amplifying what could happen to this nutty world with people doing "their own research". But we enjoyed it.
I hope your holidays were terrific. We didn't take lots of time off. With most of our clients being overseas, they were working, so we worked sometimes. We love it so it wasn't a hardship. And there was still time for family, friends, turkey, ham, gift bags and memories.
And so, here we are, holed up, wishing we had a dime for every time someone said, "we're not out of the woods yet" with regard to the pandemic.
Getting Stuff Done
Speaking of woods, thanks to our neighbour Carol, we have become acquainted with 35 acres of protected forest and trails near our home. Solitude Nature Reserve is the closest thing I've found to the 'back 40' where I grew up. I love that a local guy donated the land and he and other volunteers and donors keep it pristine.
In fact, I've come to realize that I simply appreciate effort. People could sit on their butts or be selfish with their time but they put effort into improving life for everyone. Someone strung Christmas lights along a decommissioned fishing boat at the Port Stanley harbor. No one has walked past the steel behemoth and thought, what that thing needs is some lights! And yet, someone climbed up there and made it happen. It looks pretty. It took effort.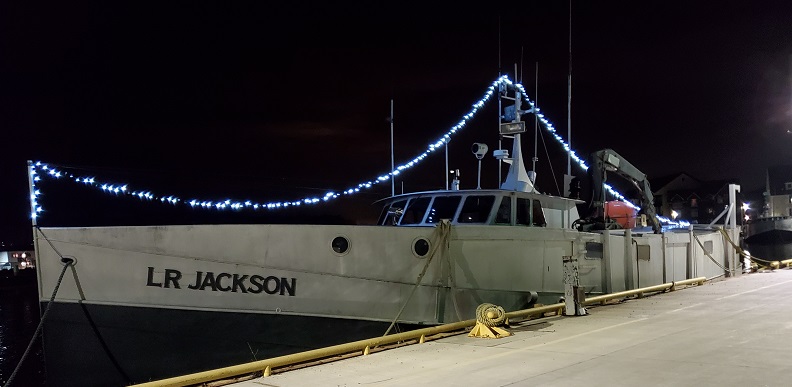 We could all tolerate a grey, boring world, but we don't. We get out there and make things happen, even in small ways. Picking up a discarded pop can and toting it home to your own recycling bin. Helping someone when you see they need it, before they ask. And in bigger ways. Donating blood or plasma so people you've never met can stay alive. The world gets just a little bit better when you make the effort.
Imagine a world where everyone thought effort was something that only other people make. And while we all waited on each other, but nothing happened. I still believe that most people are good and kind. And the more time I spend away from Twitter, the more I believe that. And good people do things. They get involved and love to help. They also know that arguing on Twitter doesn't count.
But What About Cake?
When it comes to baking and cooking, though, I'm always looking for the path of least resistance. Or more to the point, how to get the best out of the effort I expend.
For example, is it worth my while to roll dozens of little meatballs by hand for my holiday potluck contribution? Or to purchase a box of perfectly round frozen meatballs to simmer in Diana Maple BBQ sauce for a few hours? I chose option two and it was delicious.
When it came to Derek's birthday cake (he's a Christmas Eve baby) I could have ordered something from a bakery or grocery store. I've done that in the past. But I decided to bake it. With so many delicious treats around on Christmas Eve I saw no win in spending hours layering and icing a huge cake. There's always a lot left over and it gets sent home with us. We don't need extra cake! For my birthday, our friend Trish made a Dump Cake and it was delicious. A Dump Cake involves dumping a bunch of easy things into a pan, and baking them.
I looked for a simple, not-too-sweet chocolate version and found one at All Recipes. It is, without a doubt, my favorite cake of all time. It turned out perfectly moist. And it couldn't have been easier.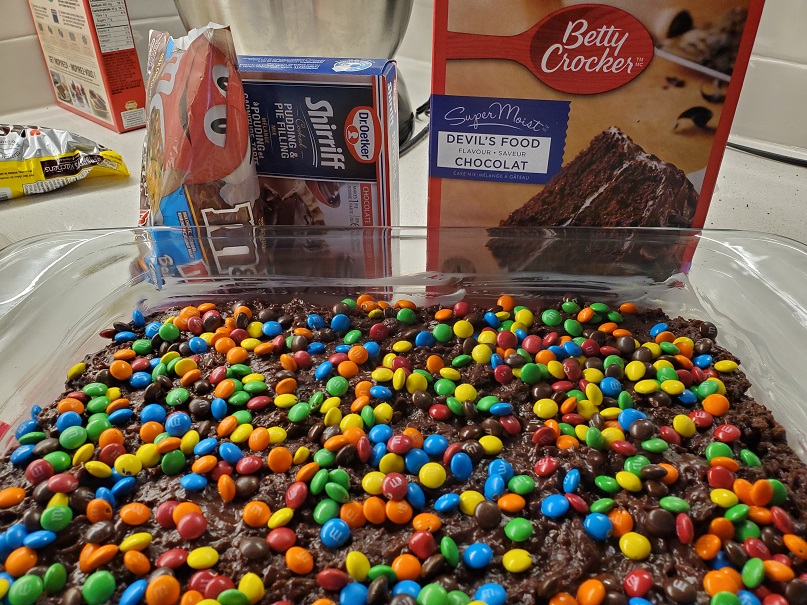 The ingredients are: a box of cake mix, a box of non-instant pudding mix, 2 1/2 cups of milk and Chipits or M and M minis.
Blend the pudding mix into the milk and simmer over low heat for about 10 minutes, stirring constantly, until thickened. Remove from heat and stir in cake mix. Pour into pan and sprinkle top with chocolate chips. Bake in 350 oven for 35-45 minutes.
Voila. And because it's a low-profile cake, everyone can have a little piece along with their other treats. Success! It was so good and not sickly sweet, which is my number one cake complaint. Of course, the sweetness factor depends on which flavor of cake mix and pudding you choose. I used Devil's Food and good old chocolate. Derek loved it. I also made muffins out of another cake-mix and pumpkin puree – that was it! Call it cheating if you must. I'm okay with that.
And now, we deal with post holiday Pants-a-Shrunkus – a condition named by Derek many years ago. It comes on without warning until one day, you can only conclude that someone has put all of your pants in a dryer on HIGH. If you'll excuse me, I need to go for another walk. Then I'll reward myself with a lettuce leaf and a single almond. (Kidding!) 'Tis the season, right?