ImPort Stanley is weekly series about life and discoveries as a recent "import" to Port Stanley, ON.
Watching the lift bridge in Port Stanley is oddly compelling. A patio with concrete picnic tables sits at the water's edge, and there's nowhere I'd rather be on a warm summer night than on one of those benches, enjoying an ice cream cone, watching the boats float past. We try to guess how much they cost. Or where they're from. Or just enjoy the view of happy-looking people doing what they love. When the bells sound and the bridge breaks in half, rising to 80-plus degrees, you can't look away. It's never boring. It opens every half hour during peak season.
We couldn't believe our dumb luck when we moved here. Not long before, we had briefly lived in Wallaceburg while an important bridge was up and under construction,. So we were dumbfounded to see that Port Stanley's bridge was still out of commission when we arrived. Was it us? Did we cause bridge outages like some sort of waterway Typhoid Marys? Covid and other issues got the blame for reopening delays. Thankfully, it wasn't long before the lift bridge was back in working order.
The King George VI Bridge was built in 1939 for $250,000. Eight men were killed during construction. It was more than due for some refurbishing and that's what the year-plus-long closure was about, to the tune of $6-million. The bridge cuts Port Stanley down the middle, It provides vehicle and pedestrian crossing over Kettle Creek. During the upgrade, the only option to get to the Main Beach was a long way around. Or from the other side, to get to the main shopping area and Little Beach. For a former Torontonian, the "long way" in a village like Port Stanley isn't long at all. But comparatively, it's less convenient.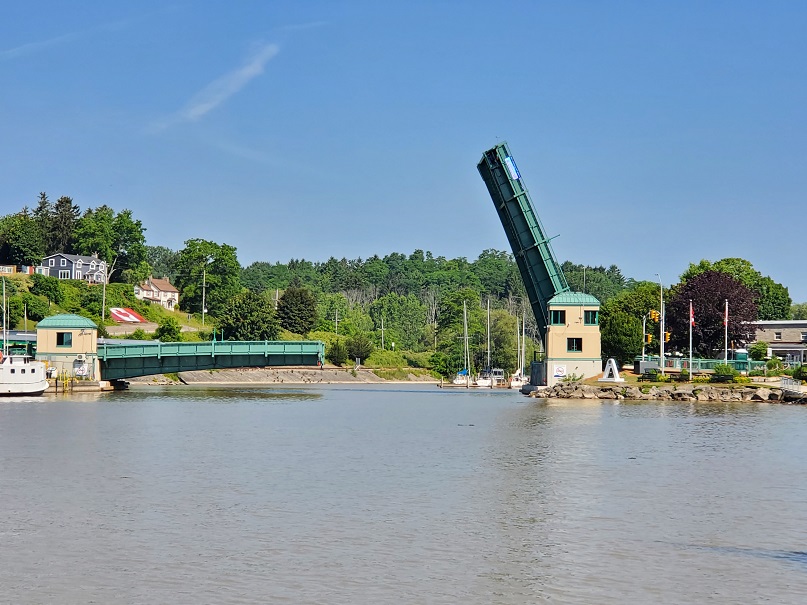 And there's no question that you're in another part of town once you've crossed the bridge. Our side, the entry point on #4, is the shopping and noshing side. The other side over the bridge is where the main beach and party spots are. In CBC's Still Standing's episode on Port, host Jonny Harris described the village as a mullet: business in the front, party in the back.
When we take our "long walk", it's over the bridge and all the way down the pier. I love being on it in the dark before the village gets moving. Bridges and water. Just a couple of the reasons why we moved here.
Its namesake, King George VI was the father of Queen Elizabeth II. George never intended to take the throne. When his brother Edward VIII abdicated in order to marry divorcee Wallis Simpson, George was forced into the role. By all accounts, George had a temperament that was the opposite of kingly. Often ill, sensitive, and prone to tears. A sweet man, not a ruler of people. His story of overcoming a terrible stutter was told in the Oscar-winning movie, The King's Speech.
George was the first reigning British Monarch to visit Canada, in 1939. He reigned from 1936 until his death in 1952. His daughter Elizabeth succeeded him and has been in charge ever since.
Dave Oram, an English transplant to Port Stanley, wrote to the Queen to tell her about the bridge's rehab and reopening. Oram, a retired member of Her Majesty's Royal Navy, works on the bridge. The Queen's office sent him this reply: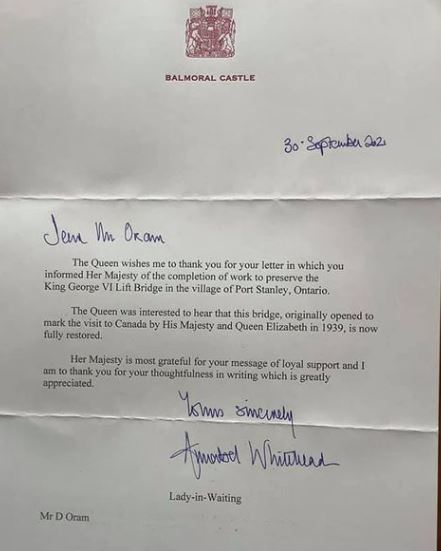 Image credit: Dave Oram, Facebook, used with permission.
There's so much to enjoy from one bridge. To the south, a beautiful view of the harbor into Lake Erie, North, another gorgeous view of the marina and boats. It takes you on a trip to the beach or an ice cream shop. I'm sure it's responsible for plenty of boat sales. It inspires thoughts of travel and adventure. Of The Queen. And the Queen's beloved, kind father, its namesake.