I'm writing to you as an elder sister. You can't imagine it now (nor should you, if you're living your life well), but I don't feel that much different than you do. You may look at me like a Mother or Aunt figure. I see you as a peer.
That's not because I'm in denial that I'm older. It's because I see you, I respect you, and I don't think that I have anything over on you. Except in this one area: your confidence. Let me explain by delivering the following advice to my younger self.
You're Perfect the Way You Are
Wear the short dress. No, you won't look like a supermodel, but how did that become the target? Wear it. Rock it. Own it. You're young and beautiful. A time will come when you'll decide that dress is too short. Wear it while you can.
Eat the cake. You don't have to have a giant piece, just have some. Stop punishing yourself with deprivation. Be sensible but don't restrict yourself to the point where not joining in becomes a personal victory. It's not. It makes you feel strong but appear weak.
When someone is interested in you, they show it. Don't waste your time on someone who plays games. You're more valuable than that.
Smile for the camera. I promise you will look back and wonder what the hell you were self-conscious about. You're not whatever negative image pops into your mind when someone's taking a picture.
I was 25 years old when this commercial was shot and self-identified as fat. I was terribly self-conscious. The hair was bad but old hair always is.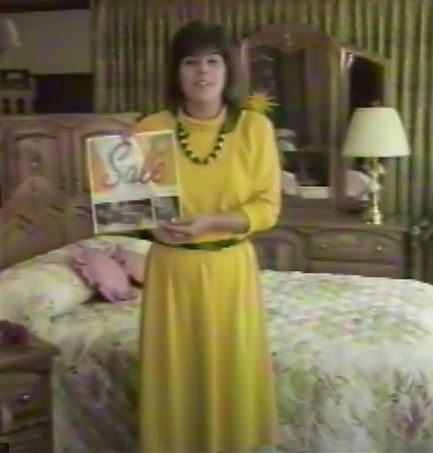 Prioritize Yourself
Carving out time for yourself isn't selfish. It's necessary. If you have kids, you're showing them it's important to value yourself. Live your truth. The best thing you can do for your kids is to love them. The second best thing you can do for them is to be a happy parent.
Set boundaries. Learn to say "no" to that so-called friend who only calls when they need something. We all have one. You feel it in your gut. Don't get sucked into their energy vacuum. Same goes for strangers who are energy vampires. Delete. Block. Move on.
Ask for help. People love to be of assistance, whether it's with advice or moving a couch. Find a mentor. Be vulnerable. You're not expected to know everything.
No one knows what they're doing. We are all just muddling through, doing the best that we can.
Live in the moment but don't get caught up in momentary troubles. Trust that things will work out. Believe in yourself and your right to succeed and have a wonderful life. Don't wish away the frustrating times, flat tires, or bad days at work. They're not in the way of your life, they are your life. Meet them head-on and move past them. Don't put off happiness until a future date. Happiness is a decision. Make it now. You're young and you're beautiful. Wear the short dress. Eat the cake.