It's only been six weeks since Cuddles the senior cat came home with us and it's becoming like he's always lived here.
He has evolved from an invisible cat to full-fledged family member. Every week, we see evidence that he's more confident and at ease. He has regular nap stops throughout the house and toys strewn everywhere. It has happened more quickly than we thought it might. We were prepared for a long, slow settling in process.
He does something we've never experienced before. We call it "going subterranean".
One day, while preparing for a brief nap on the couch, I pulled a throw across my body. Cuddles jumped up and pawed at the fringe closest to my head. I lifted it and he scooted underneath. Completely! The lump of cat, now covered by the throw, turned around and settled close to my belly. We slept there together. In fact, I stayed there longer than I meant to because I didn't want to disturb him.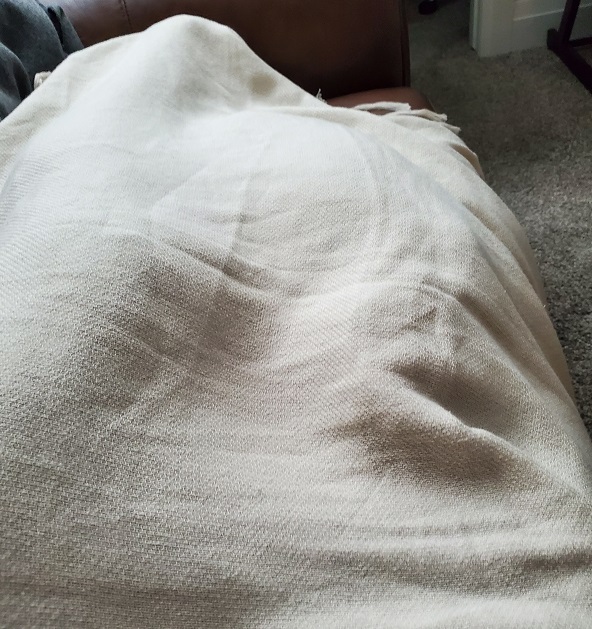 He also does this in bed at night. One of us will lift the comforter and he'll go into the cave and stay there. I don't know how he breathes. For a cat that seems to worry about being confined, it surprises us that he prefers this cozy tent of blankets. Some nights, he beckons me to make a tent and he refuses to enter, over and over again! It tends to lose its charm at 2:15 am but it's still adorable.
When he's ready, he comes out and sleeps at the foot of the bed or between us. He has curled up on my lap for a snooze only once so far. I'm hoping for more occasions like that.
The Cat Adopted Us
When we brought him home, we made a safe place for him in the basement where he had everything he needed nearby. We moved his food upstairs in stages, a few feet, or a staircase, at a time. He followed right along. A couple of weeks ago, he wouldn't dare go into the laundry room. Now, he's in and out all day to nibble or get a drink of water. He struts with confidence of a supermodel on the catwalk. We call him the House Panther. He loves head bumps and belly rubs. He still overreacts to noises sometimes but when he runs he doesn't go far, and he recovers quickly.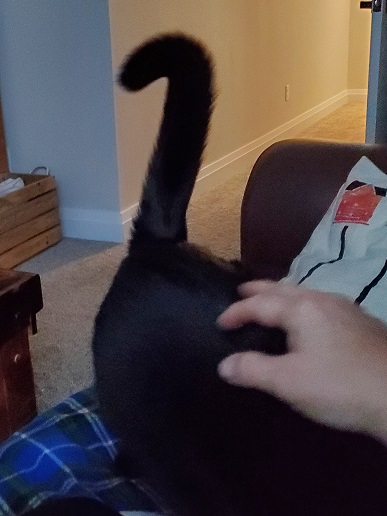 We did have a little out-of-the-box poop issue but that resolved itself with the addition of a second litter box. He's the neatest, sweetest little critter.
I finally felt ready to read the details of his history beyond the highlights. He underwent major surgery when he was young and as a result, must stay on a vet-supplied food for the rest of his life. It's expensive so his owner tried to replace it with something else at one point and he became very sick. Although it was devastating, his owner refused her daughter's insistence that he be euthanized, and rehomed him instead. She had to move in with the daughter and had nowhere to keep him. I'm sure she thinks about him every day and wonders if he's happy. It's against the rules for me to contact her but I asked the shelter manager to let her know that he's well and happy. He especially loves "reading the news" by sniffing at the screen door in the morning. And he purrs like an engine during subterranean naps.
And he's playful. On Sunday mornings when we linger a little longer over coffee, he entertains us with zoomies back and forth across the length of the house. He loves his toy mice and plays with hair elastics like he's a kitten. He's very entertaining. And he provides us endless photographs for his Instagram page @CuddlesTheSeniorCat. Now all we need is for him to maintain good health for many years to come. We'll happily do our part.