Call it what you wish: divine intervention, coincidence, or dumb luck. But yesterday, as I was trying to hone in on what's been bugging me, I opened Facebook and saw this.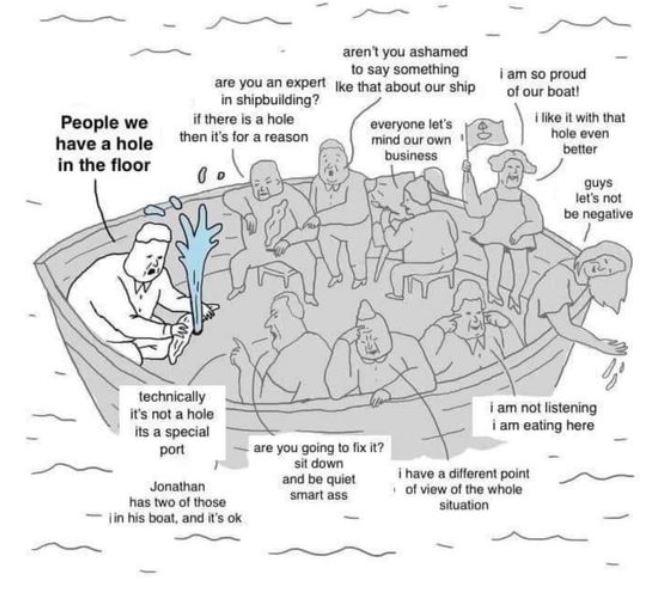 This is it. Exactly. Thank you Rachel for posting it. I only wish I could credit the artist but I don't know who it is.
So much effort is spent on doing everything except fixing the hole. It's going to sink the boat. But no, Everyone has to give their opinion instead of helping. This behavior can apply to a hole in a boat, a pandemic, global warming – whatever issue people are busier discussing and criticizing more than solving.
The only missing reactions to the boat's hole is outright denial that there's no hole at all, and blaming the guy who discovered the hole.
The Cycle Continues
I recently read a terrific piece that explains how predictable outrage is. Mark Manson has written a typically brilliant explanation about The Life Cycle of Outrage. It's about the way people react to major events like, oh, maybe a pandemic.
Here's what happens, in my analysis of Manson's analysis: The event itself unfolds and advice from our leaders changes along with it. News spreads to us from so many sources in so many ways. Not everyone gets it at the same time. It's not like we are all watching the same 3 TV stations or reading the same newspaper, like in days of old. These changes – to many – make the authorities appear to not know what the hell they are doing. Faith and trust erode. The whole thing snowballs. Finally, the authorities are blamed for everything including the event itself. Over and over and over until it makes historians want to weep.
With some exceptions and knowing their top priority is to stay in power, governments largely did what they thought was best for us. They made mistakes. The science changed and they changed. But someone had to be in charge and I'm darn glad it wasn't me.
And so, as people complain and deflect, the hole in the boat hasn't been repaired. The vessel is filling with water, and the outcome is not going to be pretty.