ImPort Stanley is weekly series about life and discoveries by a recent "import" to Port Stanley, ON. Access previous posts on everything from shopping to hotels and our beaches by clicking the tag ImPort Stanley.
Can anyone explain Port Stanley's new parking rules to me, in three sentences or less? It's a pebble in our sandal, for sure.
It's a long weekend and here on the shore of Lake Erie, there will be more cars than places to park. Parking is a problem everywhere. Here in Port Stanley, the situation is fluid.
The municipality now enforces paid parking from May 1 – September 30 at $4 per hour to a max of $20. Or, $30 if you're pulling a trailer. But there is also a season-pass option – $100 bucks to park as often as you want, $120 with a boat trailer.
Something had to change for a couple of reasons. People don't like to pay for parking, so some roam side streets looking for a free alternative. Most are respectful but some are not. They block fire hydrants and even double park when they run out of patience. They park between cottages, sticking out into two driveways, hop fences and run through private yards to reach the sand.
And it's not confined to the main beach area, where the massive lot at GT's fills up in a hot minute. It sometimes happens in the core of the village and anywhere within walking distance of Little Beach.
Reason #2: Central Elgin needs to get more money out of Port Stanley and it's trying to do so without raising taxes. There are big plans for improvements in the coming years and they have to get funded somehow.
So, parking in the village was limited to two hours between 10 am and 5 pm. It now costs to park at several previously free parking lots. Paid lots are at the IDA, Little Beach, East Headlands, the Visitor Centre, and Erie Rest beach.
It's a delicate balancing act between needing tourists and trying to force some of them to remember that this is our home. Council looked at the idea of painting parking spots on main streets but ultimately decided against it. They'd have to paint spots big enough to accommodate the largest vehicles, thereby deterring smaller ones from getting closer together. In short, they felt it would reduce the number of cars that could park.
The latest development is a rethink of the whole thing. This comes in reaction to an outcry from village merchants and others. The concept of paid parking has been in Port Stanley for less than a decade. There was outrage and, some said, lower tourism dollars when it was first brought in. Now it's just part of the way of life here.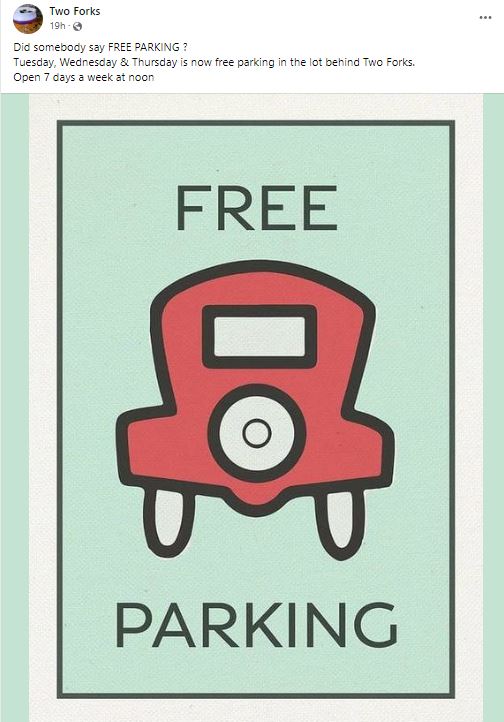 Two Forks backs onto the IDA lot which is now paid parking. So, this confuses me.
Some want to return to free core parking. Others say, make it free during the week and make visitors pay to park on weekends. It's a work in progress for sure. And some villagers say enforcement isn't happening yet. On our early morning walks, we see campers at Little Beach and along the harbour where they are "forbidden". They come in late and leave early. I'm not saying anyone should take a chance. Just telling you what I've heard!
If you want to avoid paying for parking, make friends with someone who lives close to the action. Preferably someone who has a double driveway. That way, you can park at their place and not get in their way.
Or – and this is drastic – arrive by helicopter and rappel down to the lakeshore. No parking spot needed. However, I'm assuming only Tom Cruise would drop in this way.