Here we are, considering a second attempt at becoming cat-toting RV owners. One concern is bigger than all the others. Even more important than gas prices or where to park for the night.
Will Cuddles take to life on the road?
Just before we moved from London in 2018, we bought a Rialta motorhome. At that time, Miss Sugar was our feline companion and she handled it even better than we hoped. That sweet little being settled in and enjoyed the ride. We sold the Rialta when it became clear that its payload limit was far too light to tote our recording equipment plus clothing and cat litter. No regrets. It was the right size, just not the right vehicle.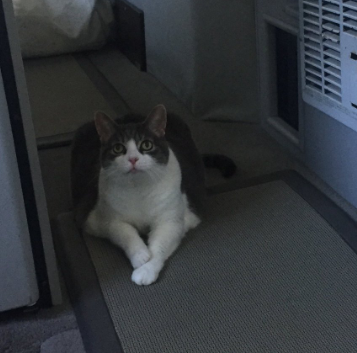 Sugar endured several moves with us, a real trooper, who adapted to each new situation with ease.
Cuddles is a different kind of cat. He's a couple of years younger than Sugar but much less confident. Notes written by his previous human show that he's always been a skittish at times. One day, he'll get super excited about being brushed. The next, same setting, same offer to brush, he'll run in a panic and stay out of arm's reach. It seems random but it must make sense to him.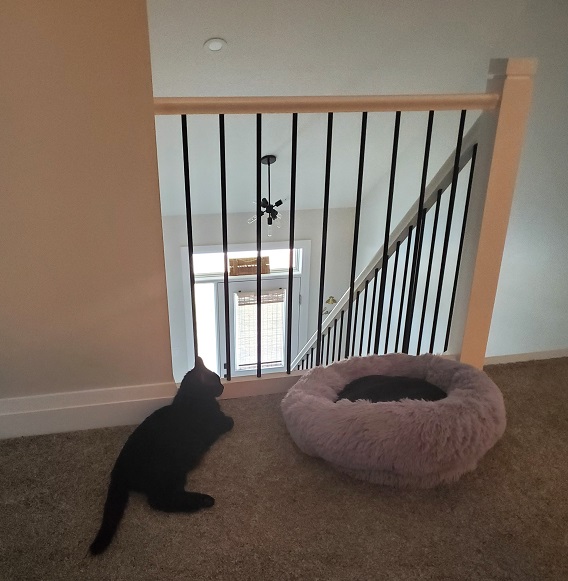 It took him weeks to accept his new bed, which he now loves and sleeps in every day. But he flattens and goes into fear mode if you drop a spoon in the sink or come around a corner unexpectedly. This is in sharp contrast to the love bug who nestles next to me (or ON me) while I sleep or watch TV.
So, we're concerned about how he will adapt to life in a home on wheels. He also loves doing Sunday morning zoomies back and forth across the length of the house. That wouldn't be possible in a C class motorhome.
We are sick of winter and we can work anywhere there's an Internet connection. The thought of going somewhere milder – or several milder places – appeals to us. I don't want to drug this old dude and take him on a plane. (I'm still talking about Cuddles, not Derek!) Someone could live here with him while we go away, but I also don't want to miss too much of his too-short life. He's the sweetest, funniest little being who brings us pure joy. But we also don't want to stress him out or make him miserable while he's confined to a small space. This is our conundrum.
He absolutely cannot go outside. He has no front claws or street smarts. It's non-negotiable. We signed an agreement with the agency that we'd never allow it.
Can you help us decide? Have you had or heard of a cat, especially a senior, doing well for a few months on the road? Or, as a cat owner, do you think it's too risky and not worth the distress to any of us?
If he was a dog, no question he'd come on board and get lots of walks and probably love it. I've seen cats riding happily on dashboards where they soak up the sun. But I also know kitties are unpredictable and fussy. And a motorhome is a small space to stay in for weeks at a time. He might not care, as long as he's with us. Or he might hate it and pee on everything! Maybe there's no way to know until we try.
I'd like to hear from anyone who has experience – first or second-hand – with this kind of adventure. Cuddles is family. I have asked him what he wants and all I get is a head-butt in return.