In the deepest recesses of my heart, I've been longing for a change. Something big, radical, totally different. I wrestled with the idea and it pinned me and held me down. I tried to talk myself out of it but I found it was a better debater. My husband was on board from the start. But how would that change look? What would it take to make it happen?
We put everything on the table. Ideas included moving to Italy or France and buying one of those crumbling castles they sell for pennies on the dollar to someone who'll fix them up. After dismissing that, we looked closely at a B and B for sale in Cape Breton. Then we nixed the B and B idea and started searching for places closer to London, where we could live mortgage-free. That meant we couldn't stay in this city unless we wanted to move into a condo. Frankly, I could get into that but Derek is a workshop guy, so London was out.  On our trip to St. Stephen, New Brunswick in May, we purchased a house! A few weeks later, we un-purchased it. It was a square peg for a round hole. Close, but no cigar. A sandwich short of a picnic. We were trying too hard.
In June, as I continued to dither, our dear friend Kerry died of cancer. It seemed impossible. The most joyful, positive, sweetest light in our lives, extinguished. A couple of months later, my warm and wonderful colleague Jodi Taylor died suddenly. Our last conversation was about what we'd be like as old ladies. It hit me hard. How much longer would I dream about making this change, but not actually do it?
On weekends, we found ourselves drawn to the St. Clair river and other points west of London. We also looked along Lake Huron and at rural and commercial properties but the water kept calling us back. We toured a gaggle of homes from Sombra to Courtright. The realtor.ca app got a workout on my phone. We were just about to resignedly put an offer on a total fixer-upper. It had a view of the river but needed everything, from new appliances to a garage. Then, a seemingly too-good-to-be-true home in Wallaceburg came on the market. We quickly booked a showing and it turned out to be exactly as advertised. We won a little bidding war and we're moving to Wallaceburg! (It's about an hour west of London.)
How's this for coincidence? The house was owned by my former MIX 999 colleague, Lee Marshall and his wife, Lucy.  A couple of my favourite people, Robyn Brady and former 680 News colleague Bill Cole, work at the Wallaceburg radio station. The house is close to a walking trail along a river. It needs some fresh paint but little else and it's on a quiet street. Wallaceburgers have been friendly and welcoming. Our lawyer there is the former Mayor. So, it's happening. In fact, we already bought it.
Our London house is for sale and we hope it goes quickly. Last week was the final push of de-cluttering, packing, moving some stuff to the new house and keeping the London property ridiculously clean. We plan to come back to London regularly. There are so many people here that we love. Who knows what the future will bring? But it feels right and we'll never know if we don't give it a try.
But wait – there's more!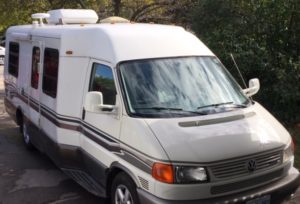 Derek bought us a motorhome. It's a previously enjoyed Rialta, in excellent shape and sized just right for two humans and a cat. We took Miss Sugar out for a test run last week during the agent's open house at our house. We drove around a little bit and then parked by the Thames, pulled the blinds and took a family nap.  She did very well. She stopped screeching after half an hour or so, used the litterbox, and even ate a little.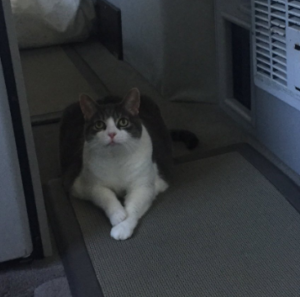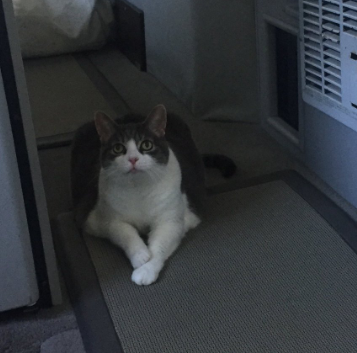 On a second trip yesterday, to Port Stanley, she settled in even more. Longer trips are in our future and we'll see if we're the RV people we think we are.
For a long while, I've been working hard to stifle a voice in my head telling me I can't make this change. I finally silenced that voice and kept my engine in a forward gear. I've told you how far Wallaceburg is from London so you know my job has to change, too. More about that, tomorrow.