One thing the pandemic has taught us is the value of the nation's workers. Grocery store employees are essential. Nurses and PSWs are indispensable. This causes me to wonder how essential oils were placed in such a category. But I digress.
We can probably agree that people doing these crucial jobs are underpaid and underappreciated. But should we tip them?
While there probably hasn't been a nurse or PSW who's asked for a tip, just about everyone else has. Since financial interactions went mostly contactless, tapping a card or a device to make a payment made the process virtually painless. The machine also does the math for you. Would you like to tip an amount or a percentage? Here, let me calculate that for you.
When the only available food besides our own was takeout, I'd tip when I picked up the occasional meal. Here were people working in hot kitchens while most others stayed home. They deserved some appreciation. Perhaps, like me, you were freer with your tips during lockdowns.
THE TIP OF THE ICEBERG LETTUCE
The payment service Square exploded in popularity during the peak of COVID times and became the market leader. It's super convenient. And once you've given a merchant your email and number, you're done. If you pay with Square at a new merchant, they too can email or text your receipt if you choose. Most have turned off the tip option when it's not relevant to their business. But some haven't. And that's where the question of whether to tip comes in.
Requests for tips have come from the electronic gizmos of apple-picking orchards, concert merch vendors and even some produce sellers. You have to press "no" to advance to the checkout page. For some people, that "no" comes with a heaping serving of guilt.
It's in Square's (or any service's) interest to have the merchant ask for tips. The merchant pays fees to Square based on the transaction amount, and that includes tips. The bigger the transaction, the bigger the fee. And there's a "what the heck" factor. The merchant thinks, I'll leave the tip option up and see what happens. What can it hurt?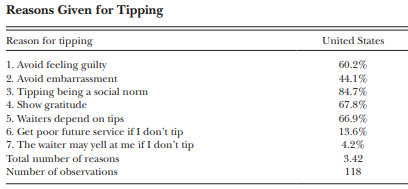 Tipping is supposed to reward excellent service. But it's clear that it's also a form of social pressure. That's a powerful burden to put on customers, especially when the setting doesn't normally call for tips.
TO SHARE OR NOT TO SHARE
In my short-lived career as a server in a fine-dining establishment long ago, one tipping experience stands out. An obviously wealthy man who was traveling alone said I reminded him of his daughter. He asked me about the restaurant's tipping policy. I told the truth: we pooled our tips and shared them with the kitchen staff. He over tipped me to an outrageous degree on my promise that I'd keep his tip for myself. I said I would so we could end the conversation and go on with our lives.
I slipped into the kitchen and tucked the wad of cash in our communal tip bowl, to be divided equally later. Imagine my surprise when I turned around and saw the customer behind me. "I'm very disappointed", he said, and walked away. I couldn't have lived with myself if I had pocketed the money. Lying to him was a lesser evil in my mind. The moral of the story is, ask about the tipping policy if you're concerned. And expect the server to stick to it.
Some people (my husband) can hit "no tip" when the situation doesn't call for it, and let it go. Other people (me) feel a pang of pending regret and tend to tip even a small amount, just to avoid that guilty feeling. Tipping makes me feel good, like I've done something positive for the universe. These differences emerge when we travel. Derek happily tips generously when he feels it's warranted: in a sit-down restaurant or for valet parking. But for housekeeping at a one-night-stay hotel and staff at take-out restaurants we have an unspoken agreement. I'm gonna tip and he's gonna stay silent on the issue. It works for us.
When in doubt, consult an expert: Emily Post's Tipping Etiquette 101. Emily Post says guilt shouldn't motivate tipping. A tip jar at a coffee shop with a cute or funny label always makes me open my wallet but Post says there's no obligation. However, not tipping at a restaurant is unthinkable. Even if the service is bad, no tip makes you seem like a boor. A tiny tip makes the point clearer. And if they're sharing tips, the rest of the crew still deserves a little something for their efforts.