My ride-or-die Erin had some professional engagements in the GTA last week. After joining her for her appearance on CTV's The Social (which I watched from the green room), I brought her back for a few low-key days in Port Stanley. She'd never been here, and I was so excited to show her our home turf.
We began last Friday with the Rendezvous for Two at Blu Harbour Spa. The special two-fer package includes a massage and mani-pedi for both. We customized it to swap out the mani-pedi for a facial for Erin. My massage was so relaxing that I nearly fell asleep while Ange was doing my manicure. She and Michelle were terrific. Erin and I poured out of there after 2+ hours feeling like pudding.
Saturday involved the traditional village tour and shopping.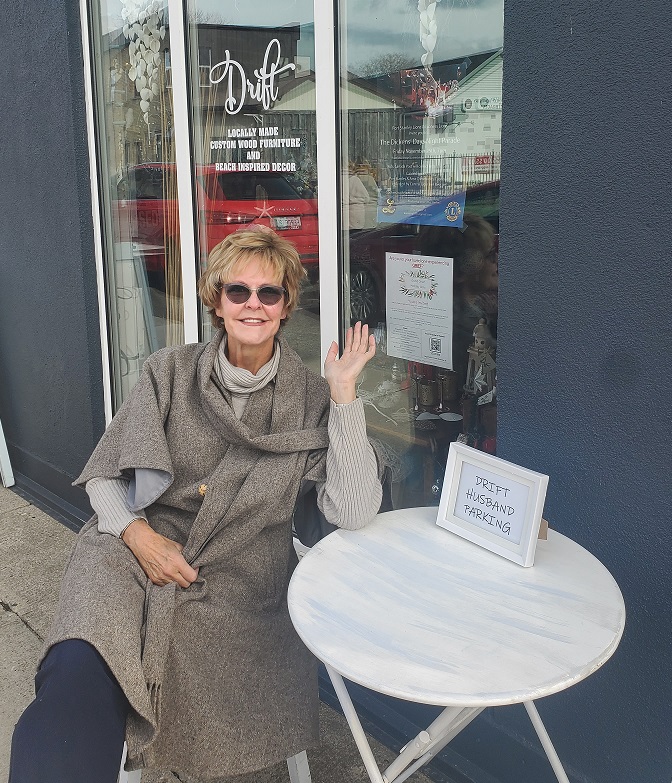 Drift is the name of Erin's popular, free, sleep-stories podcast: Drift with Erin Davis. It's her passion project and beloved by thousands of regular listeners. Drift in Port Stanley is a shop full of wonderful home décor and one-of-a-kind wooden furniture, charcuterie boards and more, made by Michael who owns the shop with his wife, Lisa.
We popped into Fleurs Fraiche where Melissa has brought in more new items that would be perfect gifts for the woman in your life. Not to mention the freshest flowers.
Studio Style had a sale on jeans and we both took advantage. Erin also picked up some sweaters and pendants – even buying one right off the neck of owner Kim! I learned something about the green screen Erin uses for her Vlog recordings. I knew that the colour green would disappear, leaving her a floating head on camera. But I wasn't aware that blue would do the same. Eliminating green and blue as options isn't as easy as you think!
A fellow shopper and I started visiting a bit. Once she realized I was part of the new invasion of the town, she mentioned that we – newer residents – were to blame for the high water rates. The truth is much more complex, predates us, and involves improving outdated systems for which Central Elgin had to borrow money. Plus, comparing city rates to rural areas like ours is like apples and pomegranates. It's not a fair example.
But I digress.
After more Port Stanley browsing, I took Erin on a tour of the town which includes seeing all of the beaches, the streets where residents have the best water-views and everything else of note. Then, off we went to St. Thomas to a store that had items Erin wanted to pick up for Christmas presents. (These shall remain nameless.) There is no Giant Tiger out west, so we dropped by the GT boutique in St Thomas, too.
In subsequent days we soaked up the Christmas wonderland that James St. Home Décor has become. Browsed the storied treasures at Paradise Vintage. Other stops included Apropos, the Candygram – you might as well scroll through a list of Port Stanley shops to see everywhere we went!
Erin lives near water. Big water. The Pacific Ocean. So, she understands the draw of living near the surf. Lake Erie is no ocean but it works for us. And showing off Port Stanley just makes me happier than ever that we chose this place as our home.
This seems like the perfect time to put ImPort Stanley on pause – after showing the town to the woman who named the Friday blog entries. I will still post about my village when it's warranted. But it feels familiar to me now. I am an import but no longer a newbie. We'll enjoy our second Dickens Days next weekend and my ImPort Stanley posts will always be available here for anyone who wants a crash course in what it means to live in Port Stanley.