You probably remember doing the math when you were a kid: How old will I be in the year 2000? Well, here we are, 23 years later. Bet you didn't do this math!
The holidays came and went in a flash. We spent a mid-December week in Mexico with our friends Laurie and Jeff, before returning to the flurry (and flurries) of activities. In addition to visiting the ruins of Tulum, we completed the trifecta of By George restaurants in Playa del Carmen. Oh Lala, Yum Yum, and Belmonte are all "by George" – the same chef/owner and his partner. I'd recommend any one of them. But the most amazing food was at Belmonte, a Portuguese fine dining experience.
At Belmonte, our server was a young Argentinian man whose English was excellent. Derek asked him where he learned the language and he said, "by watching the TV show Friends". Then he looked at me and exclaimed in his best Ross Geller impression, "We were on a break!" He was charming and efficient. And the food was simply amazing. And they brought Laurie and me our own metal trees upon which to hang our purses. So fancy!
Resort Versus Rental
We didn't stay at a resort. Jeff – a vacation rental expert – found us a lovely condo in the Nick Price Residences at Carosol. If you've never been to Mexico, you need to know that everything is gated. It's wise – necessary – to have a couple of levels of security. We were only a few minutes' drive from 5th Avenue, the shopping/tourist mecca in Playa del Carmen. But our home base was quiet, secure, and lovely.
Laurie and I learned the hard way that choosing a restaurant table closest to the pedestrians-only road of 5th Ave. makes you a target for every busker and scammer. We wanted our husbands to find us easily, so we situated ourselves in an obvious spot. From tiny children singing off-key songs to a drunk woman demanding cash to – you name it – we were their magnets. My friend and I are soft touches. We parted with quite a few Pesos and US $1s that night. (But the drunk woman sauntered off disappointed!)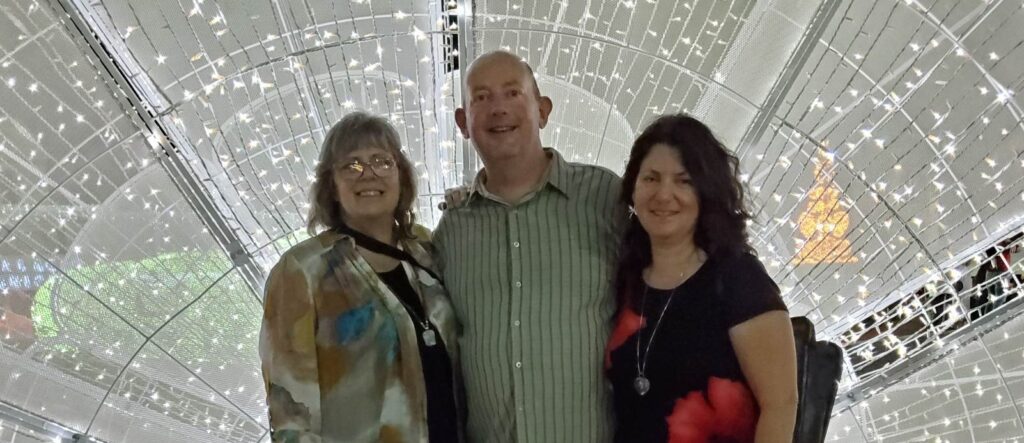 The vendors want to haggle. A silver seller whose 21″ chain started at $350US came down to $160 in hopes of making the sale. He didn't know that I know the same chain is about $45 here at home.
Safety in Numbers
Police spread themselves throughout the city in trucks, cars, and on motorcycles. Their vehicle lights constantly flash blue and red. And in many cases their faces are covered to protect their identities from revenge-hungry drug dealers and cartels. It's a different world. But their obvious presence makes you feel safe.
If you stay at a resort , perhaps taking an afternoon bus trip to Playa, you won't get this kind of experience. I certainly didn't the last time which was the first time I was there. But we like to get out and about. Walking the bustling city streets at night, visiting the city square lit up for Christmas, dropping into stores where locals shop – that's our jam. We enjoy the best of both worlds: touristy stuff and modest slices of life. Everything's open until 11 pm. It's not uncommon to have dinner out at 9:30 or 10.
Eating Like Locals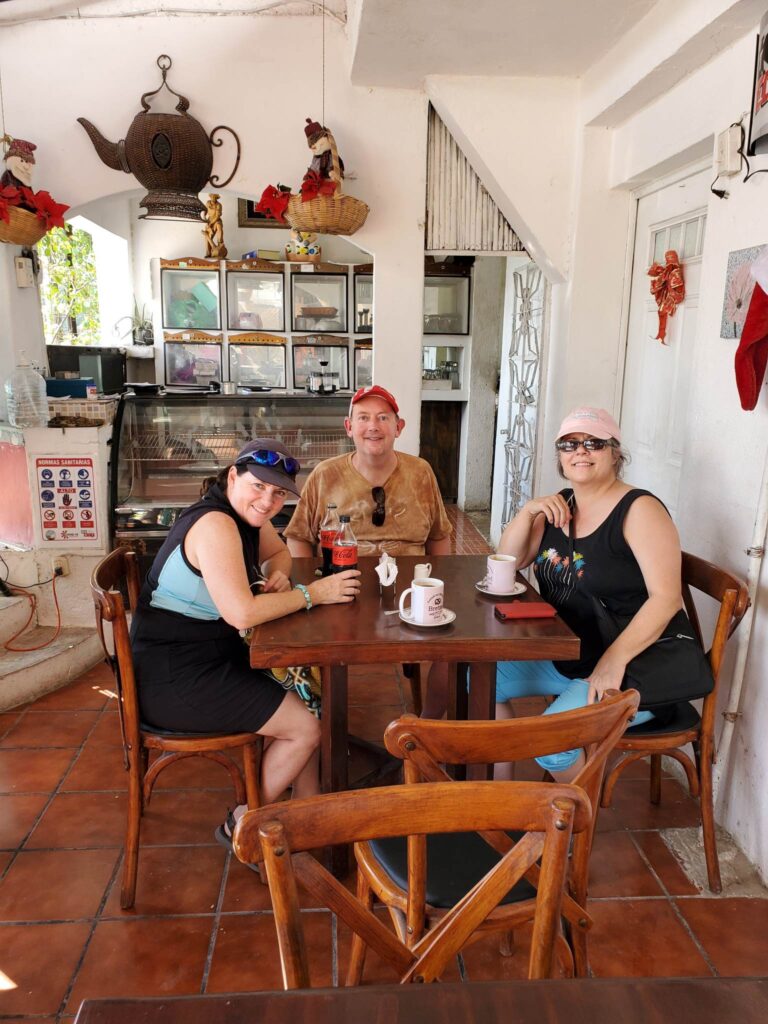 My brother Kevin strongly suggested that we stop at a roadside stand for lunch. So, we pulled over at a little ramshackle but clean eatery and ordered various tacos. The proprietor was elated to serve us. He spoke no English and the menu was in Spanish but we bridged the gap by making barnyard sounds to order chicken and beef tacos. The food was super fresh and absolutely delicious. Not to mention cheap. A skinny dog named Snow took to Derek. Sharing his taco meat with the little guy didn't hurt. This lunch was an experience we won't forget. Thanks, Kevin. You were right.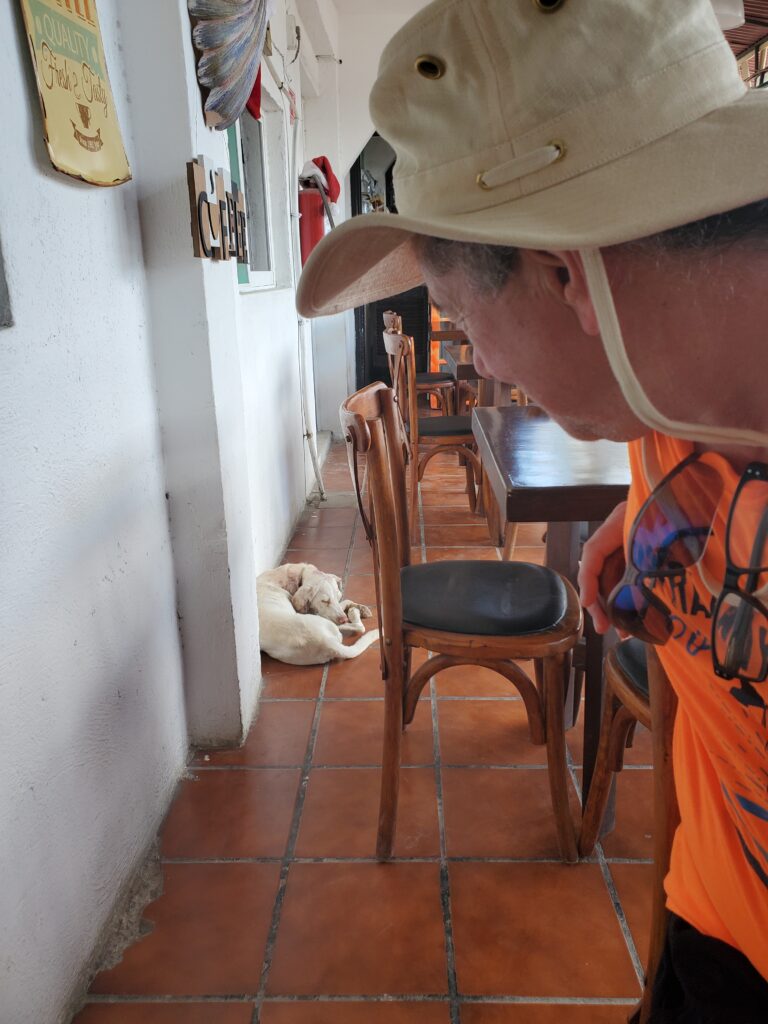 Enough Winter Already
I'd love to be a snowbird. To flee winter's wrath every year. Snow (not the skinny dog, the frosty stuff) and I have had enough of each other. But I haven't found a single place I'd want to visit every year. I thought Palm Springs was it, but it turns out that it's not. Mexico – don't hate me – is too hot for me! I need a climate where it's about 23-25C and clouds roll in from time to time. Ex-pats in the condo building talked about walking daily into the city core and back for a 90 minute round trip. And golfing in that heat. I can't do it. My ideal climate is apparently Ecuador in winter. But giant spiders and cockroaches make that country a no-go.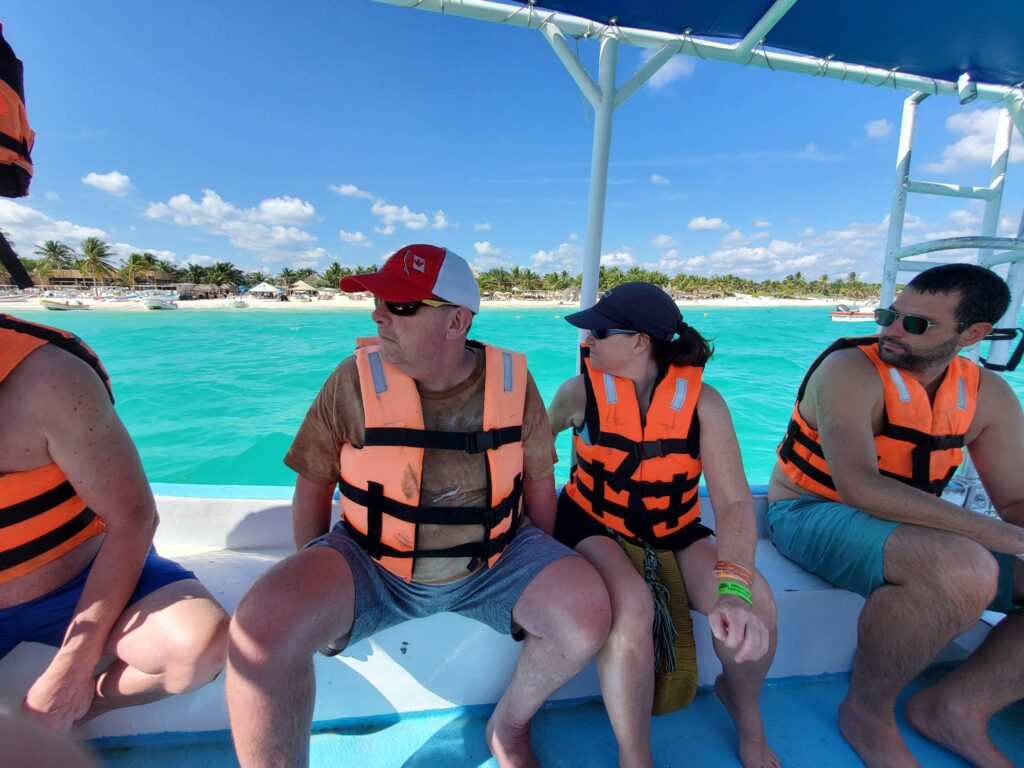 We know how fortunate we are to have these choices. To get away once in a while and soak up some of the atmosphere that others are naturally blessed with. The deep and obvious poverty bothers me. But then I remind myself that I'm contributing to their economy and, hopefully, helping those less fortunate. And if they happen to come by my table with a harp or a ukulele, I'm a soft enough touch to want to help them in a more direct way.
Enjoy our brief swimming-with-the-turtles adventure at Tulum! More specifically, our boat excursion guide swimming with turtles, recorded by Derek. (Next time, we'll bring swimsuits with us!)