This is an unusual entry. It starts kind of crummy but ends well. And in order to make that happen, I have to tell the story of my recent trip from end to beginning.
Last week, I was sicker than when I had Covid-19. For two days I drifted in and out of consciousness, had no appetite – heck, I didn't even want coffee. ME!
Meanwhile, our power went out. This wasn't a surprise as we'd just had an ice storm. Downed power lines in the area were all over social media. Estimates were two days before restoration. Luckily, we have a gas stove and fireplace so we knew we'd be okay. It was mainly a matter of how much food we'd lose.
Derek took a box of some of the more fragile fridge stuff out to the shed where it was colder. And he took the fridge-freezer stuff down to the chest freezer. I watched from the couch, hacking, napping, and snorting away.
It was a long, boring day. At 7 pm I decided to go to bed. This didn't raise Derek's eyebrows because I'd been so sick and hadn't been getting much sleep. I'd recently ordered some CBD gummies to help me fall asleep. So I chewed one. I barely swallowed it, and the power came back on.
Erth Power and Hydro One had figured out a way to get us temporary power while they worked on the permanent fix. We were happy about that. But now I was getting drowsy and there were things to do. Derek convinced me to go to bed and he would take care of the clocks and everything else.
Having power was wonderful but we still had no Internet. My voice was in no shape for working. The next day I let a few clients know that I'd deliver on Monday. Everyone agreed. Whew.
So, how did I get this plague? Either on a plane or in an airport, most likely. Was I wearing a mask? I was not. With social distancing and people generally behaving well, I didn't think about it much. Foolish me.
PLAGUE NUMBER TWO
Before I got sick, there was my arrival at Pearson on Monday night. My long-arranged and prepaid shuttle left without me. I'd even called them from baggage claim to say I'd be there last minute as our plane was a little late. "No problem", said the guy, "as long as you're there by 9:30 you'll get on board. I was there at 9:22 and they were gone.
Their policy is "no refunds" but they reached out to offer me a credit. I'm not sure I'll use it. It was upsetting to be abandoned after 20 hours of traveling.
CHFI listeners will remember Anita, the wife of Ian "The General" MacArthur. Anita and had I traveled together on this trip to meet up with Erin and her sister Leslie in Maui. In addition to longish flights and layovers, Maui is five hours behind EST, too. So there's a bit of a body shock with the time change. It's my policy to start living on local time right away.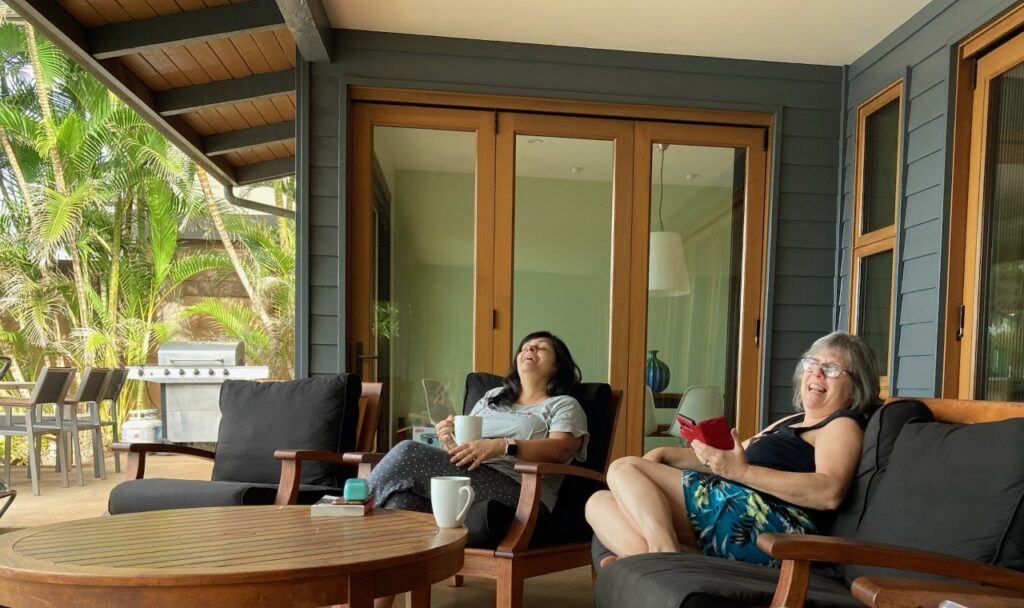 Fortunately, Anita and I travel well together. We both laughed when the server at breakfast in Vancouver said, "we don't have tea", even though it sounded like the dumbest thing ever. Some people get bent out of shape by inconveniences. Anita and I don't. She forgave me when I got our gate numbers mixed up. We had plenty of time, true, and it wasn't far away, but it could have been a reason to get super annoyed. And we were so very tired.
Derek quickly rescued me from the Pearson stranding. I wouldn't hear of him driving all the way there and back in the middle of the night in a five-hour round trip. So he ordered a limo and although it was expensive, it saved my sanity. I got a warm, comfortable ride to the pickup spot and even arrived in time to see the shuttle that left me high and dry at Pearson.
MAUI, WOWIE!
Beauty doesn't begin to describe it. Maui is the second-largest island in the eight majors that make up the state of Hawaii. These islands were never on my travel radar. I thought they were just too expensive. But when you're invited and the biggest expense is airfare, well, Hawaii here I come!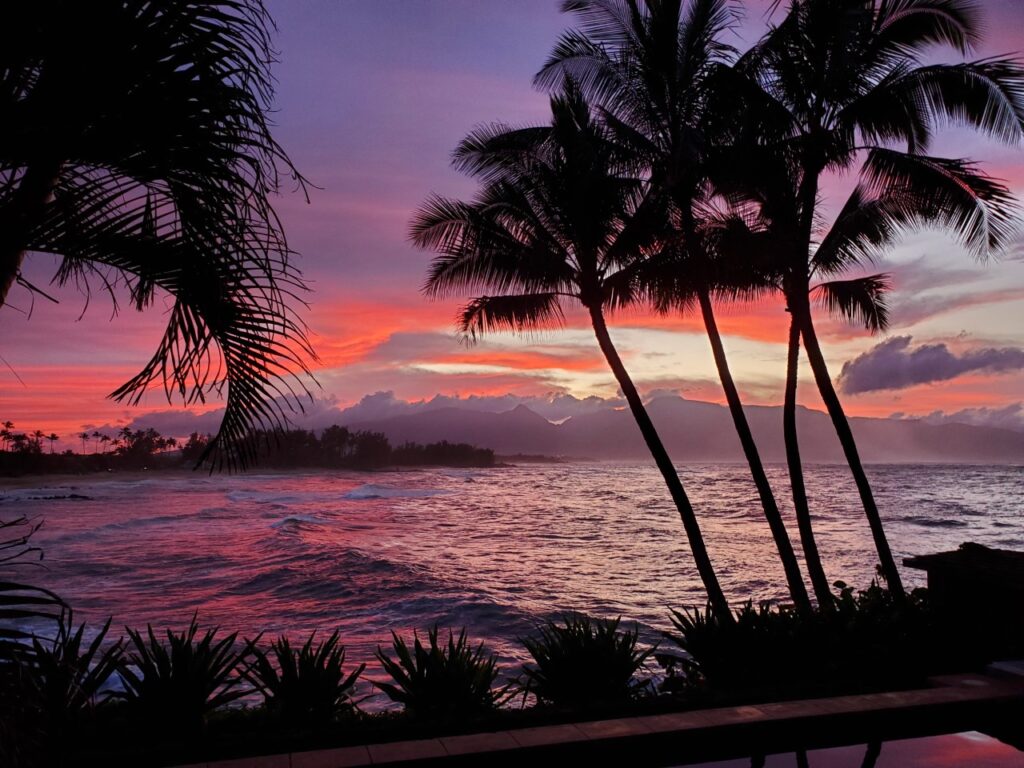 We stayed in a private residence on a little lane outside the sweet village of Paia. We cooked most nights with everyone pitching in. Erin's sister Leslie is funny and wonderful, and I'm so glad I've also gotten to know Anita better. We did enjoy some Mahi-mahi at the Paia Fish Market Restaurant because, when in Hawaii, you've got to try the Mahi-mahi.
Fun fact: Mahi-mahi's real name is dolphinfish. It isn't related to the dolphin, but who's going to order it and not feel terrible?!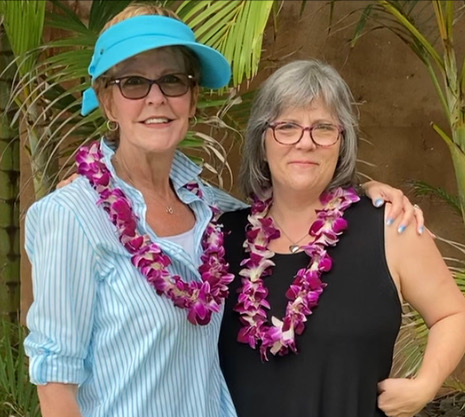 A walk to town took about three minutes if you didn't rush. Paia is an artsy place with everything from paintings to sculptures to carvings to jewellery made by local artisans. There's also a small grocery store and a few restaurants as well as plenty of clothing on offer. And a Hawaiian treat we had to try – shave ice.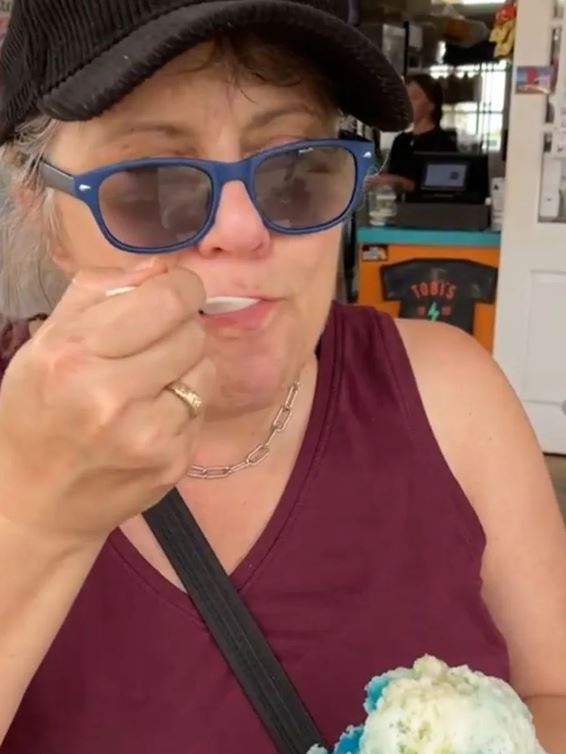 I know what you're thinking. Isn't it shaved ice? Nope. I thought so too. But it's shave. And it's not like those weak tasting snow cones we had when we were kids. The flavours are strong, and you can get all sorts of add-ons including toppings. Anita was advised by friends who'd visited Maui to ask for condensed milk in it, so we did.
MAUI ON HIGH
We noticed a phenomenon that we probably should have predicted. Erin popped into a massage place to ask about booking a massage. The conversation went something like this.
ERIN: Hi, do you have an availability for a massage in the next few days?
GUY BEHIND COUNTER: Oh, wow, yeah, no, I don't really know. Um. I'm not really sure.
ERIN: How about I just take a card and maybe call tomorrow?
GUY: Yeah, um, that's great. Do that. Sure. Here's a card.
Anita realized that he was stoned. We could only imagine that he was covering the front desk because of some emergency and had been praying no one would come in.

It happened again when I was looking to buy a simple item. A pen. We went to the pharmacy part of the grocery store and Anita found a woman arranging things on a shelf.
WOMAN: Oh no, you're not going to find a pen here.
ANITA: You mean, in this store?
WOMAN: No, in town. There's no pens here. You'll have to go to Kahului for pens.
There were pens. There are always pens.
LAHAINA
One day, we took a drive to Lahaina, a bigger town, to meet my friends Laurie and Jeff for lunch. (The couple Derek and I went to Mexico with.) My friendship worlds collided in the nicest of ways! Lahaina is famous for many things, among them a giant banyan tree. It's like meeting a wise old guru, with its limbs bent like it has arthritis.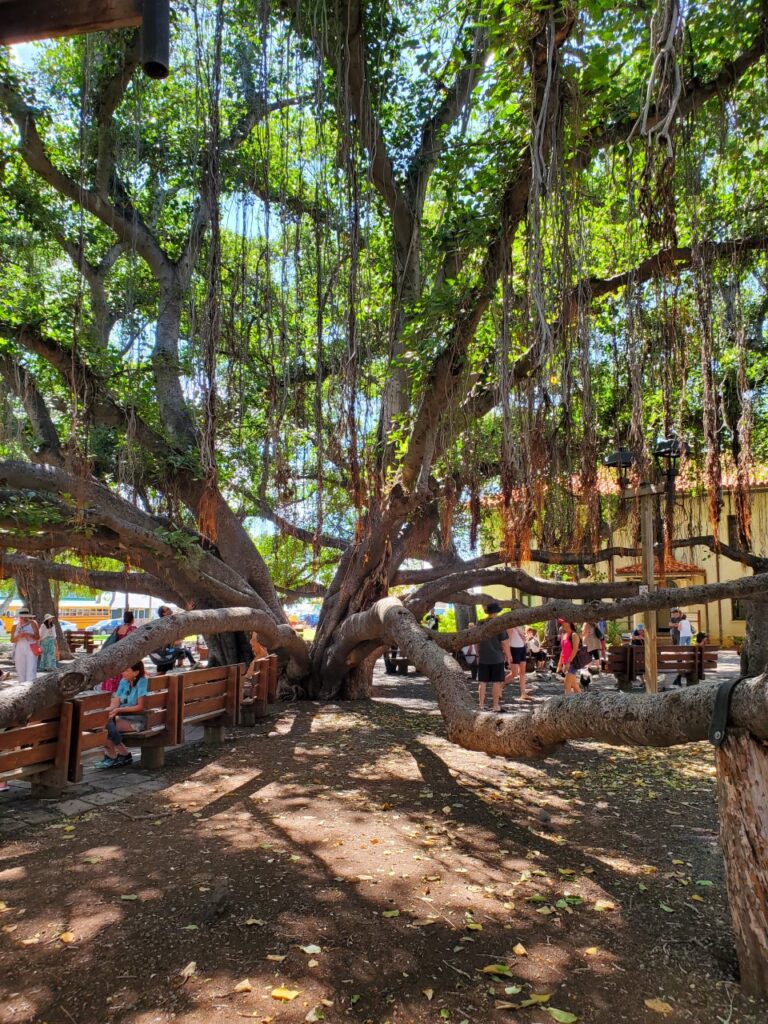 Lahaina is a shopper's paradise. There's an outlet mall where we made a beeline for Kate Spade (60% off!) and other shops like Coach and Michael Kors. The sweet downtown has loads of restaurants of every type and more shopping with a local vibe. Except for the makeup and spa places where they come out to the sidewalk to lure you in.
That morning, I realized I'd forgotten to bring moisturizer but I thought, whatever, no biggie. So it was a surprise when a spa guy pointed at my scaly leg and thrust some moisturizer packets into my hand! I hadn't noticed my dry shin below my capris. When we stopped at a park, I broke open a packet and took care of the horror of Front Street.
As we drove to and from Lahaina on the famed Hana Highway, we saw whales frolicking not far off shore. There were so many that even the driver, Erin, got to see them.
DAY TRIPPERS
We visited Kahului and the legendary Maui Four Seasons plus the Outlet Stores nearby because they were different stores. Oh, The Four Seasons, where rooms start at about $1800 per night. We spent more time there than we'd planned and found ourselves quite peckish. What are gals to do but hit one of only five Spago restaurants in the world owned by renowned chef, Wolfgang Puck? (Thank you, E!) The food was exquisite.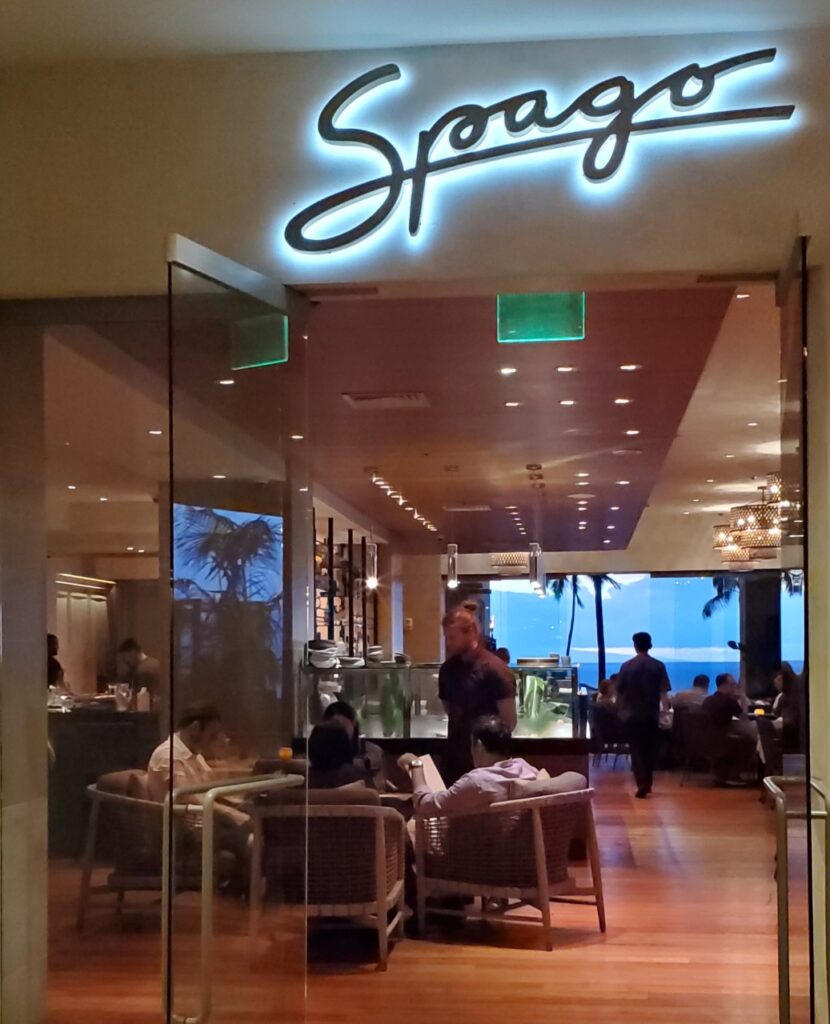 LIFE IN PAIA
Every morning, we watched surfing classes. We heard a neighbourhood rooster's early, urgent call. We even saw a few turtles swim past ."Our" house had a beautiful pool right beside the ocean but a gal's got to stick her toes in the sand. So, on our final day, we hit the beach and weren't there two minutes before an unexpectedly powerful wave soaked me to the bum. Anita and Leslie thought this was quite amusing. So did I when it happened to them minutes later!
The sand is soft and feels amazing on bare feet. It's pebbly, not grainy, and looks orange but they call it red. Everyone leaves their shoes outside their homes because it can stain floors. As we strolled along the beach, wet but happy, we saw a couple of large turtles a few hundred metres away. They'd crawled up onto the sand to sun themselves and have a nap. They didn't move, even when a wave lapped at their tails. People were being respectful and keeping a close eye on anyone who came near.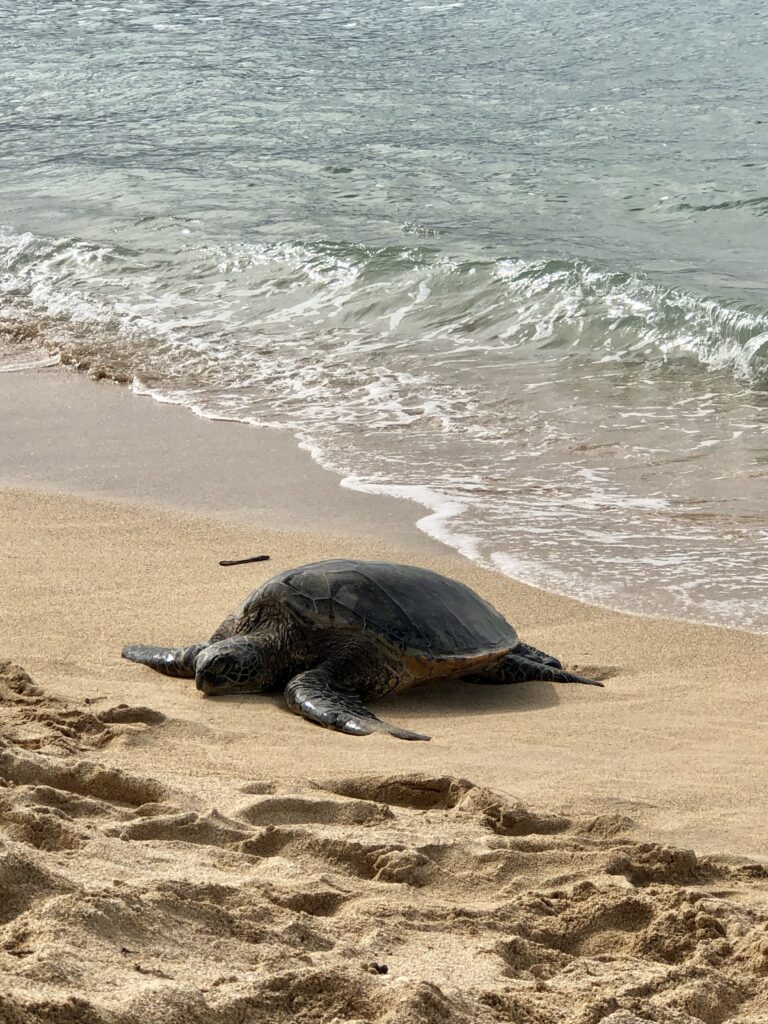 We met other wildlife as well. Lucy, the Eclectus rescue at the Four Seasons. A beautiful cardinal that seemed to be around whenever we came back to or left the house. Several goats behind a fence that climbed into a tree. And various other birds including parking lot chickens, just milling around.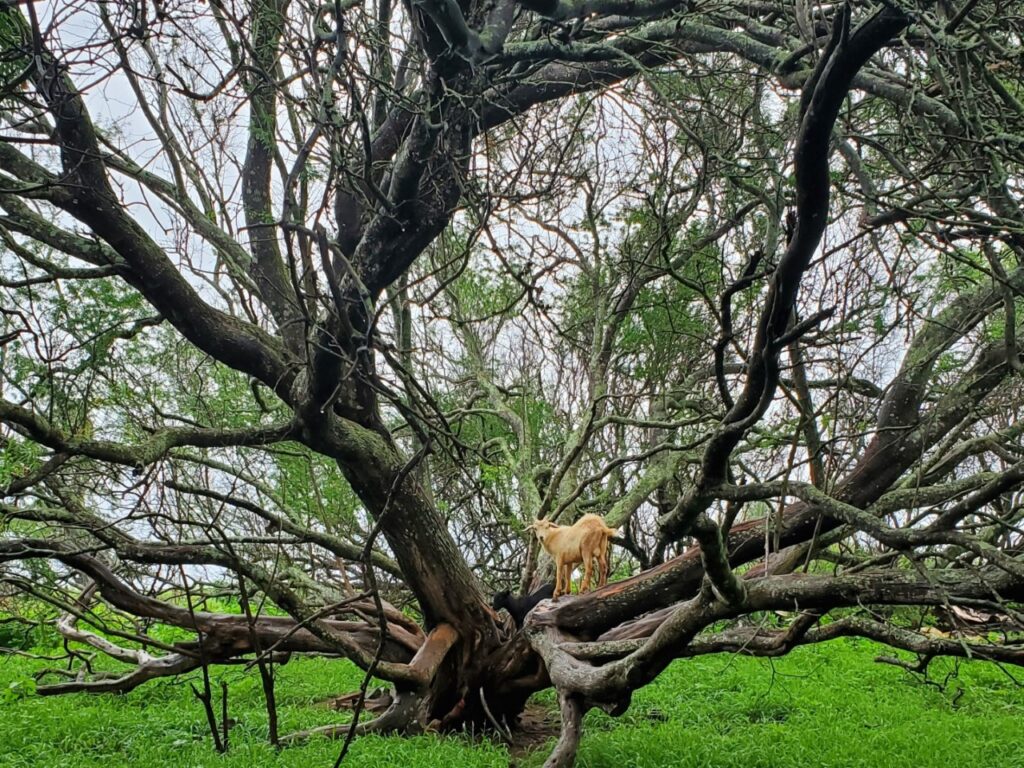 Maui is spectacular. The sunset is a different colour every night. The water is a gorgeous aquamarine. February temps rose to about 26C or so and although it rained a few times, it was warm and beautiful. People are friendly. We tried to pick up some of the language beyond Aloha, and they appreciated it.
Mahalo (ma-HA-lo) is thank you.
Ono means delicious.
Ohana means family.
Paco loco means crazy weed. Interesting, especially because recreational use of marijuana is illegal in the state.