It began when a pal posted a Facebook event. And down the rabbit hole I went. I discovered that I share my fondness for a 1970's TV icon with thousands of other people.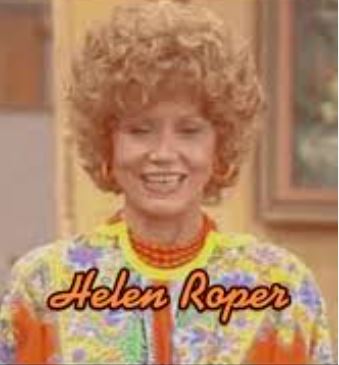 I'm now a member of the International Order of Mrs. Roper Facebook group. Fans mainly find events devoted to delightful Mrs. R. But they also discuss their love of kaftans, strings of pearls, and the actress Audra Lindley who brought Helen Roper to life on Three's Company. Lindley had a long career that included performing on Broadway, in the live TV era, on soaps, and in movies. But the silly sitcom that debuted in 1977 became her legacy.
Mrs. Roper wasn't just a woman "of a certain age" who wore comfortable, long house dresses. She was neglected by her husband and constantly tossed out sexual innuendos. She badly wanted to be part of elite social circles but her doofus hubby always foiled her plans and embarrassed her. There was no one like her on TV. The only character that came close was Betty White's Sue Ann Nivens on the Mary Tyler Moore Show. But Sue Ann presented herself as sweet and nurturing, belying her sexual appetite. Helen Roper didn't put up a pretense. She was always on the prowl.
Spin-off Sealed Their Fate
The Ropers were so popular that they got a spin-off. Lindley and Norman Fell, aka Mr. Roper, made a deal with ABC. If The Ropers tanked, they could come back to Three's Company. But the network didn't keep its word.
The Ropers started out as a mid-season replacement with a promising viewership. But ratings nose-dived after a new schedule took it away from airing after Three's Company. It only lasted two seasons. By then, the Ropers had been replaced on Three's Company by Don Knotts' Ralph Furley, so there was no going back. After one more episode, the couple vanished. Three's Company continued for five more years.
Mrs. Roper events are held all over the US. Some raise money for charity, others are just an excuse to put on a wig and a dress. To complete the look, add glossy lipstick, fancy, fuzzy slippers, a chunky necklace, and oversized sunglasses. The event posted by my pal is a Mrs. Roper Pub Night at the Rawkin RoyalT in Chatham on Friday, August 18. And in case you wonder, men are welcome to dress up as Mrs. R or Mr. R. Whichever floats their boat.
Of course, I'm being followed all over the Internet now by kaftans/caftans. I might just have to give in and buy one. I went back to see if Three's Company held up and it does not. It's pretty much unwatchable now. But it's heart-warming that the legacy of Mrs. Roper lives on.