At age 24, our friend Jason Kloss became the youngest person to swim the 65 km crossing of Lake Huron. His grandfather had completed that swim three decades earlier. Jason raised $22,000 for cancer research and his life changed forever. He met a beautiful reporter, my former colleague Avery, who was covering the event. They just celebrated their ninth wedding anniversary, and they have a five-year-old daughter. And now he's set his sights on Lake Ontario.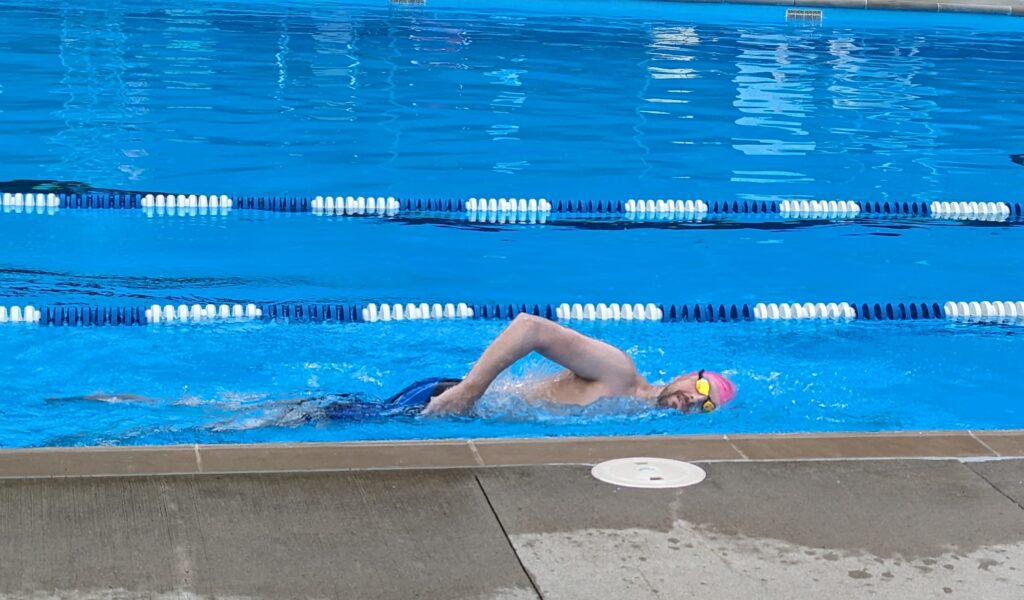 Everyone knows someone who has had a struggle with their mental health. I've written about some of my experiences with depression. The more we discuss it, the easier it is for others to seek the help they need. Jason is talking about his own challenges following some personal tragedies, but he's going much further. Fifty-one kilometres further. His swim next month aims to raise $50,000 for the Centre for Addiction and Mental Health.
Jason's grandfather developed dementia and has since died. The two men were very close. Jason also lost a good friend to suicide. So, to cope and to honour these men, Jason's getting back into the water and completing another ultra-marathon. He's been training in the lake, swimming several kilometres at a time, plus doing hours of laps in a pool. All while raising a child and growing a new business.
Supporters held a fund-raiser at the Paris Community Pool on the weekend. Jason swam laps for eight hours while Avery sold T-shirts and treats and their daughter Audie was just her adorable self.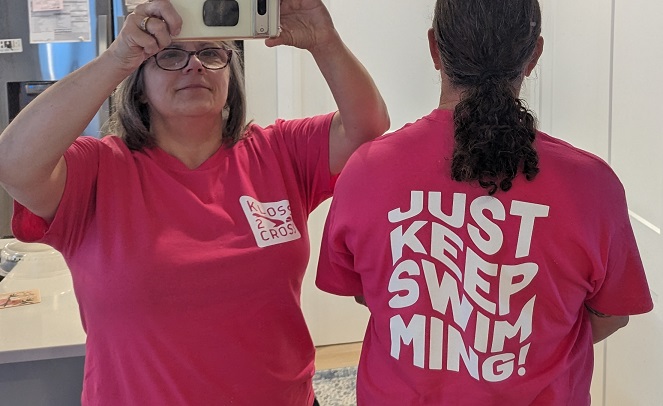 Money, Media and a Boat
Jason will do his Lake Ontario swim August 11/12 from Niagara-on-the-lake to Marilyn Bell Park in Toronto. Half of the money raised will go toward mental health research, and the other half to Alzheimer's and dementia research. They need donations but they also need one more boat. Two Zodiaks and a yacht will join the crossing. But the team still needs a 30-foot or longer sailboat to guide the way across the lake and help keep him safe. If you're a boat owner who would like to be a part of history, find out more HERE.
"Lake Ontario is one of the world's most difficult marathon swims, defined as a non-stop swim in open water for at least 10 kilometres. …Lake Ontario's distance – 51 kilometres from Niagara-on-the-Lake to Marilyn Bell Park in Toronto – as well as powerful currents and unpredictable weather, including electrical storms and winds that can churn up 10-foot-high waves, combine to make it a world-class challenge."

Battling the Beast of Lake Ontario – The Globe and Mail
Jason's done radio and digital media interviews but more awareness would also help the cause. It's an incredible fund-raising feat. Media friends – please consider doing an interview with Jason. He's a total pro. He will join the likes of Vicki Keith, Bob Weir, and Marilyn Bell who are on the short list of those who have made this demanding trek.
I can barely meet my goal of getting out to walk through our village and back every day. Imagine training to cross one of the Great Lakes. This is a lesson in goal-setting and determination that Jason's daughter will never forget. And neither will the patients and caring staff at CAMH. Go Jason! We're cheering you on, wishing you safe passage across Lake Ontario next month.