Have you ever had something in your life that felt so big and overwhelming, that the thought of talking about it made you feel like you might explode? Of course you have. We all have. And that's what this post is about. It's the reason why I haven't broached the subject here, or on our Gracefully and Frankly podcast, or with anyone except those closest to me, and one nice woman I recently met.
I've been afraid to blow up and end up in tiny smithereens!
It's a CPAP machine. I've been using one for about a month and to summarize, it hasn't been going well. CPAP stands for continuous positive airway pressure. You wear a mask and a machine attached to a hose sends air to keep breathing passages open, thereby reducing sleep apnea, which is when the passages close and the brain is denied oxygen. Sleep apnea sufferers stop breathing and then suddenly gasp as the brain tells the throat – hey! We're dying over here!
But, let me back up. I had my first sleep test when I was still living in Toronto. (About 17 years ago.) If you've only had one recently, let me assure you that they've come a long way. That first one was brutal. Now, six studies later – most of them in London – the sleep specialist decided it was time for a CPAP. "Just try it", he said. "It might make a huge difference." I did one more sleepaway to test a machine and mask, and was given a prescription.
This isn't easy to admit but I'm a snorer. Not a cute, oh-look-at-the-cat kind of snorer. A who's-operating-a-buzz-saw snorer. It's not pretty, nor is it easy for my husband to live with. As for me, I sleep right through it.
Although I've given Derek carte blanche to give me a shove so I'll change positions, he can't bring himself to assault me in the night. (I appreciate this!) So, I finally gave in and got the CPAP and a Nasal Pillow mask, which I'd worn in my last sleep test. It doesn't cover the mouth or nose. It fits under the nostrils.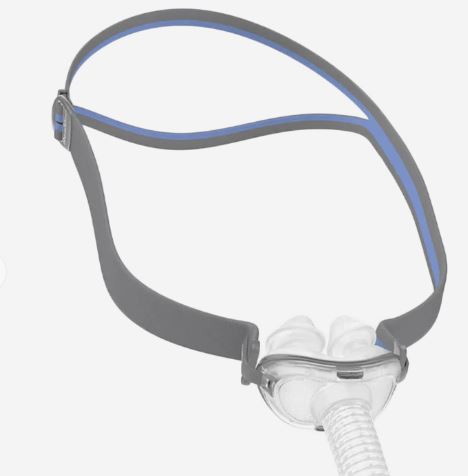 The air pressure is set by the CPAP store according to the doctor's prescription based on the sleep test. So, when you get the machine home, you have no control over the strength of the air. You can only control whether it ramps up slowly or immediately gives you full power. That's a personal preference. The machine sends data back to the store where technicians can look at how it's going, which they do, at least for the first while. An app also fires off helpful tips when data shows you might need it.
The machine costs $900. If you use it for a minimum of six hours per night for one week, the government will pay for part of it. The consumer's cost: $500.
CAUTION: Whining road ahead!
After a couple of nights, I called the store and said this mask wasn't working for me. I went in and got a different, bigger one. One night with the new mask and I fell in love with the old mask. Sometimes you have to experiment.
I have two complaints, and they're big ones.
When the doctor said, "Just try it, it might help", I took from that – and should have asked – whether I could return the machine if it wasn't helping. Because as it turns out, you can't. It makes no sense to me. The machine is like a clock radio. It can be reprogrammed for someone new. I can trade in a mask that goes up my nose, but cannot return a machine?
Based on my experience, I don't think my case is severe enough to warrant using the machine. Now, see complaint 1 again.
Some medical journals I've read say it can take up to a year for some patients to feel an improvement in their sleep. That's a long time to go around feeling depleted and tired all day. That's what the CPAP is supposed to fix! When I have a moment, I Google alternatives. Legit health websites say CPAP is still the gold standard, but other options have arrived. There's even Mouth Taping, which is just like it sounds, albeit with medical tape, not duct tape.
I haven't had such a consistent period of terrible sleep since I quit morning radio. One night, I lay awake until the sun started to rise. Another time, the power went out during a storm and I woke up in a panic because there was no air. I'm using it every night in the hope that I'll get used to it but this is a long road. Several people I've talked to said they knew right away that the machine was helping them. I feel it's making my life and my sleep worse.
So, I'm looking for any and all experiences, advice, and insight. Should I hang in there longer and see if there's improvement? Has anyone else gone through this and not found relief for a long time? The woman to whom I talked about the machine has been using it for ten years and still absolutely hates it. It's not encouraging.
My health is a priority. But right now, using this system is feeling more detrimental than helpful. I hope to hear from you, CPAP users. Tell me what you know! Thanks.